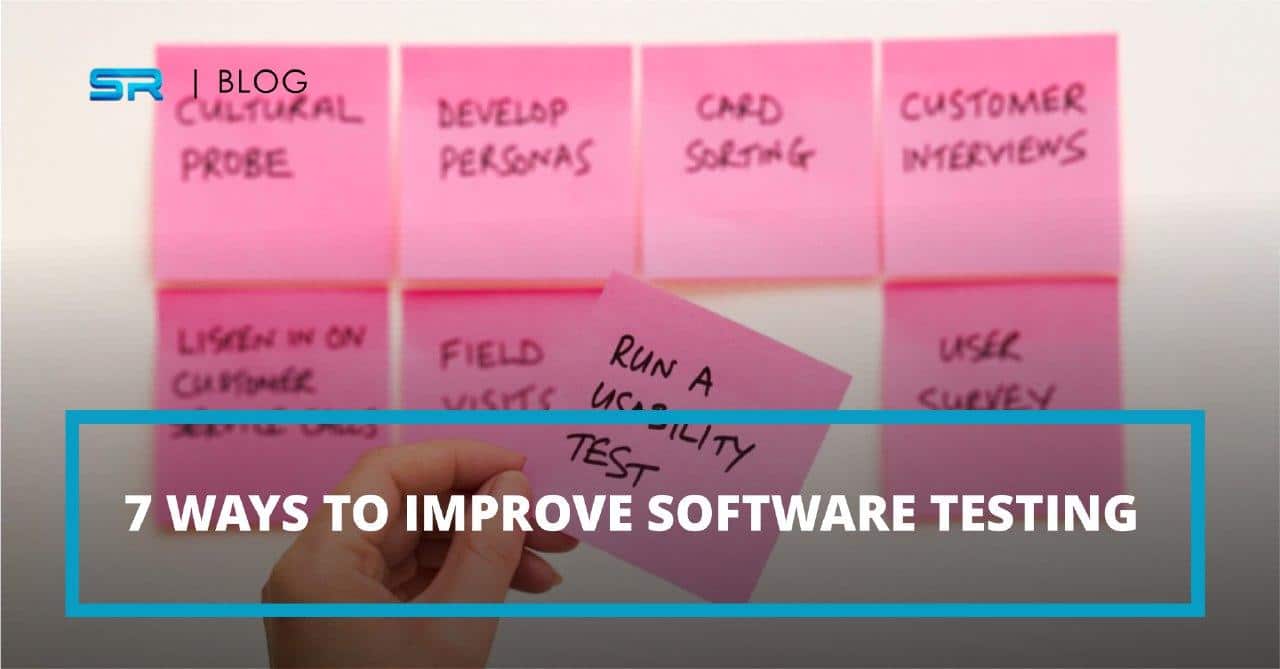 7 Ways to Improve Software Testing
It's no secret that software testing is a key component of the software product development lifecycle. Not only does it help teams detect bugs, but it also provides information on the performance of the product being tested. Moreover, with that information, the development team better understand the behavior of the product and improve its quality. Over the last years, testing is becoming increasingly more cost-efficient. Compared to expenses from 2015, in 2019 companies were able to decrease average yearly spending by more than 10%. By optimizing QA processes, introducing automation, reducing the number of manual tasks, organizations are capable to bring testing costs down. However, the result of testing strongly depends on the methods and tools used and on the skills of the QA/QC software engineers. That's why it's important to look for new ways to improve software testing. 
If your company hasn't decreased the cost of testing over the last years, it's possible that you are not the most available method. If you want to increase the efficiency of your team without raising the costs, get started with these tried-and-proven methods.  Only by following a list of the best practices for testing software can you minimize risks of failure and save time and money in the long run. Sounds impressive, right? Let's dive into the details to find out more. 
Working as an Agile software development team
Agile is a software development and testing methodology that focuses on flexible cooperation. Teams can move between QA stages, release multiple iterations, and collaborate across project phases. It's the opposite of a Waterfall – a strict methodology when staged are finalized once and for good. In testing, Agile practically means looking for defects thought the entire project development and testing. Testers cooperate with developers and enter the project early on. To implement Agile and iterative development frequently teams can use additional approaches. 
Extreme programming has the main goal of delivering high-quality software. The goal is to develop the best product, the speed and planning come secondary. 
Extreme programming methods
Focus on business requirements:

more than any other technology, extreme programming, phases on financial, business, and user goals;
Extensive analysis:

team describes stories, analyzes competitors, takes a look at other platform's experience and features. 
Design:

all tasks are dissected to in-depth details for automation framework design;
Execution:

it happens way later in the project than in other methodologies, but the probability of an error is much lower. 
Wrapping:

the product is released in small interactions and constantly deployed;

Conclusion:

analyzers and engineers audit the SLA and ensure that all necessities were conveyed.
Extreme programming takes more time and resources, but on the other hand, it's a highly reliable method.  Due to all the research and planning. QA teams know what risks to expect and prevent them in time. 
SCRUM is a development and testing framework where teams are broken down into smaller groups. The work scope is divided into springs – small, manageable chunks that focus on specific tasks. Scrum is comprised of the following stages:
SCRUM methods
Stories:

the

testing process is managed in stories – small tasks performed in a short timeframe;
The organization among testers and developers

: the two groups meet regularly and discuss plans together; 
Automation

: Scrum and Agile energize the use of platforms and frameworks, both open-source and paid ones;

Management

: all the work scope is broken down inspiring,s and for each, a story point is assigned. This way, teams prioritize task sand measure difficulty. 
Preparing software testing documentation
Planning test processes allows teams to understand their goals, communicate with all team members, developers, stakeholders. They can track minor problems before they turn into issues, catch defects in time, and assess their efficiency. Let's take a look at the most common artifacts of testing documentation and examine their key traits. 
Quality management plan
The principal focal point of the archive is on the item. The quality plan portrays the quality stands of the product and sets quantifiable targets.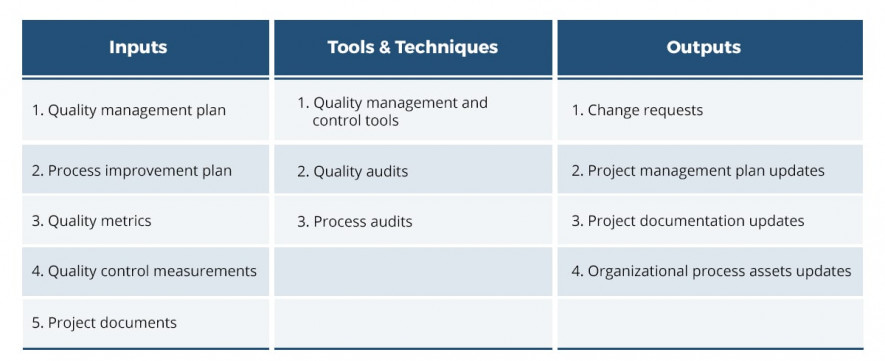 The structure
Numeric expectations; 

Description of tasks of QA team members: everyone is liable for conveying a particular goal; 

Describes instruments for manual and automated testing that will help achieve quality expectations.
Who benefits from the document: testers. QA team, developers, stakeholders, product owners. 
Test case
A detailed document that describes each feature independently. Test case describes what activities should be run on the particular functionality, its conditions, goals. 
Structure:
A unique ID by which the test case will be defined throughout the project

Test case description, steps, expectations;

Metrics, final results, current status;

Date of creation

Documentation and data storage updates. 
Who uses: developers, testers, QA. 
Software quality control and strategy
The focus of this record is likewise on the item – not in the management or inner procedures. The system characterizes the QA approaches, strategies for each bit of functionality. It portrays how accomplishing QS objectives will carry the group nearer to business destinations.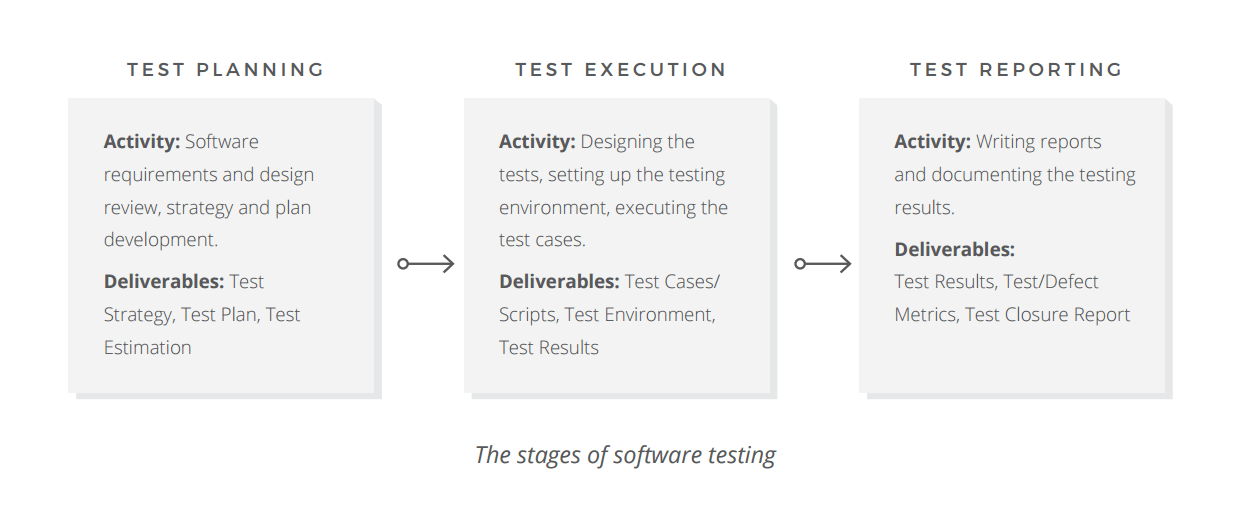 Usually, teams reference Software Specification Requirements and project plans before building a test strategy. It's crucial that the company is already aware of non-functional requirements and business objectives. 
The structure
QA goals and activities

Budget calculation and limitation

Deadlines and time limits

Industry analysis and quality standards for a particular field
Who uses: testers, QA, stakeholders.
Test plan with methods and objectives
This document goes beyond describing just the product functionality. It outlines updates, versions, hardware, operating system, features. Each feature and version is described in terms of particular software quality control activity. The team always returns to this document, verifying deliverables and making changes, as the functionality expands. 
Structure
Test approach, items, deliverables;

Risk, pass and fail requirements, and assumptions about functionality;

Schedule, deadlines, and budget;

Functionality priorities – what features should be tested first.
Who uses the document: developers, testers, QA
Implementing automated software testing process
At the point when you are making arrangements for your product QA process, you have to take automation into account right off the bat. It's essential to figure out which experiments will be computerized, which usefulness ought to be checked and characterize capable individuals.
Automated testing is a long-term investment, and it's the main aspect that contributed to a decrease in QA costs. Both SMBs and large companies switch from inefficiency manual methods to using smart scripts, statistics, and metrics. If you'll start implementing automated QA now, in a few months you can already expect the following results. 
Increased speed

: automated tests are reusable, which means, when you've written scripts once, you can use them multiple times. There's no need to re-enter the same data or set up conditions for every feature. 

Long-term cost-efficiency

: automated tools are a long-term investment. Sure, acquiring and settings will require investment,s but there are one-time expenses. Once your team is used to applying and maintaining automated testing frameworks, you'll be saving resources at an increased pace.

Eliminating frustrating manual work

: automated tools don't make human errors. They look for defects 24/7, don't miss issues due to tiredness, and don't burn out – unlike human testers. Your team, on the other hand, can switch to fulfilling work instead. 

Straightforwardness: automated testing programming produces reports, gives visual dashboards, and sets up the following devices. For each case, you'll have a bug report, quality control, and group progress details.
Scalability

: as your infrastructure and software testing process grow, so does the number of defects. Automation saves teams from having to onboard more testers. The precision, efficiency, and performance of automated tools are higher than of manual teams. 
Obviously, embracing automation testing isn't possible everywhere. Some features require working through complex user scenarios. Some aspects, like interface, are highly subjective and require human insight. Still, companies that don't embrace automation are obviously setting themselves up for regression and long-term cost increase.
Implementing multiple testing methods in the project
Another testing failure that slows many teams down is the lack of the bigger picture. Testers overlook the planning of all types and levels of QA. As a result, they need to modify strategies later on in the emergency mode. To avoid this mistake, consider the following software testing methods right away. 
Static testing

checks that all the necessary functionality is present. Its responsibility is to assure that the codebase and documentation look right. The program itself is not executed – so the picture is incomplete. 

Dynamic testing

is performed later on to assure that the software produces the right inputs and outputs. The team needs to run the codebase and verify its performance. It's a more complex testing method that requires more preparation.   

Black box

: testers only see software performance (inputs and outputs )without looking at the underlying architecture. The team evaluates software the way a user would – with a result-oriented mentality.

White box

: testers evaluate the underlying architecture, they have in-depth knowledge of the codebase and closely cooperate with developers. Black-box testing requires more effort but in return, provides a much deeper insight. 

Visual testing

: GUI testing checks the product interface, ensuring it's clear to clients, activities are easy to recall and rehash, and charming outwardly. This testing is hard to automate because it requires the emotional view of an analyzer.
If you test all the components of the product, you will be able to notice small defects before they turn into a considerable code legacy.
Structuring the testing project
We already discussed that it's important to evaluate the product with different methods to get a deeper insight. Another similar aspect to take into account is QA levels. Testers can view each feature separately, evaluate the entire functionality, or even analyze the whole infrastructure.e It's best to combine both specific sand complex approaches – here's how to do it.
Unit testing

: the functionality is broken down into smaller units (a screen, function, or small operation). Developers check each of these pieces separately, paying attention to the tiniest issues. It's the smallest level of QA. 

Component testing

: several functions and operations make up a module – a bigger structural part of the software. Components are isolated for each other and evaluated individually. If all the units are functioning well separately and together, a component should work smoothly as well. 

Integration testing

: if a component was a combination of several units, integration is a collection of modules. Regardless of whether a module functions admirably all alone, it is anything but a given the coordination execution will be perfect. It's critical to test the associations inside the module and check the yields. 

System testing

: developers check the inputs and outputs of the system without evaluating individual components As you can guess, it's a version of a black box testing since system QA provides a bird-eye view on the infrastructure. 
An efficient testing teams know that testing a product from bottom up is a way to find small defects, and gradually increase the field of vision. When the team starts evaluating the entire infrastructure, they already know that underlying layers of software have been cleared. 
Running user acceptance tests
After the team finished system testing, they perform an acceptance test – evaluation of the product is performed by the end-user. Skipping this stage results in missing interface errors, releasing redundant functionality, and misunderstanding of user needs. To stay in touch with user requirements, a software QA team needs to run the following activities. 
The methods of acceptance testing
Alpha Testing

is performed by users but overseen by developers; the team controls the process;

Beta Testing

: independent user testing, also known as field testing. Testers can give no context and explanation in the process. 

Contract Acceptance Testing

: developers and testers review the contract and check if the ready product satisfies the requirements. 

Regulation acceptance testing

: QA, analyzers, and engineers guarantee that the solution goes in line with international requirements, especially privacy-related regulations (HIPAA, GDPR, and so forth)
This is the stage where the team finalizes the entire testing and QA process. Keeping documentation and dashboards over the course of this stage keep the process transparent and intuitive. 
Defining code quality metrics in the project
Over the course of the entire testing process, the team should have benchmarks to measure its success. Testing metrics describe product quality, productivity, delivery efficiency, etc. Since there are dozens of metrics, let's focus on the main ones for now. 
Reliability

: how much time software can run without crashing, how many operations and requests can be processed simultaneously. Deliverables: bus in production, escaped defects, statistics on load, and regression testing. 

Performance efficiency

: the speed with which a system executes a given action. Measured by performance QA, stress testing (software is taken to its max operation capacity), soak testing.

Security

: the more vulnerabilities a codebase shows, the less secure it is. Hence the main metrics are the number of security bugs and time taken for fixing them. You can also calculate how many people installed security patches. 

Maintainability

shows how difficult it is to maintain the codebase. The number of lines is a traditional metric that evaluates the ease of maintenance.

The rate of delivery

: the number of releases, updated functionality, and fixed bugs serve as indicators for the team's efficiency. 
Metrics give you a long-term perspective on your team's productivity. You understand the direction in which your business is going. As the infrastructure grows, you need to rely on tangible data to keep in touch with all aspects of software testing and development. 
Final Thoughts
Now business owners have multiple software development tools, metrics, approaches, and methodologies at their disposal. Regardless of the industry, a company should aim to provide full coverage of functionality – from a small unit to a large system. Automated scripts and flexible management helps to achieve these goals.
Most importantly, these aspects of software testing should be taken into account early on. You'll be able to plan the process in detail and eliminate critical issues in time. Most importantly, you'll be building better software in less time and on a reduced budget – which is the ultimate goal.