VR APP DEVELOPMENT
Real VR Apps – virtual reality app development services
Developing vr content

Servreality is vr app development services which provides vr app development
services for their clients with high quality and for a shorter time. Nobody
can ignore such a powerful tool of advertising and visuals as vr.

VR App development Outsourcing

Nowadays VR technology makes people and companies improve their skills and possibilities to high standards and show best results. Our skillful vr app creators produce the high – quality product using all possible hi-tech and tools. Our VR studio can also provide the outsourcing VR app services.
| | | |
| --- | --- | --- |
| Who are we? | How can we help you? | Our experience |
| ServReality is an outsourcing VR development company which produces VR products and software for customers. We are experts in the full-cycle creation and design of VR solutions. If the clients want to get the required info, our team can clear all details. | We can help to develop, re-create, correct and improve your vr project of any complexity and deadline. Our specialists may estimate the future VR project, plan or training. ServReality assists clients develop games/ software /app products. | Developing virtual reality apps/software /games takes approximately from 3-4 till some months. Our expertise in VR app development is 5+ years. We worked on different vr projects in such spheres as architecture, real estate, training and medicine/healthcare. |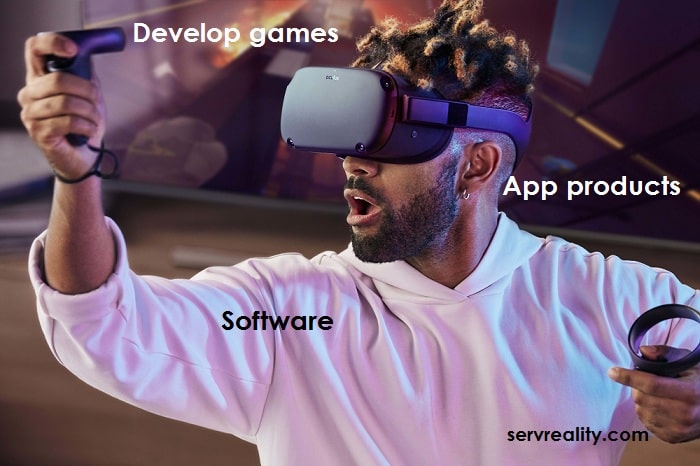 What is VR application development?
To access VR practice, the support of suitable hardware is needed, covering all existing gadgets.
Virtual Reality app development is the application creation using such innovative technology as VR, it's features and possibilities.
How do you develop real virtual reality applications?
Our experts have already ready-for-service strategy on how to develop a VR app. The list of steps are the following:
Finding the suitable environment
Adding the necessary features
Correct the errors after the customer's checking
| | |
| --- | --- |
| ✅ What is the meaning of VR? | VR is an abbreviation for Virtual Reality technology, a complex of pictures and sounds made by computers, that can show an area or situation people participate in. |
| ✅ How hard is VR development? | VR development is not hard to perform with the suitable background, tools, experts, support. Game engines such Unity, UE and Google VR are good for developing VR apps and they are not complicated to learn. |
| ✅ How does VR software work? | VR headsets help demonstrate how the VR software works, namely control the participants' movements and interact with virtual space correctly. VR software works according to specific scheme including the running of the program, connection of the hardware and creation of the VR environment with all required features. |
| ✅ What software creates virtual reality? | Computer software creates VR. Computer system provides all conditions for vr, namely producing a specific environment with the objects and places to become real in the sight of users. |
| ✅ Is virtual reality a software? | VR is a multidimensional environment produced by a combination of software and hardware. This mixture helps to show the Unreal world with fantastic details and persuade the users that it is real one. |
| ✅ What programming language is used for AR? | C#, C/C++, Java are programming languages used for AR. |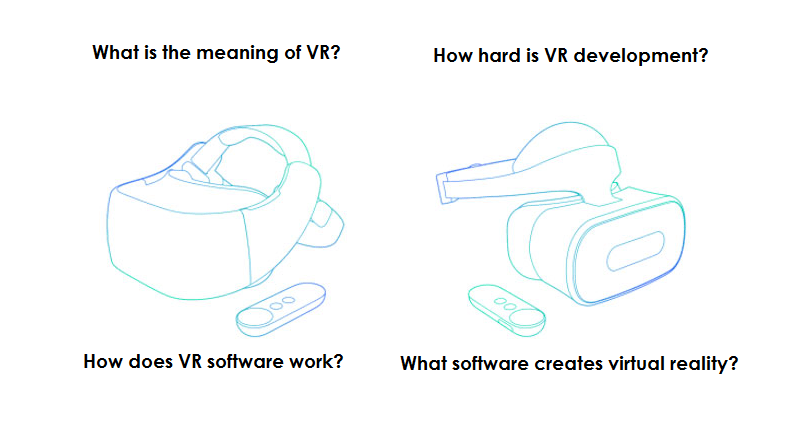 In what spheres is VR used for?
VR is used in such spheres as:
Let us show all cases where we work with VR technology.
Skype
info@servreality.com
Email
info@servreality.com
Address
1A Sportyvna sq, Kyiv, Ukraine 01023
How We Work
Our support team may help you 24/7.
If clients want to make a new project, they should contact us and we will be glad to guide you throughout the development process.