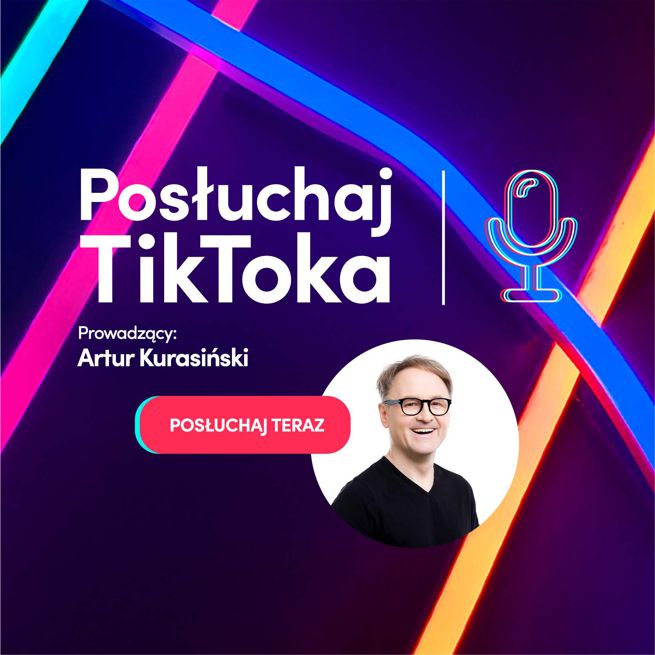 Why "listen to TikTok"? In a series of podcasts, the platform explains what TikTok is and encourages brands and companies to take their first steps on TikTok
"I wouldn't call it a show or a podcast. It is a conversation, a dialogue. I meet with a very large number of interesting people, specialists. We are talking about one medium-the TikTok platform. "Listen to TikTok" is the perverse title of our program, because my interlocutors repeat one thing-sound plays an incredibly important role in TikTok. Why is that? What content works on the platform, and above all why is it worth it? You will find out about all this in a series of our conversations. I encourage you to listen to TikTok "- said Artur kurasiński, host of the program"listen to TikTok".
The first steps of the brands on TikTok
Rafał Drzewiecki, head of Marketing at TikTok in Poland and central Europe, took part in the first interview of the series and explained to the audience what TikTok is and how its algorithm works and why it is worth running campaigns on the platform.
"Digital has accustomed us to the fact that content is consumed without sound. Therefore, the key principle of preparing a good video for the internet is the placement of subtitles. On TikTok, watching content is always on full screen and with the sound turned on, which means that we do not have to fight with other media for the viewer's attention. TikTok can be compared to watching Netflix, because users do not "check" it by the way, but delve into the content while sitting comfortably in the chair " – says Rafał Drzewiecki.
When asked how brands should start their adventure with TikTok, he replies: "first, I recommend that you check that our brand is no longer on TikTok. Brands are an immanent part of culture, and it is often the case that the community itself creates content about a particular company or brand. The TikTok community creates trends related to brands, for example, through product recommendations and reviews. We believe that TikTok is for every company and for every brand. A good marketer should be wherever his target audience is, or soon will be. We encourage you to use and explore the platform to make sure that nothing is missing from us, because perhaps someone is already talking about us on TikTok."
We begin to create on the platform TikTok
In the second episode, Michał Bednarek, CCC global Content & Influencer Marketing Team leader, shared his tips on how to work on TikTok and how to prepare content.
"TikTok is a platform much more open to all kinds of creations, so it requires brands and creators to have a fresh approach, cool energy and ideas. It is a completely unique application in this respect. At the same time, it provides a lot of elements for creating such content. We can say that on TikTok really" sky is the limit "– you can achieve a lot if only the content prepared by the brand will be consistent with the DNA of the platform "– says Michał bendarek and adds – " people from our company who are involved in the production of materials on TikTok are his fans-from a rather skeptical approach we went to a situation where we really like to use this medium. Thanks to this, we search for interesting content, accounts, unique trends and try to actively respond to them. Each person in the team has a completely unique look at the platform, thanks to which we rub together our inspirations. The most important thing is to listen to your audience and respond to their suggestions".
Effects? Content created by CCC reached as many as 20 million views, and the brand reached 4.5 million people from its target audience in just six months. Michał Bednarek also shared his advice on how to get started – "it's worth just diving into TikTok and getting to know this platform better first".
The perception of TikTok by the advertising market
In another interview, Marta szufranowicz, Deputy Business & Strategy Director, DDB Warsaw, together with Kamila Rumowska, Partnership manager at TikTok, confronted the myths prevailing in the advertising industry about the platform.
"I have the impression that the skepticism of some people in the industry can be influenced by the fact that we are constantly running out of time, we are working with a rush, in which it is difficult to find a moment to learn new things, new tools. At the same time, we face a lot of pressure to deliver the results our customers expect. All this may mean that marketers are more likely to use proven and familiar tools and less likely to reach for new platforms. I think it will take time for our industry to gain confidence in TikTok, " says Marta szufranowicz. "That is why I encourage you to take small steps-it is worth designing an action for the beginning, which will require less budgetary commitment and in which we will have the opportunity to test even the simplest formats," he adds.
Asked what could convince companies to TikTok, she replies: "I think that here it is worth emphasizing the effectiveness of the algorithm, which very accurately hits the interests of the audience. The second thing is to find just fun and entertainment in the daily work on TikTok, just to give the platform a chance " – emphasizes Marta szufranowicz.
Best of TikTok: how to create creative content?
The guest of the fourth episode of the series was Dominika skirlo, creative lab, TikTok CE, who was the first to join the TikTok team in Poland. Dominika shared examples of accounts that are worth watching on TikTok and revealed what is the recipe for the success of marketing campaigns on the platform.
"What makes campaigns work on TikTok is finding a balance between advertising and native content. As with any contact, remember that the first seconds count the most and decide whether the recipient will see the entire footage. On TikTok, content is always displayed in full screen and with sound on. It happens that brands perceive sound as an additional element of the material, but it must be remembered that it is the sound that is of great importance-it should be well associated and be consistent with our brand " – Dominika skirlo mentioned these qualities as key in the preparation of content on TikTok.
TikTok as an effective media platform
The full attention of the audience and the tools to achieve all business and media goals make TikTok an extremely effective media platform.
"Through a series of podcasts, we want to prove that TikTok is an effective media platform and that any brand can successfully achieve its marketing and business goals on the platform. This is confirmed by the figures-according to the Nielsen Media mix Modeling study conducted in the US market, campaigns that took place on TikTok are characterized by twice the sales efficiency, and ROAS (return on advertising) is 14% higher compared to other media. TikTok has also reached the top of the ad equity ranking for the second time in a row, proving that it effectively supports sales, " says Rafał Drzewiecki.
Episodes of "listen to TikTok" are available on popular streaming services such as Spotify, YouTube, Google Podcasts and Apple Podcasts.
More campaign material (including podcasts, case studies, Industry Articles) is available at tiktokforbusiness.pl.