My review of Xiaomi Redmi 5 Plus and Xiaomi VR Play 2
For quite a long time I was a user of the Samsung Galaxy Grand 2 (SM-G7102) smartphone, which served me faithfully for more than four years. I would gladly use it further, but its appearance is so worn out that it is better not to get it without a cover in society. No, I didn't have any cracks in the display, although I dropped it a dozen times. During this, huge by the standards of smartphones, life span, he managed to visit the bottom of a filled bathtub, in the freezer, and for several hours was near an incandescent lamp.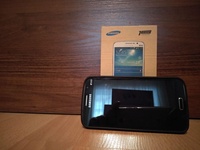 While I was creating this post, my old baby was lying next to me. And mind you, as I said – not a single scratch, except that the paint on the sides has peeled off, but I will not photograph it.
And I still do not cease to be amazed at the exposure of my old smartphone, but all the same, the hardware wears out, the camera is no longer happy, and all applications do not start. And only for this reason, I decided to update my device, and my choice fell on the first Chinese I came across in a local shopping center.
So, after going through more than a dozen local stores, in one of them I was met by a rather smiling guy, to whom I asked one question: "What new do you have from smartphones?". He offered me a couple of flagships and this is the miracle that I ended up buying. As for me, the golden coloring of the Mi 5 Plus looks decent, at least against the background of the black one, with which every second person walks on the street.
How much is the complete set of Xiaomi Redmi 5 Plus with all sorts of buns that do not come in the box
Apparently the guy who sold me this device is secretly moonlighting as a marketer in some large company, and he was able to foist on me the already annoying Xiaomi VR Play 2, headphones that were not included in the kit, and also offered Mi Band 2, but for this thing I have a lot of questions, so I haven't taken it yet. This whole set cost me $ 250 (smartphone $ 185 4/64, helmet $ 45 and headphones for $ 20). Of course, it was better to buy the whole thing in the online store, but I didn't really want to wait.
On the package bundle, ergonomics and the absence of the "Home" button

The small dents on the box are to blame for my crooked hands and the desire to open the device right during the trip.
The first impressions of the purchase, as Steve Jobs bequeathed, is given by the unboxing of the device, and here the Xiaomi Redmi 5 Plus is all bad, at all. A terrible red box of the level of those in which Nokia once put bricks. Okay, I think, let's go, a budget smartphone, you can still be patient. The fact that modern smartphones are traditionally deprived of a complete set, I was aware, I do not live in a tank.
Basically, I found everything I needed in the box, except for the headphones, which I had to buy in addition. The Chinese even became generous and put in a good silicone case, which, however, with prolonged use, collects layers of dirt on itself, and you have to wash it. But the main thing is that the smartphone, after a couple of minutes of looking at the equipment, appeared in front of me and I began to peer at its design, which reminded me of everything at once. The 6-inch paddle was surprisingly light and fit comfortably in one hand. What immediately catches your eye is the absence of a mechanical button "Home", as for me, with this button the device would look much more advantageous.
Gaming performance
Turning on the Xiaomi Redmi 5 Plus, I got a little curious about the quality of the display and the smoothness of the MIUI shell. I took the 4GB RAM version as I am a big fan of playing a couple of hours of games on the PPSSPP emulator. As a benchmark for performance in games, it was decided to install the legendary GTA: SA and a couple of ports from consoles on Android. The first game gave out a stable FPS at high graphics settings, but I don't really like this game, so it quickly went into oblivion. But the ports from the consoles also worked great, and in conjunction with a gamepad from the PlayStation 4, the smartphone gave me a couple of notes of nostalgia. I forgot to say, I played both parts of Tomb Raider, ported to the Android system.
Camera and autonomy
Let's quickly go over the camera, as this is not a very important factor for me when choosing smartphones. In light, the Xiaomi Redmi 5 Plus shoots well, almost as well as Xiaomi with dual cameras. However, when recording a video, I found some incomprehensible noise in the frame, which is not very encouraging. But then again, 12 megapixels for a $ 185 smartphone is powerful. It is worth mentioning separately the autonomy of the gadget, it can work for 1.5 days without recharging, provided that you communicate in instant messengers, watch videos and do not play resource-intensive games.
It seems like the main points of the smartphone were touched upon, now I wanted to tell you about the worst VR headset I've ever seen.
Virtual reality helmet Xiaomi VR Play 2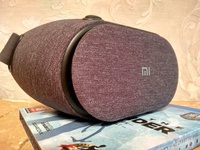 To be honest, the design of the glasses also raises many questions, although this is pure taste.
Xiaomi VR Play 2 is a terrible device, not only is it expensive, it also lacks even the simplest settings, such as adjusting the distance between the lenses and focusing. Let me remind you that this miracle cost me $ 45, this helmet would have already gone to the landfill or was handed over under warranty, if not one thing, I still managed to get into it with my glasses, and the picture turned out to be more or less sane. Of course, video is best watched in 4K resolution, since Xiaomi Redmi 5 Plus supports it. The sole purpose of purchasing this helmet is to familiarize yourself with VR technology before purchasing a PlayStation VR or something more serious.
If you want to buy a VR helmet, and you have a maximum of 3 thousand rubles in your budget, then pay attention to the BoboVR Z4, which has everything that the device from Xiaomi has cheated.
Defective, or maybe not, headphones from Xiaomi
I would like to note that the headphones from Xiaomi failed after half a day, the essence of the breakdown is that the right earphone simply stopped working. I don't know what it might be related to, but okay, they didn't sound so good.
Summary
For a person who is not particularly interested in smartphones, Xiaomi Redmi 5 Plus is an excellent solution. It does not lag, does not freeze, in AnTuTu Benchmark scored over 63 thousand parrots, games are drawn and the camera is adequate.

Compared to flagships, it is weak, but this performance is headlong enough for everyday tasks.
For my money, this is one of the most interesting solutions on the market, I recommend taking the older version 4/64, because 32 gigabytes of memory in modern realities is unlikely to be enough for a long time. I do not advise you to take VR glasses from Xiaomi, I personally managed to use two models and in both cases I was disappointed.