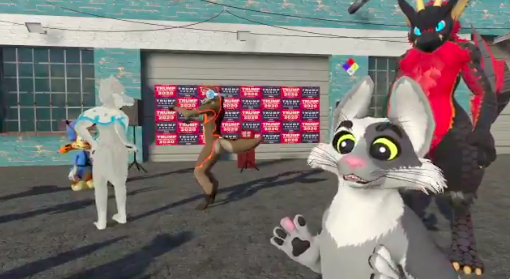 Four Seasons Total Landscaping: gardening is to the VR Playground for Furries
Thus, probably the most bizarre press conference of the election campaign, Donald trump is forever immortalized in Virtual Reality.
Over the weekend a landscape gardening name Four Seasons Total Landscaping was to become one of the currently most popular Memes of the Internet. The nursery in an industrial area of Philadelphia, which is located in close proximity to a sex shop, a crematorium and a prison, had been booked on the day of the dismissal of Donald trump's staff for his campaign for a press conference. The reasons for the strange choice of location are still unclear. Most likely, it is that the Four Seasons Total Landscaping was confused with the eponymous luxury hotel.
VR Chat in Panda costume
In the design of the celebrations on the occasion of the electoral victory of Joe Biden's supporters, the Democrats had shown for the weekend, quite creative. No one was probably more creative than a group of Furries. Furries are people who run around in animal costumes. One of them, the Youtuber and Virtual Reality Fan Coopertom, has recreated the meme worthy news conference on Sunday in Virtual Reality and invited to make use of the virtual space for a Furry-election victory party.
Ha Ha Ha OMG! The grand debut of the Four Seasons Total Landscaping was AMAZING! Thank you to everyone who showed up! pic.twitter.com/2c5KQKQwgC

— coopertom (@thecoopertom) February 9, 2020
To create the space he used an Online VR Simulator called VR Chat. In VR Chat Users own VR can design worlds, which can then be used by you and other users will be visited. Entering a virtual world by means of a self-chosen avatar. The avatars can make the users individually who wants to appear as anthropomorphic hare or Panda, can do that in VR-Chat easy.
"A Great Place for a Press Conference"
The Scene of the press conference in front of a garage door, when Rudy Giuliani's speech, the message was interrupted, that Trump had lost the election and this election fraud by the Democrats as a result, was, is now immortalized in VR. It Coopertom cost a total of five hours of work, all to recreate. To find the room in VR-Chat is available under the subtitle "A great place for a press conference."
How the room will be used in the future, is not yet clear. Many of the Furries, who were followed Coopertoms invitation on Sunday, had proven to be amazed by the Detail of his replica of the nursery. As The Verge reports, some had considered to use the Podium for a speech. At the end of the event resulted in the Firing of a virtual fireworks. On Monday, the VR-artists then took a small Design Change on the garage door of the nursery: "I couldn't do to me with that name any longer," he explains adapting in a Tweet.
Did a small update to the Four Seasons. I couldn't stand looking at that name. pic.twitter.com/HbzwTVuuik

— coopertom (@thecoopertom) February 9, 2020