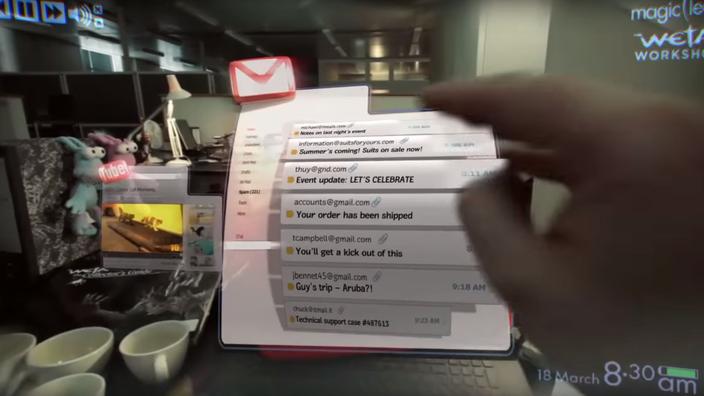 After raising $ 1.4 billion, start-up Magic Leap is caught up with reality
The very discreet company has convinced investors like Google, thanks to an augmented reality technology that could prove too ambitious.
The mystery surrounding Magic Leap is revealed in an unexpected light. The augmented reality company has whetted the appetite of giants like Google or Lucas Film by releasing videos of incredible demonstrations of its technology of projection of virtual images in the real. In the latest video released by the company, we could observe holograms of R2D2 and C3PO wandering around a living room with a precision and resolution worthy of special effects. On this type of promise and without having released a single product since its inception, the company has achieved a valuation of $ 4.5 billion and enthusiastic media coverage. Only privileged few had access to demonstrations of its technology.
Coup de théâtre: The Information was able to test one of Magic Leap's products and says that the company has accumulated a worrying lag in the augmented reality sector. Instead of presenting thin glasses, Magic Leap presented a helmet riddled with wires and projections of blurred and shaky images.
Fake products, real investors
According to Romy Abovitz, CEO of Magic Leap interviewed by The Information, the demo videos were more of a statement of intent than a taste of Magic Leap's products. On one of them, used for recruitment purposes by Magic Leap, the helmet wearer can directly interact with virtual items that he places on his desktop. The paratext indicates that it is a game that "we often play at the offices of Magic Leap". Except that the game never existed and will probably never exist in this form: all of these special effects were added to the video by Weta Workshop while Magic Leap would not have developed this technology.
It is rare to use special effects for product demonstrations, as holograms are difficult to reproduce. But The Information accuses Magic Leap of deliberately maintaining the confusion for marketing purposes, while the technology behind the scenes was not ready.
The news is embarrassing for Magic Leap, which is accountable to investors who financed it to the tune of $ 1.4 billion. The company has some well-known names among its backers, such as Andreesen Horowitz, who has already invested in Airbnb, Facebook, Pinterest or Skype. It has also raised funds from Qualcomm, which specializes in mobile technologies, and Chinese e-commerce giant Alibaba. More recently, she partnered with Disney around the StarWars saga.
A delay of several years on the Hololens
Microsoft would retain a multi-year lead over Magic Leap. With his HoloLens headset, a version of which for developers is marketed for 3000 dollars, Satya Nadella showed that his company has serious ambitions for mixed reality. Where virtual reality headsets focus instead on entertainment and video games, the HoloLens wants to be the new indispensable tool for professionals. Microsoft has partnered with several companies to test the capabilities of its headset in their field of activity. Thyssenkrupp has equipped about fifty employees of its elevator branch. NASA trains astronauts for future space travel with the HoloLens.
Meanwhile, Magic Leap would not have been able to miniaturize its technology on the scale of glasses. Unlike Microsoft, the company wants to use optical fiber to render virtual holograms. She would not have managed to implement it in a prototype smaller than a computer. In the face of these embarrassing revelations, Magic Leap-which still refuses to make public demonstrations-did not respond to media requests.