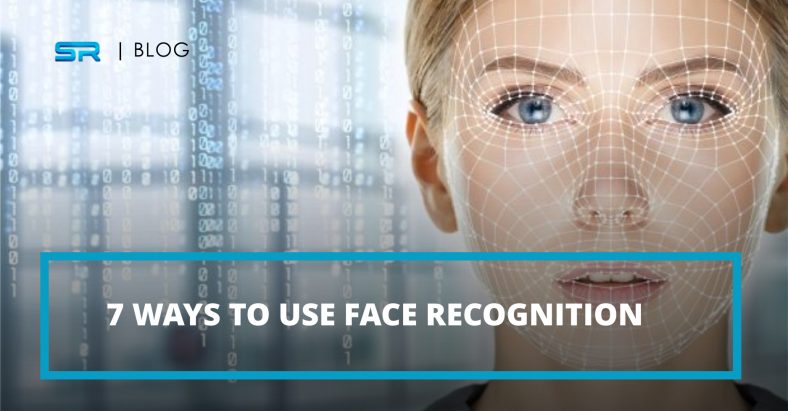 7 ways to use Face Recognition
In the age of information technology, a great number of people use facial or fingerprint recognition technology to unlock phones or log in to the apps. While these technologies are currently used mostly, there's no big deal when it comes to biometric identity. Biometric technology such as facial recognition used to track and analyze people's unique biological characteristics in a fast and accurate way. Moreover, it can identify what emotions people are experiencing. According to recent research, the market of facial recognition solutions will reach up to 9.6 billion U.S. dollars in 2022. Another research states that the global facial recognition market will have reached 7 billion U.S. dollars by 2024.
That means facial recognition technology is gaining traction globally and can be utilized in a great number of business verticals from retail and logistics to automotive. In addition to that, it opens up gold opportunities for companies to provide identification and personal verification solutions. Not only can you use it to go through security at the airport or purchase products at stores, but also it helps businesses to improve business processes from identifying customers and conveying personalized messages for them to solving serious fraud and privacy implications. As a result, a great number of companies working in different sectors opted for software powered with facial recognition features. Sounds impressive, right? Let's delve into details below:
How
facial
recognition
works
:
Key
steps
Generally, facial recognition is the process that helps to identify or verify the person's identity by capturing, analyzing and comparing patterns through the biometric technology to map out facial features. Sounds interesting, right? Let's discover what steps the process includes:
Firstly

,

by

capturing

a

face

picture

from

a

video

/

photo

appearing

in

a

large

group

of

people

in

real

time

,

the

system

tells

us

where

in

the

given

image

and

/

or

video

the

face

lines

,

contours

,

etc

.

Moreover

,

the

camera

powered

with

facial

recognition

features

better

detects

the

individual

'

s

face

when

an

individual

looks

directly

.

Secondly

,

the

system

identifies

some

distinguishable

facial

features

—

nodal

points

that

form

each

person

'

s

face

—

and

analyzes

the

distance

between

the

eyes

,

the

distance

from

the

forehead

to

the

chin

.

As

a

result

,

you

get

a

facial

signature

of

the

face

from

the

picture

provided

.

Thirdly

,

based

on

the

facial

analysis

,

the

system

turns

facial

features

into

a

mathematical

formula

where

they

transform

into

numbers

in

a

code

.

Finally

,

a

system

determines

your

faceprint

and

compares

it

with

other

faceprints

from

the

database

.

The

system

returns

it

with

the

following

information

:

full

name

,

address

,

date

of

birth

,

occupation

,

etc

.

once

there

is

a

match

in

the

database

.
How
companies
can
use
facial
recognition
technology
in
business
Below we have provided some information about how businesses can gain an advantage of solutions powered with facial recognition. Let's keep reading!
Focus
on
facial
recognition
to
boost
patient
care
Currently, biometric technology becomes more affordable, and healthcare providers opt for digital solutions powered with facial recognition to meet a variety of needs. Not only does it help healthcare providers to mitigate headaches as much as possible when handling their claims process and prevent frauds, but also it allows companies to improve both patients' care and patients' outcomes — it streamlines patient registration, speeds up the access patient records process, detects patients' emotions and pains, and even helps to identify some genetic diseases. For example, now it is possible to monitor the patient's use of medications more accurately, find genetic diseases such as DiGeorge's syndrome with up to 97% precision, and control the anesthesia procedure during surgery through careful face examination and analysis.
It's not a secret that healthcare professionals are spending too much time when dealing with non–patient–facing tasks like making phone calls, writing clinical notes, etc. Thanks to powerful facial recognition solutions, the process of managing the patient's records, accessing them and retrieving moves faster and more efficiently. By identifying the patients and verifying their documents through facial recognition software, healthcare providers can focus on more vital tasks and deal with some emergencies that require more attention.
With the Coronavirus outbreak, some companies have developed facial recognition solutions to measure body temperature contactless. For example, Dermalog company has updated its facial recognition hardware solutions and added a safety feature – now it determines the temperature at border points. In addition to that, another company Telpo launches temperature–sensing terminals powered with facial recognition features that work even if a person is wearing a face mask.
Prevent
data
breaches
Unfortunately, companies experience data breaches and hacks that have become a common reality. Moreover, they're so widespread that it's hard to keep the business' data well–protected — traditional methods of verification and authentication have been compromised. For example, DoorDash suffered a data breach — hackers have stolen up to 5 million customers, delivery people and merchants data. Not only personal information such as passwords was compromised, but also data breaches have resulted in a variety of identity thefts.
Having that in mind, a great number of companies have decided to replace old, traditional authentication methods that faced plenty of challenges. Only by implementing biometric verification can the system verify an individual's identity based on his/her unique biological traits. That's why it's imperative for businesses to implement biometrics solutions that help to enhance security and deliver a better experience. In addition to that, they should take appropriate countermeasures to reduce the likelihood of data breaches and prevent the most widely used attacks.
Facial
recognition
for
security
and
driver
health
Recently, biometrics facial recognition solution has become an essential part of the industrial environment. It is used by energy companies to provide safety and security possibilities in their chains. For example, Chevron aims to improve both productivity and safety as well as transport routes through technology — facial recognition solution that helps to detect fatigue and distraction from the eyes/mouth/head in truck drivers and prevent these dangerous behaviors. In addition to that, these solutions can be implemented for security purposes if there is a need to keep track of only authorized individuals who are permitted to enter certain sensitive locations. Moreover, energy companies can utilize mentioned above technology to happen faster in the process of making payments for fuel. For example, mobile–first transaction authorization DriverDash application allows fleet drivers to authorize a fuel transaction directly from the vehicle by using a mobile device powered with facial recognition technology.
Combat
payment
fraud
In today's digital e–commerce market, the risk of becoming a victim of online fraud and payment scams is too high. Moreover, scammers find out more sophisticated methods to hack a system and steal your identity and money. When proceeding payments or cart items, businesses can use digital facial biometric technology.
Only by leveraging online face verification can e–commerce businesses verify the individual's identity in real time against the documents provided. Not only does it help to reduce the number of fraudulent transactions, but also facial recognition enables businesses to minimize the risk of facing significant fines or damage to brand and reputation. Furthermore, the facial recognition system can define the age of potential purchasers by examining the facial features and ensure that age–restricted products won't be sold to people who are under the minimum legal age.
Verify
employees
Companies across all sectors can gain significant advantages from a facial recognition software that simplifies their recruitment process and helps to save time and resources. With robust facial recognition solutions, companies can verify their future staff by identifying applicants' experience and education credentials. Once a potential candidate uploads his/her documents, the system verifies a candidate against an identity document and confirms whether he/she provides genuine documents or not. Moreover, it's a great solution for companies with a lack of e–signature capability or for ones that prefer remote hiring.
Additionally, facial recognition software can assess how well candidates will fit into your company's unique work environment. That's why companies should take into account a cultural fit that is a key component any HR or recruiter should understand at the very start of communication with a potential employee. Thanks to robust facial recognition solutions, you can detect the facial expressions of the company staff by assessing their skills, experience and determine the "ideal" employee's face for your company. Thus, the system used to analyze an applicant's face and compare it with the "ideal" employee opens up unique opportunities to understand whether an applicant is a good fit or not.
Vehicle
access
control
There is a great number of possibilities to utilize facial recognition solutions in the automotive industry – from car ignition to cutting down car thefts. That's why these solutions are a way out to improve both safety and convenience in the automotive sector. According to recent statistics, in 2018 up to 6 billion U.S. dollars were lost when motor vehicles have been stolen in the US. Having that in mind, there is a necessity for automobile manufacturers to take a new and reliable safety measure – face recognition. Not only does it help to keep car owners calm and at peace, but also it offers extra safety opportunities and helps to reduce thefts. Moreover, it can automatically adjust vehicle settings and handle the personal preferences of each car occupant. For instance, the system can automatically adjust heating or start playing favorite music once the vehicle's owner is authorized. Thanks to those possibilities, the driver is able to enjoy a more positive in–cabin experience. More importantly, if there is a child in the vehicle, a camera powered with face recognition feature can detect it, warn parents by recognizing whether a child is unattended, and offer child–focused entertainment content.
Get
direct
insights
into
marketing
Facial recognition technology has a huge potential in the marketing business domain. From displaying ads in the e–commerce app to tracking consumer behavior to define target audience preference, facial recognition technology is here to stay. What's more, customers want to get exactly what they're looking for, and this technology is a positive step in that direction. Ultimately, face detection solutions can define customer's age, gender and emotional response to what they are looking at. For instance, a well–known tour provider Expedia partnered with the Hawaii Tourism Authority to offer face recognition tour options — a customized vacation for travelers willing to watch a two–minute video and allow a camera to map their facial expressions to identify what Hawaii–based tourist activities resonate with the users in the most positive way.
Bottom
line
:
Are
you
ready
to
experience
facial
recognition
technology
in
your
business
?
Fortunately, face recognition is gaining traction globally and becoming crucial for a great number of sectors – healthcare and retail, tourism and energy, manufacture and automotive, education and e–commerce, etc. Along with other forms of biometrics, facial recognition solutions are reshaping the landscape when it comes to developing digital solutions for a wide range — from individual documents verification and access control to automotive and healthcare. Not only do these solutions deliver seamless biometric identification, improved security and prevent data breaches, but also they provide a more customer–centric approach. In addition to that, when combined with face tracking and analysis, they deliver a more sophisticated in–cabin experience for drivers and move it to the next level. To sum up, facial recognition is in high demand and its benefits are unlimited. Having that in mind, it is essential to focus on the development and implementation of facial recognition solutions to give your business a significant boost.