REAL ESTATE AND ARCHITECTURE
REAL ESTATE AND ARCHITECTURE
REAL ESTATE AND ARCHITECTURE
VR/AR in real estate
Speaking about the relevance of the use of virtual and augmented reality technologies in business, the real estate sector is one of the first to be mentioned. The pace of implementation of VR and AR in real estate is extremely high.
If businesses are trying to operate technologies directly in the building approach, then advertising AR applications that involve users have firmly entered our daily lives.
Numerous developers reasonably claim that real estate augmented reality and virtual reality solutions already today radically affect the client's decision to purchase or rent a flat, house, retail facility.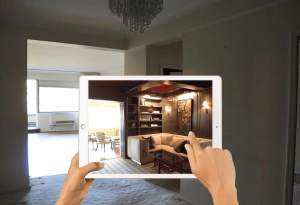 How are real estate ar and augmented reality for real estate different?
VR is a virtual reality that allows you to consider the world created in 3D graphics programs. Plunging into the virtual world, a person operates all the senses, which allows him to almost 100 percent immerse himself in 3D space. Moreover, VR also provides for the feedback of the elements of the non-existent world on the efforts of the user.
The principle of AR is not like virtual reality. Augmented reality is very close to the previous one, but its name speaks for itself. AR is a technological solution that allows you to add or remove exact things in reality without an international transformation of the environment. AR is limited by the capabilities of gadgets and programs.
VR transforms your surroundings, and with the help of virtual reality helmets, simulators, you will quickly be transported to the epicenter of events that the developer has prepared for you.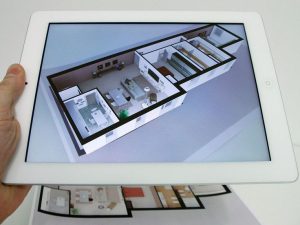 Virtual Reality Real estate: how does it work?
Videos or photos will not give you an opportunity to view the property, design, layout, and other features of real estate at the building step. But the VR will.
Some time ago potential clients had to come to the site, study a lot of not very informative documentation, and try to imagine how it would all be implemented in life. Now this task becomes much easier. An interactive 360-degree view of objects with high-resolution rendering allows you to immediately see how a residential or commercial property will look after the completion of all construction, restoration processes.
You can observe technology in practice. Moreover, the application is different:
Inspection of the object to increase sales effectiveness. Developers can "stitch" images, 3D objects, including videos that the client explores through glasses or a virtual reality helmet.

Buying real estate sightlessly. According to research, a third of homebuyers purchase without even seeing it. A striking example is purchase under construction. It is an order of magnitude cheaper, but a person has little vision of ​​the result. Virtual and augmented reality crack this problem, allowing you to see the design, estimate the size of the rooms, design solutions, color combinations, and more in advance.

Reconstruction of objects. Previously, some problems indicated to the contractors the scope of work and specific performance requirements during the reconstruction. Now AR architecture technology permits you to honor a real object: decoration, scenery, structural elements, etc.

Promotion. Virtual tours of real estate objects are much more practical than ordinary billboards, ads on the Internet, television, etc.
Why is virtual reality relevant in real estate?
Virtual Reality has some benefits:
Facilitating the sale process – people are receptive to the picture, and a "ready-made" apartment is easier to sell than one that does not even have a ceiling yet.

Objective assessment of the area. For example, 40 square meters. Virtual reality will give a clear understanding of how much it is and whether this space is enough.

Attention to detail. You can see every, even the most insignificant element – up to the future view from the window.

There are benefits for business too. For example:

A rather low price of implementation. Investments are relatively small. And the client can view the object on the spot in VR/AR mode from his smartphone or tablet. The best effect is achieved with glasses or a virtual reality helmet.

Support for multiple devices. In addition to the mentioned phones and tablets for 3D tours, you can use computers, laptops, TVs, and other gadgets that play video content.

Additional opportunities to contact the client – by sending push notifications through a mobile application.

Increased interest of visitors to the site of the builder or developer.

Significant increase in site conversion.
It is the latest tool for selling flats in new buildings. By installing a widget of a 3D tour of apartments in houses under construction on your website, you operate the danger of rising consumer interest in objects under construction by several times. When it comes to mobile, in an industry where desktops are now several times more efficient than mobile traffic, VR technology will allow you to grab the whole market and achieve a long-term competitive benefit.
Does the technology have disadvantages? Perhaps, only the lack of prevalence so far. That is why some solutions are still expensive. Not every company will allow itself the organization of 3D tours. But the active use is in the nearest future.
The benefits and disadvantages of VR in real estate cannot be compared. There is no doubt that VR and AR are the future. In the future, the functionality will only develop. In particular, if the potential tenant or buyer lives in another city or region. At the same time, most investment property managers are only too happy to abandon the usual individual tours, which waste a lot of time and effort. Plus, they demand to pay for the services of the person who runs tours. VR is more convenient.
Conclusion
Virtual reality software for architecture is rapidly developing, improving, and evolving functional in more and more areas. Even 5 years ago, when the first inexpensive headsets for business appeared on the market, VR tours occurred to be the regulation of technology for the real estate market. Though, today everything has changed. Interactive content still captivates and continues to amaze, serves as an assistant to companies in proving real estate; at the same time solves no less important assignments. VR developers, together with businesses, have learned to set specific goals and successfully use them with the technology.
Using storytelling devices in projects and creating a remarkable background becomes more successive; improve the effect of downloading in the virtual world plus influence the emotional state of the client and his decisions.
Training in VR is also effective since it is the construction industry that is associated with a large number of dangerous jobs. Today, it is quite possible to calculate their economic efficiency by implementing such projects.
Design projects in VR architecture are also promising. However, they are concerned about training or demonstration, but in the nearest future, they may permit creators much more.
Besides, VR simulations and interactive business solutions are raising more real and functional, allowing to popularize the technology. And VR is an attractive and unusual background for clients, workers, or novice experts.
FAQ
What is VR?
➢Virtual Reality (VR) is the use of computer technology to create a simulated environment.
What is AR?
➢AR is an interactive experience of a real-world environment where the objects that reside in the real world are enhanced by computer-generated perceptual information, sometimes across multiple sensory modalities, including visual, auditory, haptic, somatosensory and olfactory.
What can people with AR and VR do in real estate and architecture industry?
➢Walk through the building that is at the stage of design, immerse customers in their ideal home even before putting a single brick. Virtually attend ten apartments to choose which one to rent from any location instead of wasting time and money on really going to each of them separately. Check how particular items (furniture, decor, colors) would suit your home/place.
Where can I look at your cases?
➢You can look at our cases
here
.
WE WILL BE HAPPY TO HEAR YOUR THOUGHTS