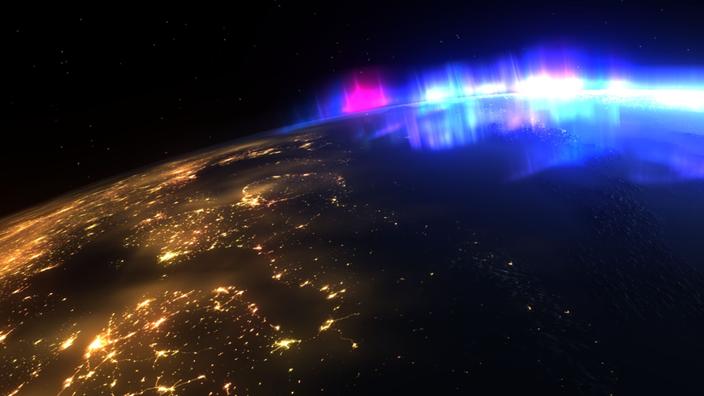 With Spheres, the Cinema gallery invites you to dive into the cosmos
Based on Eliza McNitt's virtual reality work, which won the Venice Film Festival, the gallery of the producer Anne-Dominique Toussaint, offers an exhibition that declines the theme of space exploration and the beauty of the universe.
Enter the round of stars. And take a first step into virtual reality, with Spheres, by Eliza McNitt, produced by Darren Aronofsky, Ari Handel and the French studio Atlas V. Until the end of March, Anne-Dominique Toussaint's Cinema Gallery offers to live this fascinating visual, tactile, acoustic experience of interplanetary space, at the borders of science and art. You have to start by going down into a cellar, between the phosphorescent gray nylon hangings of the astronauts, to then be propelled into space, duly helmeted and equipped with controllers allowing you to orient yourself through the planets.
" READ ALSO – Pinned on Twitter for being too inspired by Basquiat, an artist has his exhibition canceled
Through is the word, because the traveler is invited to enter the interior of the stars approaching him: touch them, suddenly you are in the midst of the waves they produce, chromatic movements and mysterious sounds. The music of the spheres is not a vain word, even if the discoveries of astrophysics have given it another meaning than that of Pythagoras. You can interact with these sound waves: to the sound of your voice, the planets respond with musical vibrations.
"I would like to use virtual reality to make the mysteries of the universe understandable to as many people as possible. I want to show that science is a language, and that it is audible to all"

Eliza McNitt
We find ourselves literally perched on the night and the void. Or absorbed into a black hole. Dizzying sensations, and poetic wonder… "I would like, thanks to virtual reality, to make the mysteries of the universe understandable by as many people as possible. I want to show that science is a language, and that it is audible to all. She tells stories," says Eliza McNitt, who conceived her interstellar journey in three episodes (the whole lasting 45 minutes): Chorus of the Cosmos, Songs of Spacetime, and Pale Blue Dot. With comments by Jessica Chastain, Millie Bobby Brown and Patti Smith in the original version, by Adèle Exarchopoulos, Léa Seydoux and Jane Birkin in the French version.
To return to earth smoothly, the gallery offers on the ground floor an exhibition dedicated to space exploration, including photographs by Jean-Pierre Haigneré taken from the MIR station, works by Charlotte Le Bon or Joana Hadjithomas and Khalil Joreige.
Spheres, at the Cinema Gallery, 26, rue Saint-Claude, Paris IIIe. Until February 28 and from March 6 to 30.
" Discover the guided tours program of the Figaro Escape here.
" Follow all the news from the Figaro culture on Facebook and Twitter.