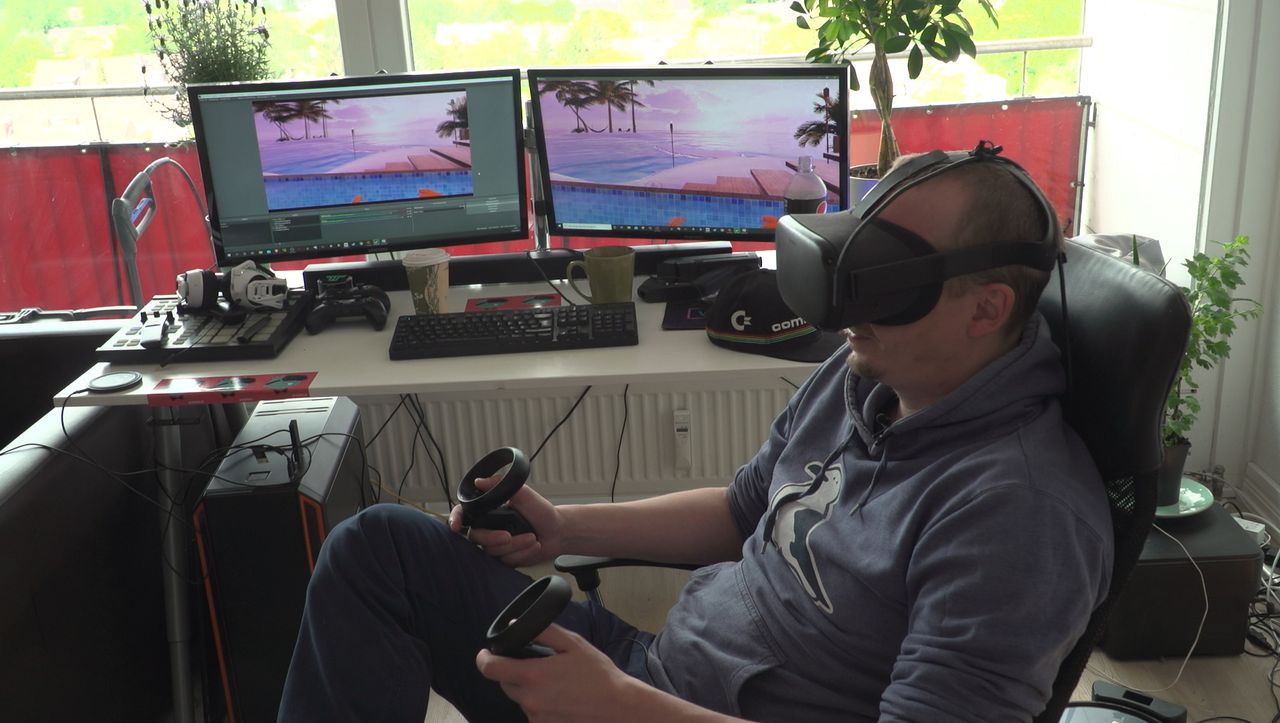 Why the crisis for Virtual Reality came too early
Christoph Spinger, Agency, VR Nerds:
"And now we can go into a world, where a few people are on the move."
Home alone – yet not alone – and actually not more to the house.
It is the idea behind Virtual Reality, short-VR,. To Lockdown just times it sounds promising: Strange new worlds to discover, meet friends, play games, meet new people – all from your own living room. Without a protective mask, with a VR-glasses.
The user will hatch in the body of an avatar, their faces are not visible.
Christoph Spinger, Agency, VR Nerds:
"And I'm a frog."
But the exchange with each other, the communication – all of this takes place between real people.
Christoph Spinger works for the Agency, VR Nerds, created for enterprise VR content. From his point of view has developed the technology in the past few years, so far, she is already very real.
Christoph Spinger, Agency, VR Nerds:
"It doesn't feel all actually, as usual, only that the other one looks very much like usual."
And also Jonathan Harth understands the fascination with virtual worlds. He teaches sociology at the University of Witten/Herdecke, conducts research to Computersipelen and specifically to VR.
Jonathan Harth, A Sociologist At The University Of Witten/Herdecke:
"What makes this Medium special, is that you – as soon as you put a VR glasses and a virtual world gets, that you will feel in this world, and there is a presence feel, so the term for it."
In fact, the Medium is undergoing a small boost, in terms of the Numbers of users who are actually online. This goes back probably to the Corona-restrictions.
Is found with VR it's the perfect Alternative? Could we bridge the crisis just in virtual worlds?
So easy it is not. There are four problems.
+++ 1: VR is not accepted in the Mainstream +++
The technique is not yet used by the masses.
Jonathan Harth, A Sociologist At The University Of Witten/Herdecke:
"The sales are remained far below expectations, which was triggered in 2016, this second Hype around VR yet."
Harth, the number of VR users is estimated relying on the information provided by the provider, to just seven to eight million people – around the world.
Christoph Spinger, Agency, VR Nerds:
"I think that's also the Problem of the current crisis. If we had all VR glasses at home, then we're all in these Spaces on the road, because your friends are there. It is always so, where are my friends, since I communicate."
But the Hardware is missing, so that social exchange-wide move in the virtual world. VR is many people are still not sufficiently known, also because the technology was very expensive. Now is a good device that works without a cable, and without PC costs only 450 euros is a lot less than at the beginning, as you needed for a good VR experience, a powerful PC, but now the manufacturers are not going to come.
+++ Problem 2: The manufacturers have massive problems +++delivery
Shortly before the Corona, the producers had problems to use the orders, which was the announcement of a particularly popular Ego-Shooters. Now production delays added by the pandemic. So VR worlds, but simple video chat is not booming currently. It looks as if the crisis for VR would be a little early.
Chirstoph Spinger, Agency, VR Nerds:
"Would have broken out the pandemic in ten years' time, then it would have been likely to be different. We have made it with VR-glasses and all. So we have the Chance, unfortunately."
+++ Problem 3: VR is still too exhausting +++
Many users do not keep it in virtual chat rooms as long as Meeting in real life or in video conferences. This is less of a mental burden due to many of the abstract impressions than on the Equipment itself. In the case of glasses, you must connect it to the PC, interferes with the cable. And Autonomous devices are relatively heavy.
Christoph Spinger, Agency, VR Nerds:
"Most of the play Sessions of a half hour or an hour. There are also people who play longer, and there were also many people who were 24 or 48 h in VR. This also works. But most of them play for an hour at a stretch, then you do something else and then play it back in an hour."
+++ Problem 4: meeting New people is easier than in real life +++
To make new contacts in the virtual reality can be more difficult than thought. Most people agree to meet directly in certain chat rooms. Then, it is as difficult to find connection.
VR Chat users: "Shut up"
Christoph Spinger, Agency, VR Nerds: Okay, I'm not here so desired."
Christoph Spinger, Agency, VR Nerds:
"I was so shocked a bit. I thought in the Moment, you can't just say to me, 'Shut up' in what world does this work? But, apparently, the tone is in VR just like that."
The lack of technology, stressful experiences – in some Places it will get involved. The technique is widely used, but in their own environment with VR now a real Alternative. The Meeting with friends is more realistic than over Skype or Zoom.
Christoph Spinger, Agency, VR Nerds:
"It is still not a completely real Meeting, but a more genuine than the chat, because I just stand In the room-I have a feeling."
Jonathan Harth, A Sociologist At The University Of Witten/Herdecke:
"This is quite exciting effect, that if you meet in a Multiplayer session, other real people in this VR world, that this sense of Presence reinforced. There are so a word such as Social Presence. So, that rises due to the fact that the other is present and that you may perceive the other as a present – the presence of even again – so the feeling for it."
Christoph not only when sharing with friends or for business meetings on the viteuelle reality: Contrary to every Gamer cliché VR also serves as a sporty balance. Right now, where many Indoor offers are still closed. Instead, he puts on the VR glasses and rages at the Squash in your own living room.