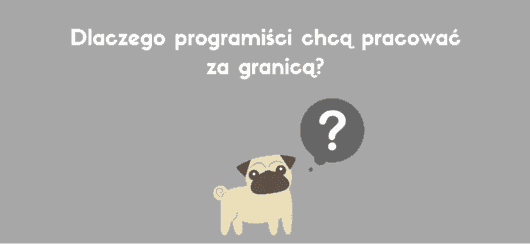 Why do programmers want to work abroad?
A Polish programmer can still expect a higher salary in a foreign company. But are financial issues really decisive when choosing an employer outside Poland? We decided to take a closer look at this issue.
In the world, the IT sector is constantly suffering from a shortage of specialists. In the countries of the community alone, as calculated by the European Commission, by 2020 will be almost 825 thousand. computer scientists. Not surprisingly, the number of IT graduates in the EU has recently fallen by 13% and this trend is growing. Foreign employers are increasingly draining the Polish market, looking for IT specialists here. Meanwhile, according to many studies, more than 50 thousand people are missing in Poland. employees in this sector. However, is the recruitment of programmers from Poland by foreign companies so eager only due to the crisis in the labor market?
Polish computer scientist in the eyes of a foreign employer
Polish employees enjoy a very good reputation in foreign markets, which makes them happy to be hired. Since 2003, more than 30 thousand have left our country. specialists, including a lot of computer scientists. The most wanted are Java, C++, C#, Python, PHP programmers, testers, as well as people working on mobile applications. All this is due to rapid technological changes, due to which the huge demand for IT specialists is growing.
Western companies are very willing to hire polish programmers because of their qualifications and skills, and at the same time their services are even three times cheaper than foreign IT specialists, despite the fact that the rates are leveling off more and more from year to year. It should be noted that the attitude of foreign employers has changed. They already see Polish programmers not through the prism of risk, but as high-class specialists who do their job very well. However, we decided to check whether our IT specialists really want to leave the country and work in foreign companies, and if so, what convinces them to do so.
To leave or not to leave? Here's the question
The approach of our native IT specialists to work in Poland and to go abroad is very interesting as shown by the Antal report "it@PL – it labour market in Poland". It shows that only 21% of developers would not decide to leave the country, while the rest would not have much resistance to it. It turns out that 72% of respondents would choose a foreign employer primarily because of the higher salary. This is followed by better development prospects, a different work culture, a more mature market and work in an international environment. At the same time, as the direction of departure, the developers indicated most often the countries of western Europe (mainly Germany, France and Great Britain), and only then the United States and Canada, as well as the Scandinavian countries. 37% of respondents would like to leave for a maximum of 3 years, 29% do not have a specific time frame, and 17% are ready to work abroad for less than a year.
We also learn from the report that 33% of the respondents had already worked abroad, and their family situation motivated them to return to Poland. At the same time, 65% of the surveyed IT specialists declare that if they worked outside our country, only a competitive salary could influence their decision to return.
However, the majority of respondents would not choose to leave due to limited contact with their loved ones. An attractive salary could also be an incentive to stay. It is worth adding that as many as 51% of the surveyed programmers assess the development prospects for IT employees in Poland as very good. However, this shows that Polish programmers would not necessarily want to leave. And more and more often they don't have to.
Working abroad without leaving Poland
At first glance, you might think that this is a paradox, but in fact it is the reality of many Polish programmers. Thanks to new technologies and new forms of communication, they no longer have to leave Poland to participate in foreign projects. Most often, this is done in two forms: they perform tasks for foreign contractors, being employed in our country (according to the ABSL Report "IT services market in Poland", 80% of Polish IT companies provide services to clients from western Europe) or work directly for a foreign employer, without moving from a computer located, for example, in Warsaw, Poznan or Krakow. More and more often there is even talk about the virtual emigration of polish programmers. Today it is not really important where you live, but what you can do, skills and competences are important. It is worth noting that thanks to new technologies, developers have access to international know-how and can participate in the most innovative projects in the world without leaving their homeland. This makes them develop professionally, and in addition, they also earn well.
If you are interested in the topic of activity of polish programmers abroad, we invite you to read our article "Polish IT companies getting stronger in foreign markets".