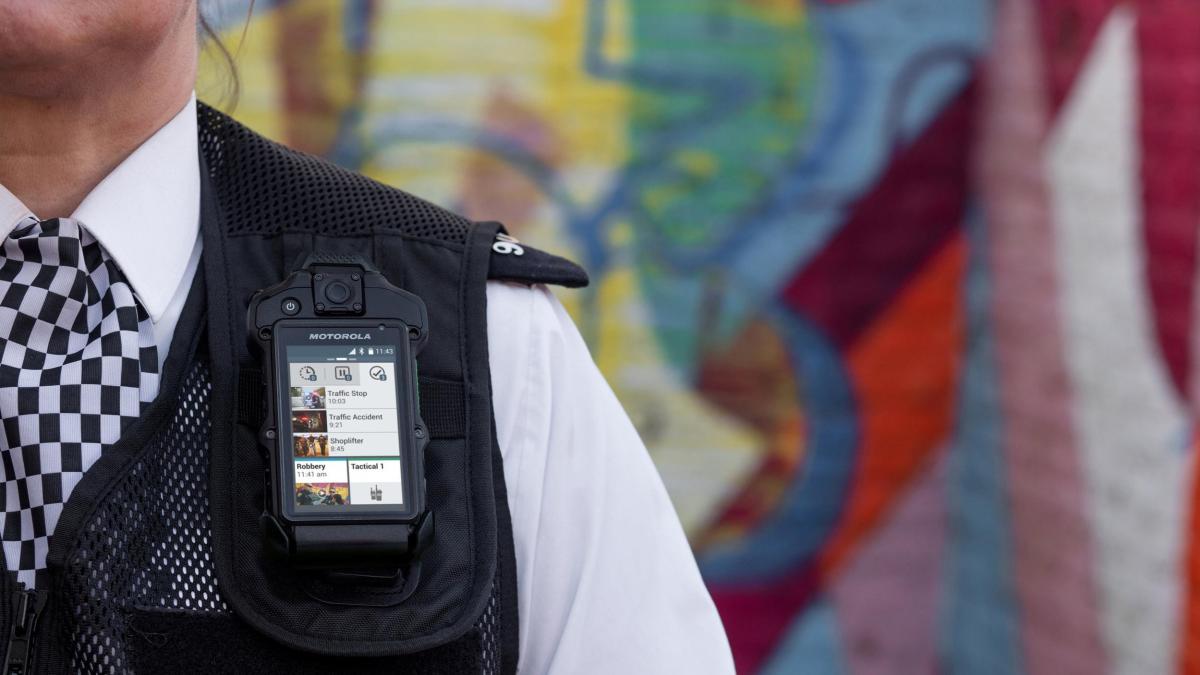 When emergency services become smart cyborgs
The fireman of the future wears glasses. Stefan Frühauf turns in a circle, moves his fingers quickly up and down in front of his eyes. On his head he wears huge glasses, almost a helmet, crammed with the latest technology, cameras, sensors that even detect hand movements: wipe. Before his eyes, Frühauf looks at the images of a drone circling over a sea of flames. Wipe. The health data of his colleagues are shown to him. Wipe. The distance of additional emergency forces is calculated.
Frühauf is in the middle of a dramatic rescue operation. But Frühauf wears a suit, stands in a large factory hall and heads the Motorola Solutions innovation Center in Berlin. There, the company wants to show how emergency forces can fight fire and crime in the future.
In 1973, Motorola introduced the world's first mobile phone. However, for part of the company, the business of mobile phones is history. in 2011, Motorola separated its corporate and retail business.
The smart fire brigade comes with cameras and sensors
Since then, the independent company Motorola Solutions has focused on enterprise and secure communication solutions. The division generates annual sales of six billion dollars and employs 14,000 people worldwide. From its Berlin location, the company has already delivered more than 1,000 digital radio systems all over the world. In addition, more than 340,000 police officers and firefighters in Germany use digital radios from Motorola.
Read also
"But the future will be even smarter," explains Motorola digital expert Tunde Williams. As early as 2020, there will be more digital assistants than people. "Public safety must adapt to this new environment. While we have previously shared information between humans, machines will soon help us make better decisions."
Motorola wants to drive this forward with its own innovation center in Berlin. The intelligently networked firefighter is an example of what will be possible in the future through the networking of sensors, cameras and health data.
The operational plan of eyes
The new concept is primarily based on augmented reality technology, which is intended to expand one's field of vision with useful information through smart data glasses, and a large number of sensors.
Read also
The protective suit of the future will measure air supply, heart rate or ambient temperature in the future. Thus, firefighters and their heads of operations constantly have enough information to assess safety on duty. In large-scale operations, drones and 360-degree cameras are intended to show different angles of view of a fire in order to better coordinate work on site.
All information flows together on augmented reality glasses, which are controlled by hand signals. Right in front of the eye, emergency services can then see where their colleagues are traveling, when reinforcements are arriving or which part of the building is already too unsafe to enter.
Police should get virtual partner
Frühauf has extinguished the digital fire and is now on duty as a futuristic policeman. "Please check the license plate," he says, pointing his camera at the lapel at a license plate. A few seconds later, a computer voice answers: "BMW, built in 2010, belongs to Mary Cooper. She was born in 1966 and is 1.77 meters tall."A detailed profile of the suspects follows. Frühauf does not have to get into a police car, does not even lower his gaze. "Eyes up, hands free" is the motto for the smart policeman that Motorola has proclaimed.
Radios in police operations today have an emergency button that allows an officer to reach his guard without a direct radio message. In the future, this button could be activated automatically via intelligent sensors-for example, when a police officer draws his weapon or his heartbeat rises sharply. Combined with a body camera, the dangerous situation can be assessed immediately.
"It is a global trend, which we have observed in the US: Only 15 percent of their working hours are police officers on duty. A quarter of their working time is spent on logs and paperwork, " explains Motorola specialist Williams. The company also wants to make this step smarter with a" virtual partner " – a mini-computer with a built-in camera, which police officers could soon wear on their lapels.
Digitization could fail due to the need for savings
On call, the device can search databases, call for backup or take photos and integrate them directly into the deployment protocol. With a second camera, police officers are protected even in confusing situations: Thanks to artificial intelligence, a computer voice warns of dangers from the ambush that emergency personnel do not see coming. Even foreign languages should soon be translated by police officers. Just recently, Google demonstrated with its headphones "Pixel Buds" that automatic translations in real time are ripe for the mass market.
The demo version can already be tested in a real environment in half a year, the company explains – assuming the necessary change. The financial outlay in particular could delay the rapid deployment of intelligent technologies, fears Jörn von Lucke, director of the Open Government Institute at Zeppelin University: "Police and fire service personnel should also have state-of-the-art digital equipment for operations in Germany, especially if it can save lives and reduce damage to a minimum. However, restrictive budget requirements and job plans only allow this to a limited extent in Germany now and in the future."
Read also
Motorola therefore wants to tailor its products to the needs of customers as much as possible: The company is already working with firefighters and police officers to understand the requirements of the emergency services. "But our technical director always plans a few years ahead," says a spokesman. So it will take a few years before smart police officers and firefighters really save lives.