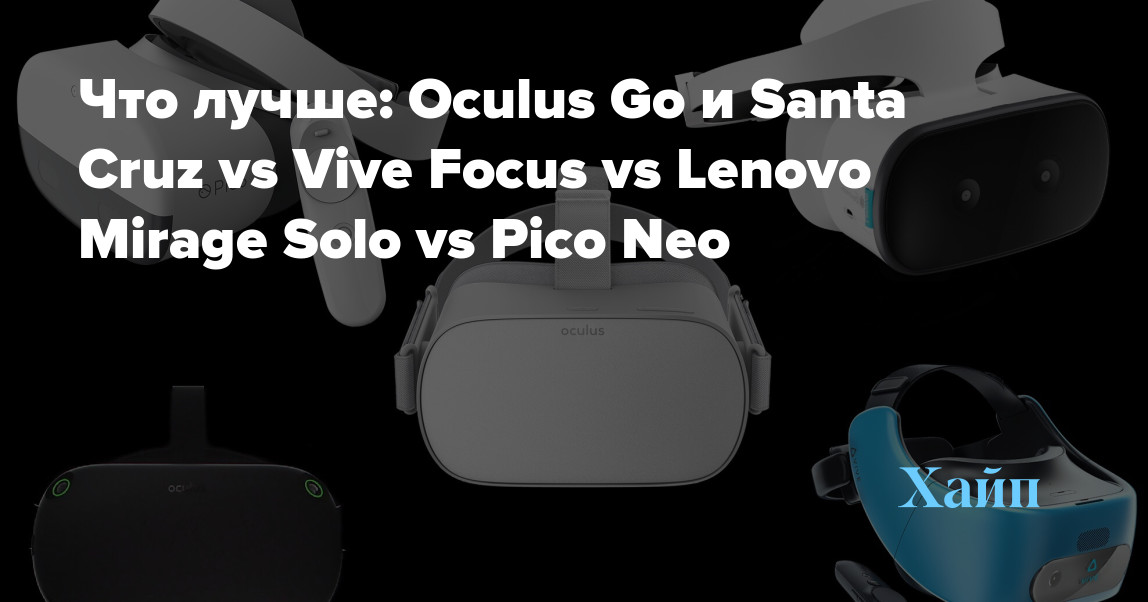 What's better: Oculus Go and Santa Cruz vs Vive Focus vs Lenovo Mirage Solo vs Pico Neo
Standalone headsets represent a major breakthrough for VR technology, made possible by such companies as Google, Facebook, HTC, and others.
Photo: W3LiveNews.com
All-in-one VR headsets have everything you need to immerse yourself in virtual reality. It is a complete device, just like a smartphone or tablet.
The very first VR headsets available to consumers require several components to function correctly (the VR headset itself, a powerful PC, and various sensors). These include Rift, Vive, Gear VR, Daydream View, Cardboard, PlayStation VR, and Windows Mixed Reality headsets.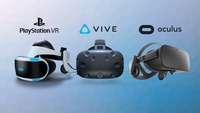 Photo: Road to VR
Autonomous helmets, by contrast, are a single device designed exclusively for immersion in virtual reality and always ready for transport. And thanks to the built-in rechargeable battery, these headsets can be turned on and used anytime, anywhere.
Almost all of these headsets are wireless. However, you need to know that such devices are only conditionally autonomous and free of wires. Some of them use information received "over the air" from a nearby PC for work, while others are connected by wires to small computing platforms that can be put in a pocket or fastened to a belt.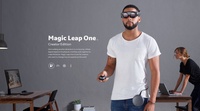 However, some dreamers hope that soon such inconveniences will disappear, and we will get truly self-sufficient devices, in the form of headsets with an integrated processor, video chip, display, internal memory and all the necessary sensors, which will make the immersion process in VR even more convenient.
The first autonomous systems differ significantly from each other. Some seriously restrict the freedom of movement of the user, others allow you to move short distances due to the lack of an obstacle detection system. Eventually, such devices will evolve and will allow for a combination of convenient control and anti-collision functions with objects from the real world. In the meantime, a short overview of what we have at the moment awaits you.
Oculus Go ($ 200 – 11,280 rubles)
Features: single controller, LCD display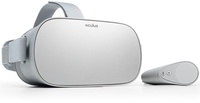 We have not tested this headset yet, but its undeniable advantage – a low starting price – makes the device very attractive in the eyes of a potential user. In addition, photos of the headset packaging were leaked to the web, promising us a solid content base: over 1000 games, applications and 360-degree videos.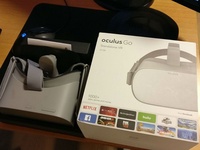 Photo: uploadvr.com
Lenovo Mirage Solo ($ 400 – 22,560 rubles)
Features: ability to move around in confined spaces, no anti-collision system, single controller, LCD display.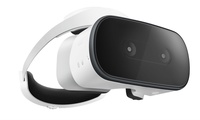 Photo: venturebeat.com
The Google Worldsense system, supported by this headset, gives the user freedom of action without additional sensors within a radius of 1.5 m. When you go beyond the specified space, the screen turns black. Reporters tried the Lenovo Mirage Solo at CES 2018 and it was a great experience. However, there is not so much good entertainment content tailored for a single controller.
Vive Focus ($ 635 – 35 800 rub.)
Features: free movement within 2 m with the ability to disable this barrier for large areas, no collision protection system, single controller, OLED display.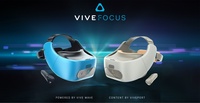 Photo: Holography
The Vive Focus was also unveiled at CES and users were quite satisfied with the headset's comfortable design and experience. In addition, the Vive Focus supports MicroSD cards, allowing you to download a selection of movies, for example, and use the headset as a theater. This is especially true for those people who often travel by plane or train. Although this approach is applicable to the aforementioned Mirage Solo and Oculus Go.
Oculus Santa Cruz (TBD)
Features: free movement in space, two universal controllers, information about the display and the anti-collision system is missing.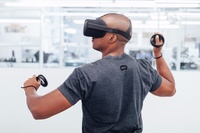 Photo: theverge.com
The prototype of this headset, shown back at the Oculus Connect 4 conference, is for author venturebeat.com the best VR immersion experience with a standalone device. The clever placement of the headset cameras allows Oculus Santa Cruz to detect when the controllers are in the "blind" zone. And this, in turn, allows you to track the position of your hands more accurately. Oculus says the first developer helmet shipments will begin in 2018.
Pico Neo ($ 750 – 42 300 rub.)
Features: free movement within 0.8 m with the possibility of expanding this zone, two controllers, LCD display. According to company representatives, the device will support the collision protection system.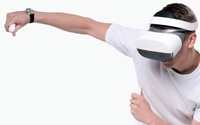 Photo: UploadVR
Previous product from Pico Goblin. And while it was also standalone, it lacked a store with impressive content like Oculus Home or Steam to be popular in the market.
The new Pico Neo, striving to take a leading position, in addition to autonomy and convenient controllers, also offers a high-quality LCD display, as well as access to the Vive Wave store.