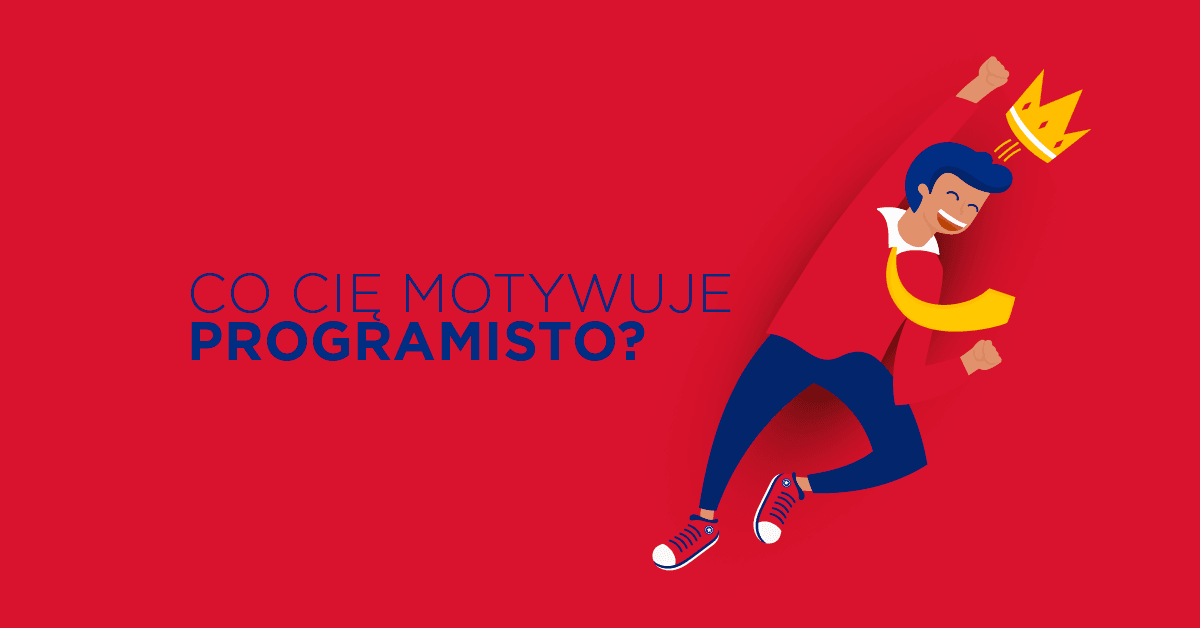 What motivates the developer
Motivation is examined annually in many reports on the IT industry. Also in our extensive study, we took into account the question of motivation to change jobs, as well as in relation to the idea of an ideal employer.
Building employee engagement and motivation has been one of the biggest challenges for HR departments for years, and the greatest weapon in the struggle for the worker there are still employee benefits: health programs and wellness offer, attractive office design and taking care of the prevailing atmosphere, vouchers, or the possibility of remote work.
The American expert on human behavior, Alfie Kohn, already several years ago wrote, supported by a number of psychological studies, that creativity and inner motivation can even disappearwhen a person performs work in exchange for a reward (money, distinction). Rewards and bonuses will not completely solve the case here.
An interesting trend is increasingly noticeable abandonment of ideas work-life balance. This means an end to the rigid division between work and leisure time, according to the principle that work-thanks to the conditions and atmosphere provided in it-can make it possible to achieve personal goals and develop interests. You can see how the idea of work-life integration fits into the IT industry. CTO Piotr Sarnowski once mentioned in an article on our pages about the passion with which programmers approach coding and the possibility of correlating the team's private intentions with business goals.
Before we move on to our" investigation "into the motivation of devs, it is difficult not to miss another idea – this time HR-sheep from Chinese IT companies, where "IT cheerleaders" have become a big trend. They remind programmers about the lunch they bought, they talk, they play ping-pong. At that time, the motivation and efficiency of programmers has increased dramatically.
All right, now we ask those concerned: what is the most motivating thing for them?

Development
It turns out that for developers, development is one of the key things. Since developers are ambitious, it is easy to guess that they like to learn new technologies, solutions, languages. The HR department can therefore demonstrate interesting training. Sometimes it's good to learn something even without having to do with the project you're working on.
On the other hand, it is also important that the programmer has time at all to develop new skills at work. The ideal solution would be if he could acquire knowledge through the project he is working on.
With some skills the employer will use in the future, with others-perhaps never. One thing is for sure-he will get a satisfied employee. Because when a developer develops with the support of a company, he just wants more.

Good salary
After all, one of the most obvious things, which is a satisfactory earnings. I don't think that needs to be commented on. Even if you like your job the best in the world, you don't go to it for charity. 🙂

Being appreciated
Do I like to be praised? Who doesn't? Everyone is more or less vain. If I did a good job, I'd like to know that it was appreciated. What's wrong with that?
Paul, Ruby on Rails Developer
The quality of work varies. But if a person already engages in duties, and maybe even tries harder than he has to, it should be noted. Similarly, when he copes with a difficult task. Developers need to feel that they are important in a given project and perform their tasks well. Sometimes you just have to tell them.

Interesting project
– I can effectively motivate myself if I get an interesting project to implement. That kind of challenge keeps me going, keeps me going. But it makes me nervous when someone keeps interrupting, interfering. I'm counting on your trust because I want to show you what I can do.
Mariusz, C# .Net Developer
As one of the leading motivators, programmers mention the opportunity to participate in interesting projects. This is a challenge for developers and an opportunity for development. These are ambitious tasks that require ingenuity and unconventional solutions. Such projects take you out of the routine, allow you to refresh your head-it's nice to come to work out of curiosity, not just from duty. Of course, sometimes you need to do something smaller, but even then it should be part of a significant interesting whole. Making sense of what is being done is very important. It is best to show the programmer a broader picture of what he is working on and give him a free hand in choosing a solution.
These are just a few of the most popular factors that motivate developers. It is worth remembering how important the basic issues are: the provision of tools and a precise plan for the implementation of projects.