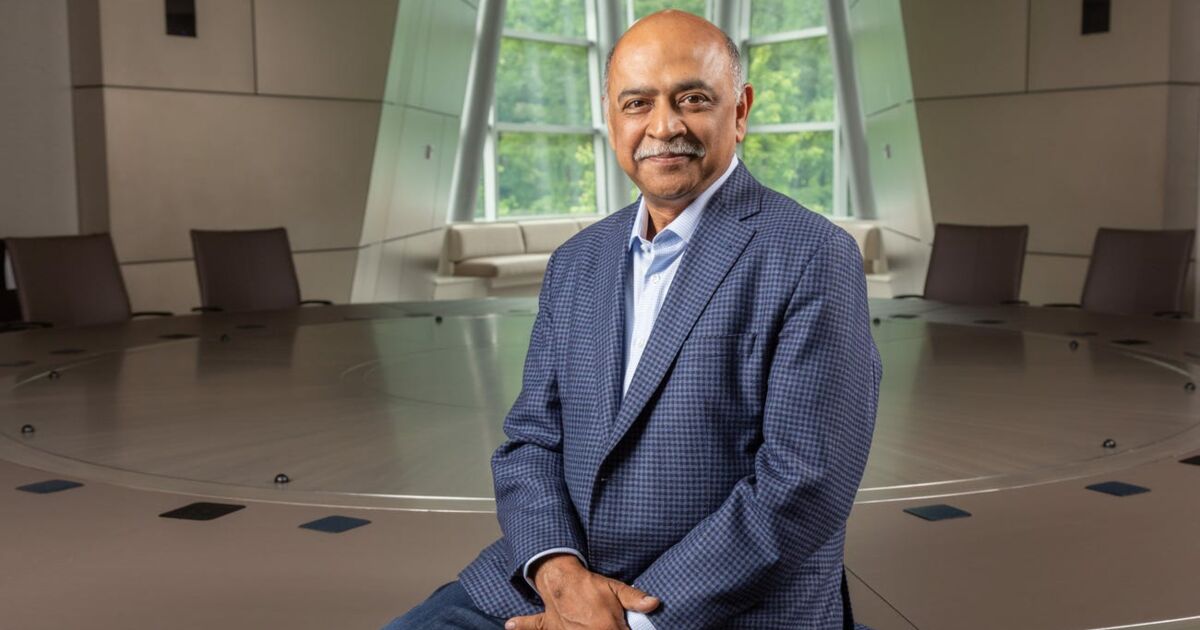 We present to you Arvind Krishna, the new boss of IBM, and his strategy to impose himself in the cloud
When Arvind Krishna joined IBM in 1990, the firm was an iconic and dominant player in enterprise technology. When he succeeds outgoing CEO Ginni Rometty in April, Arvind Krishna, 57, will head what has been described as a technology dinosaur. Today, the nearly 109-year-old tech behemoth is adapting to big changes. Especially when it comes to the cloud, where it has been overtaken by more powerful rivals like Amazon, Microsoft and Google.
But IBM has launched a new strategy to regain its former glory, during a counteroffensive in which Arvind Krishna played a very central role. "I am delighted and humbled to be elected to the position of CEO of IBM, and I appreciate the trust Ginni and the board have placed in me," said Arvind Krishna, who rose through the IBM ranks. This trust is rooted in his strategy to win back IBM's leadership in enterprise technology in the cloud era.
An attack plan that relies on the hybrid cloud
This attack plan is focused on cloud evolutions. The cloud has disrupted the market for companies by allowing them to install their networks on web platforms managed by companies such as Amazon, Microsoft and Google. IBM has tried, but to no avail, to become a more important player in this field. But the company is on the lookout for a new trend, the hybrid cloud. An infrastructure in which companies establish their networks in public clouds, while keeping huge amounts of their data and applications in private data centers.
According to Ginni Rometty, IBM expects that the hybrid market will eventually account for 1, 000 billion dollars (about 907 billion euros). But Arvind Krishna, who is currently senior vice president of cloud and cognitive software, sees it as an even bigger market. He estimates that, as a whole, the hybrid cloud market will account for about $1.2 trillion in the future, distributed as follows: $ 100 billion for hardware and components, $ 150 billion for cloud infrastructure, $350 billion for software and $550 billion for consulting and management services. "Almost half of the device is still made up of services, and the other half is made up of what I would call products, software as well as hardware," he told Business Insider US, in an interview last year, shortly after IBM bought Red Hat.
Arvind Krishna was instrumental in the $34 billion (30.8 billion euro) buyout, which is seen as key to IBM's hybrid cloud strategy. The products of Red Hat, which develops open-source cloud solutions, are popular among developers, which could potentially expand IBM's reach in the enterprise cloud. But some analysts feared the merger would not work. In an interview from July, Arvind Krishna answered a question about the expectations that Wall Street should have: "This is a question that will bother me a little". He ended up stating that the company would stick to a timetable for unveiling its forecasts.
A strategy that pays off
A formal response, which became clearer earlier this month when IBM released results that surprised Wall Street. The company was boosted by Red Hat's revenue. These jumped 24% year-over-year and exceeded one billion dollars. The new CEO said that Red Hat will give IBM additional firepower to engage in another battle, that of artificial intelligence (AI). IBM is considered a pioneer of AI with its Watson technology (able to answer users' questions in "natural language" and not computer and make deductions, ed). But the company has so far struggled to use this technology as a significant advantage over rivals like Microsoft, in the corporate market.
Red Hat will be a game changer, making it easier for companies to use AI, allowing them to collect and process massive amounts of data in order to manage their business, Arvind Krishna previously said. "It allows us to take AI tools and give them to people wherever they want," he told Business Insider US at the time. "All the data that is in companies has a huge value. To take advantage of them, you need to collect them, organize them, analyze them and submit them to AI".
Original version: Benjamin Pimentel / Business Insider US. Translated from the English by Mégan Bourdon.
Receive our latest news
Every day, the main Business Insider news