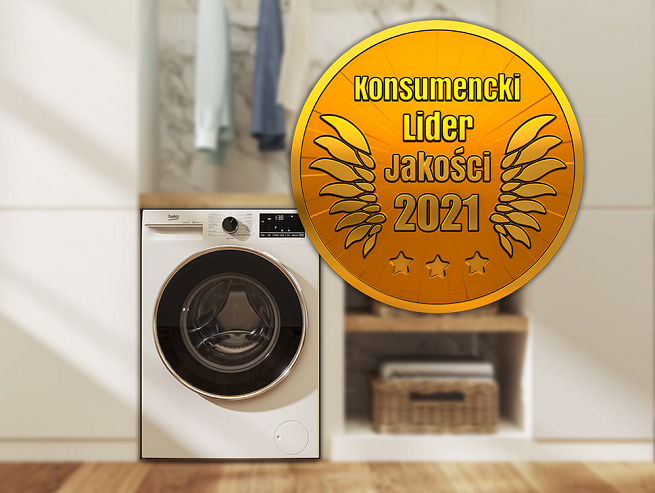 Washing machines and refrigerators-freezers Beko consumer quality leader 2021
In the nationwide survey under the program consumer quality leader brand Beko as the best in the category of washing machines indicated 22.1 percent. respondents.
In justification, the respondents gave different advantages of washing machines Beko:
– "Reliable, works without reservation for many years",
– "Environmentally friendly, recommended by friends when I change the washing machine I choose this brand",
– "Because their price is great against the quality, large selection and good products. I have been using this brand for years and it has never let me down",
– "Quiet and reliable washing machine that has been serving me for a long time."
The best quality, lack of failures, energy efficiency and satisfaction were mentioned as features associated with Beko washing machines.
As much as 90.0 percent. consumers who consider Beko washing machines to be the best and use them recommend these products to other people. Among all participants of the study, 79.6% expressed knowledge of the Beko washing machine brand.
The Beko brand also took the first place in the quality rating in the category of refrigerators and freezers.
The Beko brand has been present on the Polish market since 1998, offering a wide range of household appliances-both detached and built-in. It has received numerous awards from industry and consumer organisations, m.in. trusted brand, product of the year and consumer Laurel.
The consumer quality leader is a nationwide, promotional consumer program, which aims to identify the best brands and companies available and functioning on the Polish market, in the opinion of consumers.
In 2021, the tenth edition of the program was realized. This year's survey was carried out using different methods (m.in. questionnaire and CAWI) among 14,9 thousand. the selection of the group took into account the distribution of the population of Poland by age and gender according to the data of Gus.