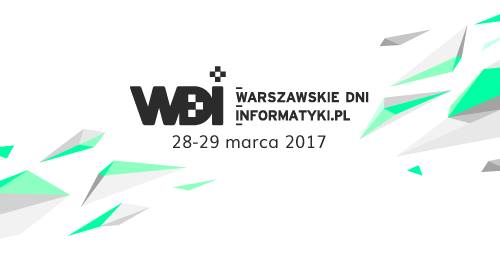 Warsaw Informatics Days 2017
Last days of registration for the biggest IT event for students and professionals in Poland-Warsaw it days
Soon, because on March 28 and 29 (Tuesday, Wednesday), the next edition of the Warsaw days of informatics (wdi) will be held – the largest IT event in Poland addressed to people widely connected with informatics, regardless of their level of advancement.
Wdi is primarily about 100 presentations and workshops conducted by well-known experts not available for smaller events. The thematic scope is wide-frontend, backend, mobile, infrastructure management, security, networks, hardware, or the development of your start-up business.
Participation in the WDI is not only knowledge from the best, but also the largest IT job market in Poland. The event will be accompanied by a panel discussion of rectors of Warsaw universities and people from the business world.
Participation in the event is free of charge, but due to the limited number of seats, prior registration is required on the website for registration
More information
Facebook
Event
Event (Stock Exchange)