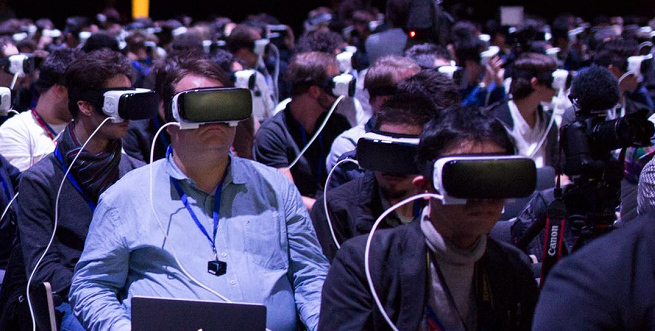 VR technology may be a breakthrough in 2016, barriers to the price of equipment and little content
During this year's Mobile World Congress, Samsung presented new models of Galaxy smartphones: S7 and S7 edge. The conference devoted to this event was so unusual that all its participants received virtual reality goggles for receiving special materials.
The surprise at the Samsung event was also the appearance of Mark Zuckerberg on the stage, and a symbolic photo showing the head of Facebook against the background of a crowd of people wearing VR goggles quickly gained viral features.
Live behind the scenes in Barcelona

Posted by Mark Zuckerberg on 21 February 2016
During his speech, Zuckerberg argued that virtual reality technology is not just the domain of computer games and will quickly find widespread use in social media, allowing users, for example, to meet virtual friends in artificial digital reality. The fact that Zuckerberg deeply believes in the success of VR is evidenced not only by the fact that in 2014 Facebook bought Oculus VR for $ 2 billion, but also by the fact that the company recently established a special team "social VR", which is to create social applications for devices that support virtual reality.
Confirming the promising prospects for VR in the near future is also the fact that leading mobile device manufacturers are trying to create their own ecosystems based on virtual reality. At the MWC in Barcelona, it was loud not only about the Samsung goggles, but also about the similar equipment offered by LG along with the new flagship smartphones G5.
The year 2016 may be a breakthrough in the development of the VR market in the opinion of Paweł Pilarczyk, editor-in-chief of the group's technology services Onet.pl.moreover, the MWC is not the only industry event this year, which confirms this.
– They say that 2016 will be the year of virtual reality-admits Paweł Pilarczyk in an interview with the service Wirtualnemedia.pl. – big manufacturers such as Samsung, Facebook (which invested $ 2 billion in Oculus), Sony, HTC and Microsoft either already have VR glasses or helmets in their offer, or they will launch them this year (Oculus Rift, HTC Vive and Sony PlayStation VR glasses will hit the store shelves in the coming weeks). The boom in VR was most noticeable at CES, which took place in January in Las Vegas. It was there that virtual reality helmets could be seen practically on every other stand. MWC is a fair dedicated to mobile solutions, so here virtual reality gave way to other models of smartphones or the hit of this year's edition of this event – that is, 5G data transmission technology. however, at MWC, other manufacturers presented their VR solutions, such as LG or Alcatel-emphasizes Pilarczyk.
For the next two VR market experts, the previously mentioned photo of Mark Zuckerberg from the Samsung conference is symbolic and heralds new opportunities in the market expansion of virtual reality, although its success depends on several different factors.
"It is hard to react to this photo in any other way than to immediately imagine a happy farmer of the future, happily watching his collection of other people reduced to biomass and fed with virtual stimuli," admits Michał "bonzaj" Staniszewski, creative director at plastic. – At the moment I am not able to predict whether the upcoming wave of VR helmets will be found on social media. It all depends on the software that doesn't exist yet. The first wave of VR will most likely go to private parties and houses. Probably pubs and VR lounges will be created. However, only for a short period of time, as it will depend only on the price of the devices. Everyone is waiting for content and killer app, which is not yet visible on the horizon-emphasizes Michał Staniszewski.
"Virtual reality is becoming a new medium for television, radio, the internet and the press," says Damian Karczewski, game developer at VR one. – Applications that display content on the screens find their counterparts in VR, and their number is constantly growing. MWC and the launch of the Samsung S7 could be viewed in 360 degrees on Gear VR glasses, and this is just the beginning of this type of live broadcast. The new Gear 360 will give you the ability to create VR content for the masses. The photo of Zuckerberg is as prophetic as possible. Facebook knew what it was doing when it bought Oculus. Moreover, it gave a big kick for the development of this equipment. VR despite the premiere this year has not yet come to everyone. However, the second generation in five years will reach such a price and quality ceiling that it will become very popular. Like flat monitors, after a while, the kinescope ones disappeared as their price decreased and quality increased.
Artur Szatkowski, project manager at Hypermedia linked by Isobar, is sure that we are waiting for a breakthrough on social platforms related to the development of virtual reality. – It is not a secret that Facebook when buying Oculus Rift (for an impressive sum of almost two billion dollars) had its goal-argues Artur Szatkowski. "It was clear from the beginning that the intention was not just to invest in technology, but to create a whole new dimension of social media. Zuckerberg himself said two years ago that "Oculus has the chance to create the most social platform ever" – and it seems that such a platform will actually debut in the near future. 2016 year actually seems to be a breakthrough for VR-the amount of equipment that appears on the market is really impressive. Now the most important thing-hopefully, in tandem with the new opportunities was their proper use. I think early adopters are already convinced-if not to specific platforms, then certainly to VR as such. However, to win the hearts of the masses, a lot of good content is necessary, as well as education-it still repents of the misconception that VR is primarily the domain of gamers. The more implementations – both entertainment and strictly business – and the more publicity around them, the greater the awareness of this new medium – says Szatkowski.
Paweł Pilarczyk admits that he himself is an enthusiast of VR technology, and perhaps that is why he is counting on the dynamic development of this platform. – Analysts predict a rapid growth of the virtual reality market, the value of which in a few years we will count in the tens of billions of dollars-predicts chief technology services Onet. – It is difficult even to list all the uses of VR, but probably the most popular will be entertainment (mainly games). The investment in Oculus shows that Mark Zuckerberg, who was the star of the Samsung conference at MWC, strongly believes in virtual reality also in the context of human relationships. Technology demos presented by Facebook show the interaction of several people in the VR world. It's a bit of a scary vision, but maybe instead of going out with some friends for dinner at the diner, we'll meet them… virtually, using just VR helmets. Thanks to computer generated worlds, we will get unprecedented opportunities for interaction or ways to spend time together. While if the distance separating us from our friends is large, we can probably accept the use of VR helmets in communication (just as we do not see a problem to talk to friends via Skype or Facebook Messenger), I hope that with friends living in the same city we will continue to meet "physically". I myself am a big fan of virtual reality and I firmly keep my fingers crossed for the development of this technology. It allows you to experience completely new sensations. If we use this technology wisely, it should not have a negative impact on human relationships. The fact is that this year almost all the big consumer electronics manufacturers will be trying to persuade us to equip ourselves with their VR solutions. Will 2016 really be a breakthrough year, since attempts to introduce VR have already been made several times in previous years? Everything indicates that yes-the technology is finally sufficiently advanced and relatively affordable to finally hit the rooftops-concludes Pilarczyk.