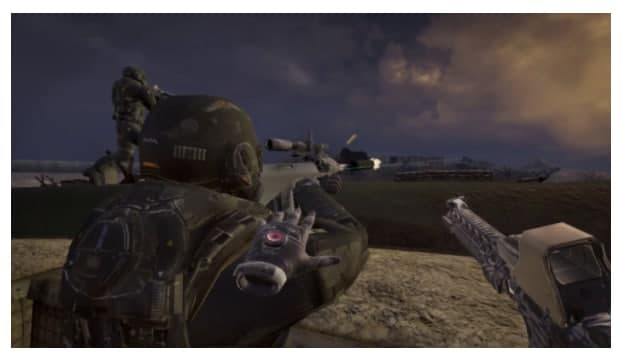 VR Shooter Zero Caliber relaunched for Oculus Quest
The action of the game Zero Caliber: Reloaded takes place somewhere in the near future. In it, you become an OSA soldier tasked with fighting a PMC that is fighting for control of the last remaining drinking water on Earth. Yes, the world of Zero Caliber is gloomy. Divided into 19 missions, including three training ones, you will run and shoot through many levels alone or together with three other friends in a joint online experience.
Before each mission, you will have the opportunity to practice and customize your weapons using a collection of realistic weapons and add-ons that can be purchased with game money that you can mine in current missions.  The customization options are quite extensive. You can customize almost every aspect of your weapon, from optics and side bar to shoes, unloading and leather. Zero Caliber: Reloaded allows you to carry one main weapon and a pistol, as well as two fragmentation grenades, into battle. You can also climb various objects to gain a tactical advantage over your enemies.
As in the original release for PCVR, the shootout in Zero Caliber: Reloaded seems difficult . Each weapon has its own unique pros and cons, from the size of the magazine to the recoil. Realistic weapon physics allows you to interact with each weapon in a unique mode, for example: use a new clip to hit an empty magazine or throw ammunition to an ally across the battlefield. Unfortunately, this has no real tactical purpose, as you are given an unlimited amount of ammunition for each weapon you hold in your hands; not including explosives. However, finely tuned weapon physics can lead to some pretty cinematic moments, even if they are completely unnecessary from a tactical point of view.
Each mission offers new locations to explore and different goals to complete. Sometimes you are assigned to arm a C4 charge to destroy a target, and sometimes you just protect the hostages from an enemy attack. Speaking of your AI allies, get ready for a really amazing voice acting. This, in my opinion, works for the benefit of the game.
While the original Zero Caliber featured quite impressive textures and visual effects, Zero Caliber: Reloaded looks rough in quests. Transferring to an autonomous headset may not always show the visualization of the game from the favorable side.
Zero Caliber: Reloaded is now available for Oculus Quest and Oculus Quest 2 headsets at a price of $ 24.99 in the official store.