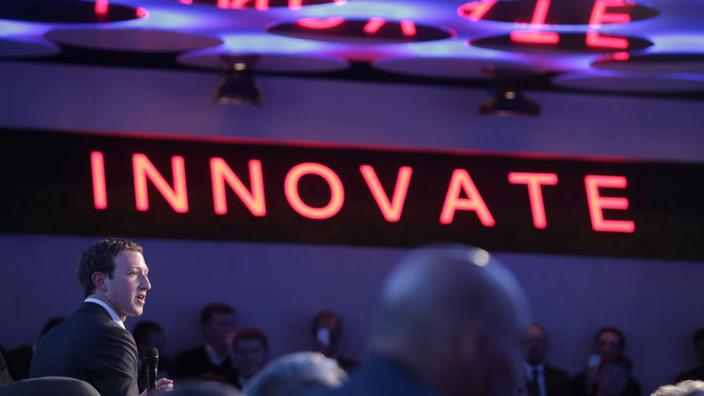 Virtual reality will be inescapable in ten years, predicts Mark Zuckerberg
Headsets could one day be as common as smartphones, suggested the Facebook CEO. The first model of the company will be released in a month.
Virtual reality (VR) headsets are not just a fashion effect. Like smartphones, virtual reality should one day experience mass adoption and be a must for technology groups, according to Mark Zuckerberg's predictions. "It could happen in 5, 10, maybe in 15 or even 20 years. Personally, I think it will happen in 10 years, " the Facebook CEO explained to the Business Insider site. An estimate given a month before the start of deliveries of the Oculus Rift, the company's first virtual reality headset.
In recent months, most of the major companies in the high-tech sector have set out to offer their virtual reality solution. HTC develops with Valve the Vive, a device for video games. Sony's Playstation VR is exclusively dedicated to its PS4. Razer, manufacturer of products for PC gamers, has its OSVR. Samsung has created the Samsung Gear VR, which works with its smartphones. And there are even cardboard headsets, like Google's Cardboard.
A technology of the future
For Mark Zuckerberg, this new technology could respond to two trends. After the images, users will basically share videos with each other. "In the future, I think people will have [aussi] want to stream live video, and allow other people to interact with them," says the Facebook CEO. The social network had bought the Oculus VR for nearly $ 2 billion in October 2014, and it is working with Samsung on the development of the Gear VR, taking care of the software part. Facebook has even recently created a team dedicated to "social virtual reality"
Since the last century, great technological innovations have spread more and more rapidly, as Asymco attests. Television, released in 1951, took thirteen years for its adoption rate to rise to 90% in the United States. The smartphone was released in 2007, and took only eight years to reach the 90% adoption rate.
This table represents the rate of adoption by American consumers of new technologies (Asymco).
The pioneers of virtual reality
If Mark Zuckerberg does not expect that there will be a mass market for virtual reality headsets for ten years, buyers are already showing interest. The HTC Vive has been pre-ordered nearly 15,000 times in the space of 10 minutes, while its price is very high. It is sold for 899 euros in France, or 200 euros more than the Oculus Rift. It is necessary for now to add to these sums of powerful computers to enjoy virtual reality.
Woah, more than 15k units in less than 10min: o

— Shen Ye (@shen) February 29, 2016
The Samsung Gear VR is a less expensive solution. The headset is 100 euros on the Internet, but requires a smartphone from the Korean brand to work. It is also offered to the first buyer of the Samsung Galaxy S7, which was presented at the Mobile World Congress (MWC). A way to encourage at first with these yet futuristic accessories.