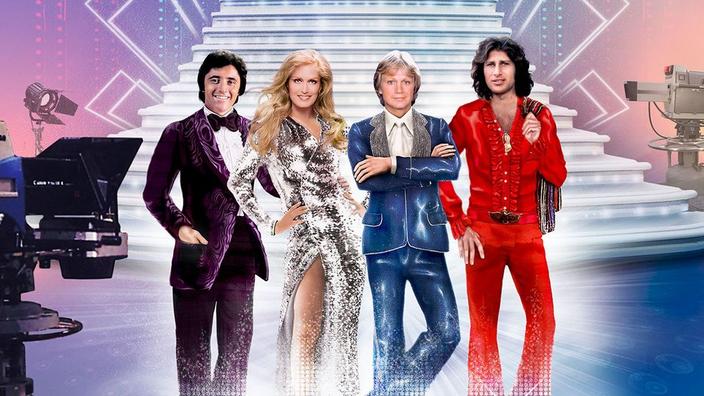 Virtual reality: the agenda of the future in Paris
Find our selection of appointments where to immerse yourself in another dimension not to be missed in 2017.
JANUARY: Show Hit Parade
On January 12, Claude François, Sacha Distel, Mike Brant and Dalida will take to the Palais des congrès stage in front of Le Tout-Paris, surrounded by dancers, musicians and real actors, it will be a world premiere. Written by Bruno Gaccio and Grégory Antoine, the libretto of this musical recounts the live recording of a television show in 1975. Virtually resurrecting singers, the Americans have already done so. In 2009, at the Coachella Festival, rapper 2Pac reappeared for a live performance. Michael Jackson returned to the Bilboards Music Awards in 2014. The prowess of the French and in particular of the McGuff Studios is otherwise more bluffing: instead of a three-minute song and a single hologram that moves within a radius of three meters, Hit Parade features four holograms that dance, sing and talk to each other on a fifteen-meter stage for almost two hours.
Palais des congrès, 2, place Porte-Maillot (XVII). From January 12 to February 26, 2017. From 39 to 89 €. www.hitparade-lespectacle.com.
"Read also –The singers of the Hit Parade show
FEBRUARY: Virtuality Exhibition at Centquatre
The last weekend of February, it will be possible to test virtual reality in all its forms at the Centquare: headsets, consoles, audio systems or even 360 cameras. Conferences of 15 to 20 minutes will also be organized to better understand this new technology. From entertainment to health, heritage and culture, virtual reality is about to revolutionize our habits!
Virtuality salon at the Centquatre. 5, Curial Street, XIXth. Saturday, February 25 from 10 a.m. to 7 p.m. and Sunday, February 26 from 10 a.m. to 6 p.m. (Day of February 24 reserved for professionals). Admission: 15 €.
APRIL: At the Gaîté Lyrique.
Passionate about new technologies, Marc Dondey, director of La Gaîté Lyrique, will open a VR space in the spring. The lineup will be "arty," with award-winning films at the Tribeca and Sundance festivals, for example. The images will be projected in a hemispherical room so that several spectators can see them at the same time.
https://gaite-lyrique.net
JULY: Paris Virtual Film Festival
Roundtables and immersive sessions to discover the latest VR films, the program concocted by Michael Swierczynski, director of digital development of the Forum des images, is high-flying. After a first edition in 2016, the Forum des images will renew the experience on July 1 and 2, 2017.
www.forumdesimages.fr
SEPTEMBER: at Batignolles
The Cine-Movida multiplex, which will be inaugurated at the beginning of the 17th century, will include a VR space.
OCTOBER: Screen4All in Saint-Denis.
Held for the fifth time at l'Usine de la Plaine-Saint-Denis (93) in October, this exhibition dedicated to innovative technologies for film, new media and television attracts VR experts from around the world. Its 360 Film Festival, chaired last year by Julie Gayet, is the ideal place to discover the nuggets of tomorrow.
www.screen4all.com