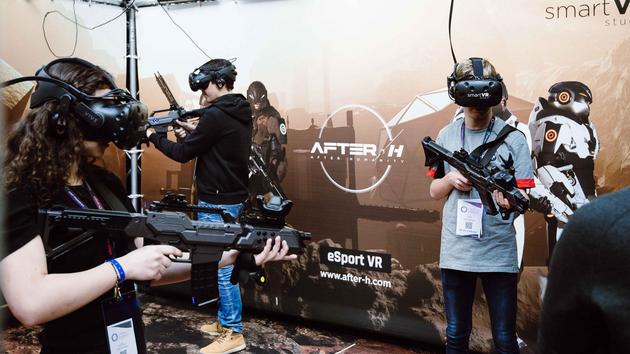 Virtual reality, do it yourself, polar: the weekend outings in Paris
Test virtual reality games, enjoy palace pastries and pastries, participate in "do it yourself" workshops, meet authors of detective novels and escape through the pages of erotic literature. Ask for the program!
● Total immersion. Do you know the future? The exhibition of virtual reality and immersive technologies Virtuality is back at the Centquatre-Paris (19th) for the 3rd edition on November 23rd. On the program: immersive experiences, conferences, esports competitions, concerts, holograms and meetings with companies in the sector. Do not miss to test the escape game in VR without controllers or gloves (Quantum Anomaly), the new Pinball VR arcade terminal and to send you in the air, by paragliding obviously, in preview in France thanks to Paraglider VR. And also to fly over Parc des Princes using the Birdly simulator. Sensations guaranteed.
Virtuality Paris 2019. Centquatre-Paris. 5, Curial Street (19th). On November 23 from 10am to 18pm. Rates: 20 €. Tel.: 01 53 35 50 00.
● Crazy about pastries. Do you dream of treating yourself to palace pastries and pastries? This Saturday, November 23, pastry chef Julien Alvarez invests the boutique Fou de Pâtisserie (2nd) to present eight great signature creations: the pistachio-citrus tartlet, the Mango Cheesecake, the pecan Nugget, the Chocolate Éclair, the Black Forest and many others. Not to mention its unmissable marbled, corn, coconut and chocolate-buckwheat cookies and the toasted vanilla Flan. You can also taste the famous Bristol pastries, the brioche with pink praline, the apple slipper and the Gianduja-milk. The World Pastry Champion will also introduce you to the Palace chocolates as well as two breads with flours made from the ancient wheat of Roland Feuillas, one of the best artisan bakers in France. Hurry up, there will not be one for everyone…
Julien Alvarez at the Crazy Pastry shop. 45, rue Montorgueil (2nd). On November 23 from 10 am to 20 am. Pastries from € 6.50 and pastries at € 3.
● Passion creation. Notice to creatives and manuals, the Maker Faire Paris exhibition returns this weekend to the Cité des sciences et de l'industrie (19th). It is the largest event in the world around creativity and the Do it Yourself movement. This 6th edition in Paris revolves around three main themes: the circular economy, communities and education. Take part in embroidery and sewing workshops, welding, repair, creation of decorative objects and solar panels, construction of a lamp and its customization, transformation of used tights, etc… But also conferences, demonstrations, exhibitions and performances will punctuate these three days of creation and innovation, proposed by 800 makers spread over more than 250 stands.
Maker faire Paris. City of science and industry. 30, avenue Corentin-Cariou (19th). Until November 24. Rates: 3 € for 2-5 years, 9 € reduced rate and 12 € full rate.
● Detective novels. Fans of crime literature are meeting at the Mairie du 13e for the 16th edition of Paris Polar. Can we laugh at everything? This year, the festival's revolves around the theme "Black humor…when the crazy polar". About thirty authors (Danielle Thiery, Philippe Huet, Sylvie Allouche, Nick Gardel…) are invited for round tables, tête-à-tête and signings. Paris Polar is also projections, exhibitions and animations. Attend the night walk in the dark and criminal corners of humor, Saturday, November 23 at 18h and Sunday, November 24 at 15h. Be careful, you might meet cannibal barbers, clowns and murderous mimes…
Paris Polar. Town hall of the 13th, 1 place d'Italie (13th). Until November 24. Free entrance. Booking of night walks on baladeparispolar@gmail.com
● Raunchy pages. The salon of erotic literature takes up residence in La Bellevilloise this Sunday, November 24 for its fourth edition. After the incredible success of 50 shades of Grey, the "new romance" that mixes love and sex has the wind in its sails . Amateurs or neophytes, find about twenty authors of erotic literature or essays on sexuality (Lucile Bellan, Nomi Jolinomi, Caroline Michel etc.). On the program: conferences debates, erotic writing challenges and unusual animations, such as an erotic listening on headphones by Audible.
Salon of erotic literature. Bellevilloise. 19-21 Rue Boyer (20th). On November 24 from 15h to 21h. Rates: 10 € presale and 15 € on site.
And also
The Good Planet foundation (16th) invites you to an auction on Sunday, November 24 from 16h and offers you to leave with exceptional lots: dance with Fauve Hautot, discover the Palace of Versailles during a secret visit or attend the final of TOP CHEF.
The Migrant'scene festival is packing its bags in 20 venues in Paris and the Île-de-France until December 3 for screenings, debates, performances, concerts around the theme Resistance (s).
Montreuil (93) hosts the MARMOE festival until November 24 dedicated to children's arts. On the program: live entertainment, cinema, music, visual arts, exhibitions and workshops.
Ready or Not presents the battle RON festival which brings together all the genres of Hip-Hop, at The Place (1st) and La Bellevilloise (20th) until November 24th.
The Paris Aquarium (16th) is organizing a day on Saturday, November 23 around the book "the Eloquence of sardine" by Bill François. On the program: guided tour by the author, readings of excerpts and signing session.
The Biennale internationale de la Gravure invites itself to Sarcelles (92) from November 23 to December 8 where more than 400 engravings by 20 artists will be exhibited, such as Henry Goetz, Antonio Segui or Olivier Debré.