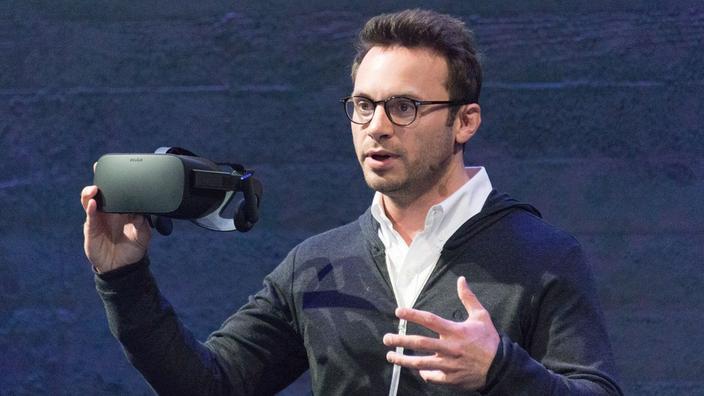 Virtual Reality: another Oculus co-founder leaves Facebook
Brendan Iribe, former CEO of virtual reality headset manufacturer Oculus has decided to leave Facebook. He would no longer agree with the social network's plans regarding the future of his company.
And two. After Palmer Luckey, creator of the virtual reality company Oculus, resigned in March 2017, it was his former partner Brendan Iribe who decided to resume his independence by announcing his departure from Facebook. "This will be the first real break I will take in more than 20 years" he explained in a post on his Facebook page.
Presented for the first time in prototype form at the E3 (major exhibition dedicated to video games) in 2012, the Oculus Rift headset had very quickly aroused many hopes. His crowdfunding campaign on the Kickstarter site had broken records by raising $ 3 million far beyond the original goal. Two years later, the entire Oculus company was bought by Facebook for $ 2.3 billion. At the time, this buyout was criticized especially by the first independent investors who had accompanied the development of Occulus from the beginning. The latter feared that Facebook would take control of the company and impose its ideas about virtual reality.
Democratizing virtual reality
By buying Oculus, Facebook's goal was above all to democratize virtual reality to make it affordable to as many people as possible. Mark Zuckerberg, the CEO of Facebook, announced that he wanted to convert 1 billion people to this technology. To do this, Facebook had forged partnerships with other brands including Samsung and its Gear VR headset from which it was possible to connect directly to its account on the social network. In the same logic, Mark Zuckerberg and his teams had insisted on launching cheaper products like the Oculus Go (sold at 199 dollars against 399 dollars for the Oculus Rift). The social network has also set up its own virtual reality projects like Places, an application that allows you to chat with friends, draw or make calls only in a virtual space.
Internally, Facebook has also insisted on placing its own executives within Oculus teams. In 2016, Brendan Iribe had left his position as CEO of the company to be replaced by the vice president in charge of virtual reality at Facebook, Hugo Barra. Brendan Iribene took care of more than the virtual reality section dedicated to PCs. A change of position that had been interpreted at the time as a sideline for this successful entrepreneur. Before joining Oculus, Brendan Iribehave indeed developed other companies like the "cloud gaming" company Gaikai, bought 380 million dollars by Sony.
To read also :We tested the Oculus GO
The abandonment of the "Rift 2″at the origin of the departure of Iribe?
According to information from the specialized site TechCrunch, Brendan Iribe's departure was motivated by an internal decision at Facebook. The social network would have decided to cancel the virtual reality headset project " Rift 2 "on which the Iribe team was working to move towards so-called" all-in-one " headset projects that do not require a high-end PC or smartphone to work. Facebook reacted by saying that they are still working on a new version of the Rift headset but without further elaboration.
Of the five founders of Oculus, only two still work today for Facebook: Nate Mitchell, in charge of the "Rift" headset and Michael Antonov, as head of the software part.
Brendan Iride's departure comes on top of that of other executives who also made the decision to leave Facebook this year. Facebook Instagram co – founders Kevin Systrom and Mike Krieger announced their resignations on September 25. And this, only a few months after the defection of WhatsApp co-founders Brian Acton and Jan Koumqui evoked disagreements with Mark Zuckerberg especially regarding the respect of users ' privacy.