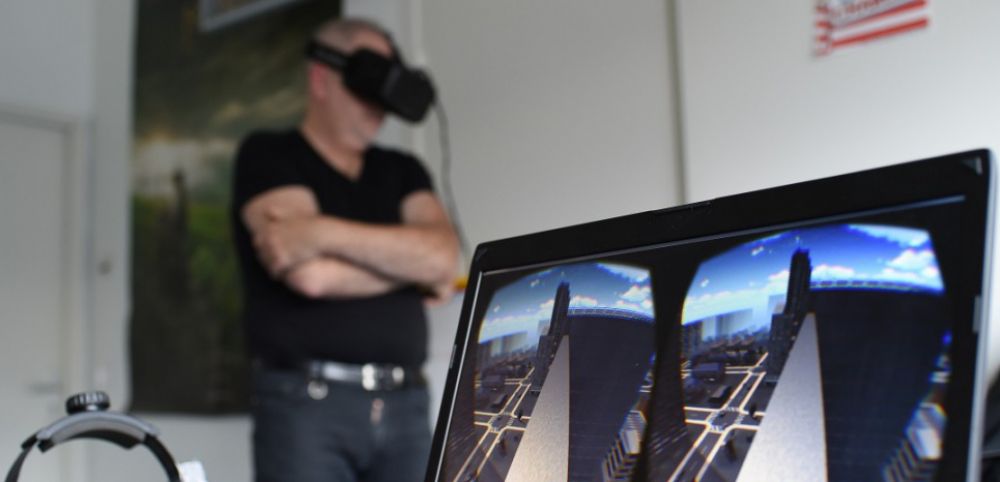 Virtual reality: a technique for the future against your worst phobias?
PHOBIA. Phobic of all hairs, it is perhaps in the techniques of virtual reality type Oculus Rift that lies your salvation. In any case, this is the bet of Dr. Eric Malbos, a medical practitioner in the psychiatry department in Marseille, who virtually places his patients in the situations they fear the most to help them manage their stress and anxieties. Headphones over the eyes, headphones in the ears, controller in hand, Marie-Christine breathes a long sigh: "Let's try the elevator without glass". And in the virtual world controlled by her doctor, this claustrophobic launches herself and faces one of her greatest anxieties. In his practice at the Hôpital de la Conception in Marseille, Dr. Eric Malbos guides his patient through a virtual world that he makes evolve as he wishes. In this case, by offering to enter more or less large elevators, glazed or not.
Anxiety tamed in virtual reality
Since 2012, Dr. Malbos has made these virtual reality trips one of the facets of the treatment of claustrophobia, agoraphobia or fear of driving. After sessions designed to empower them to change life-altering behaviors – as in any behavioral and cognitive therapy – patients must face "virtually" the situations they fear. "We want the patient to be anxious, but the exposure must be progressive," summarizes Dr. Malbos, who works in the department of Pr Christophe Lançon. On the program, metro or cinema for an agoraphobe, underground parking or elevator for a claustrophobic, walkway in height for victims of vertigo.
The method is also adaptable to the fear of flying or driving. Smokers who wish to wean themselves will be plunged into situations "that trigger an irresistible desire to smoke", explains Dr. Malbos: evening with friends in a bar, lunch on the terrace, "cigarette break" in the office. And he will soon use it to treat post-traumatic stress syndromes in soldiers returning from Afghanistan.
Put on a helmet and enter these virtual worlds
A simple test of a few minutes is enough to mitigate the criticisms of the most skeptical: to put on a helmet and enter these virtual worlds is to accept to have the muscles of the legs tetanized by crossing a gateway yet totally unreal. The effect is striking. "In my first nine sessions, I learned to manage stress and anxiety," says Marie-Christine, 53. "In simulation, I have a little bit of anxiety that is not what I would have in a real situation, but the last session gave me the courage to go and take a glass elevator during a lunch break," she continues.
A "really low" failure rate
This is one of the keys to treatment, emphasizes Dr. Malbos. "The failure rate is really low: those who will fail are those who will not train on their own after the session," he says. Only three services in France use virtual reality, according to Eric Malbos. "Not many psychiatrists are aware, and there are also problems with accessibility to technology," he explains. One of the headphones he uses is worth 10.000 euros and the technique also suffers for the moment from the lack of very recent software to put patients in situation. Eric Malbos himself develops the one he uses from video game graphics engines. But the situation should soon improve and allow patients to use the method at home with the arrival of software, including one developed by a company in Sanary-sur-Mer (Var). Dr. Malbos also expects a lot from the commercialization in the general public in early 2016 of the new Oculus Rift headset, of which he uses a prototype. Its price: 300 euros only, for a much superior technology. And beyond the possibilities he envisions for the treatments he develops, this fan of science fiction and video games, whose cabinet is adorned with posters of the "Hobbit" and Japanese cartoons, is already excited for its future playful or educational uses.
Learn more :
The Oculus Rift, an innovation for psychiatrists?
Virtual Reality: with the Oculus Rift, become your own avatar
Against phobias, virtual reality