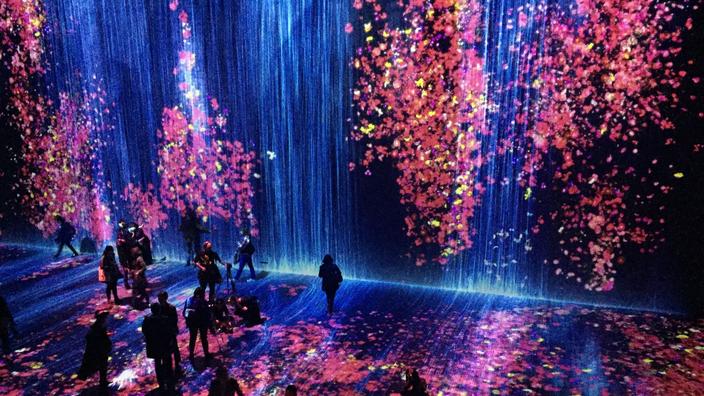 Virtual Japanese walk in La Villette
Until September 9, La Villette hosts the incredible virtual reality project of the Japanese collective TeamLab. A journey in the dark punctuated by projected forms almost alive. Forget your haunts and let yourself be guided.
Subdued atmosphere and acidic colors it will take you a few minutes to accustom your eyes to the ambient darkness that inhabits the grande Halle de la Villette. Schools of fish, butterflies and flower petals welcome you from the first room in a completely interactive colorful universe.
Sublimate virtual reality
This large-scale project is led by a team of graphic designers, architects, mathematicians and programmers who question the limits of technology on 2000 m2 and seven spaces in which real or abstract forms in motion are projected. In the main room, an uninterrupted 11m high waterfall drifts in contact with a visitor. And when a crow crosses a kanji (Japanese logograms), it sometimes gives way to huge masses of flowers that explode to music. In the walking spaces, a field of flowers is crossed by a procession of Japanese warriors, frogs and rabbits makes way to the waterfall while on the opposite wall butterflies follow the walk and nuis lead into another space. In these pieces, the themes are free and inspired for the most part by nature with a resplendent Japanese aesthetic.
The waterfall of TeamLab Agathe Moreaux
An unprecedented interaction
In this fantasized microcosm, the visitor is invited to create an interaction with the walls on which works are projected. Thus, the school of fish deviates to meet your hand creating a colorful shape, the character of the procession looks at you as you approach him, or the flowers bud in your path into a carpet of petals. These works produced in real time are never the same. They are not programmed or only projected but are indeed created by a computer program that takes into account the presence of the spectators but also the interactions that the forms have between them. A show for young and old to open the season "Japonismes 2018" which celebrates 160 years of diplomatic relations between Japan and France. Gripping and soothing.
TeamLab beyond the limits, Grande halle de la Villette, 211 avenue Jean Jaurès (nineteenth). Until September 9th. Tel.: 01 40 03 75 75.
SERVICE: Save up to -50% on your reservations at thousands of hotels around the world with Hotels.com