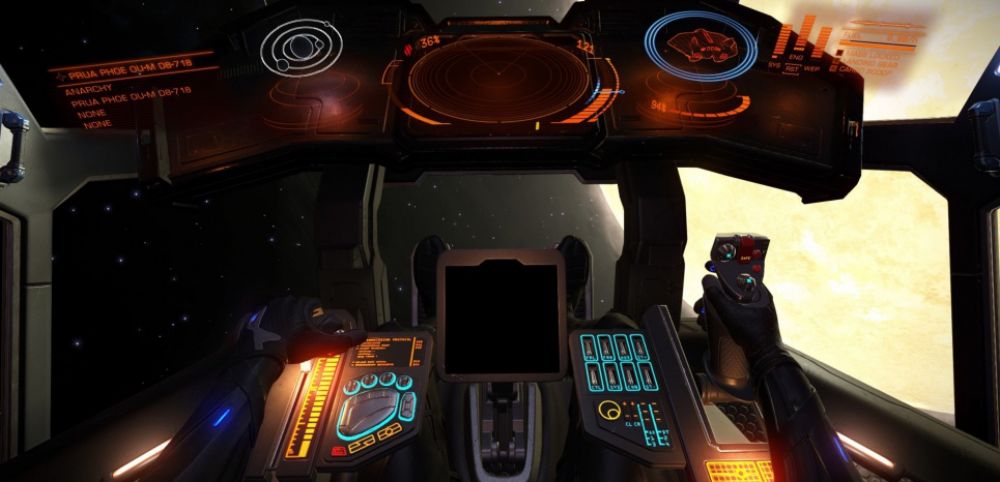 Video game E3 2016: accessories to make virtual reality even more immersive
PRECISION. Virtual reality is definitely THE big topic of the video game fair E3 (Electronic Entertainment Expo) in Los Angeles, attended by Sciences et Avenir. And who has experienced VR (for virtual reality) knows how easy it can be to be distracted by an external element that breaks immersion. The smallest detail is important and especially the controllers that allow to interact with virtual worlds. While the Vive Controllers and the Oculus touch, respectively controls of the HTC Vive and Oculus Rift headsets, are accurate enough, these devices are not necessarily suitable for all types of gaming. When it comes to realistic simulations, purists prefer solutions that have proven their worth long before the advent of virtual reality as we are discovering it in recent months. Among these solutions, the French manufacturer Thrusmaster, expert in precision controllers, has long been the choice of virtual drivers. Holder of numerous patents for its steering wheels, its broom handles and throttle levers, the Rennes-based company sees with a very good eye the democratization of virtual reality and the opportunity to introduce to the general public its range of products that equip professional and semi-professional flight simulators.
SELECTION. The best video games presented at E3: the selection of the special envoy of Sciences et Avenir.
Listening to VR users
Very attentive to the feedback of its community, the company recently reissued one of its best-sellers the HOTAS T. 16000 by adding changes regularly requested by users.
HOTAS, an acronym for Hands On Throttle And Stick, refers to the pair of joystick and throttle controls.
The pair joystick and throttle composing the HOTAS
Virtual reality headsets completely isolate from the outside, it can become complicated to activate the right command. To prevent this problem, Thrustmaster has added small reliefs to each of the brush handle and throttle keys to identify each of the controls at your fingertips. Tested on the space simulator, Elite Dangerous, game with which Thrusmaster has just signed a partnership, the result is striking realism. The actions on the broomstick are reflected in the virtual cockpit in real time with formidable precision. If the fingers leave the controls inadvertently, the grooves make it possible to find the way back to the keys before the brain has even disconnected. In a few seconds the player is transported to another universe, he forgets time and space, the immersion is total. An enthusiasm shared by the company's CEO, Claude Guillemot : "The combination of virtual reality + precision control pushes simulation even further".
Count a hundred euros to equip the duo joystick + throttle.