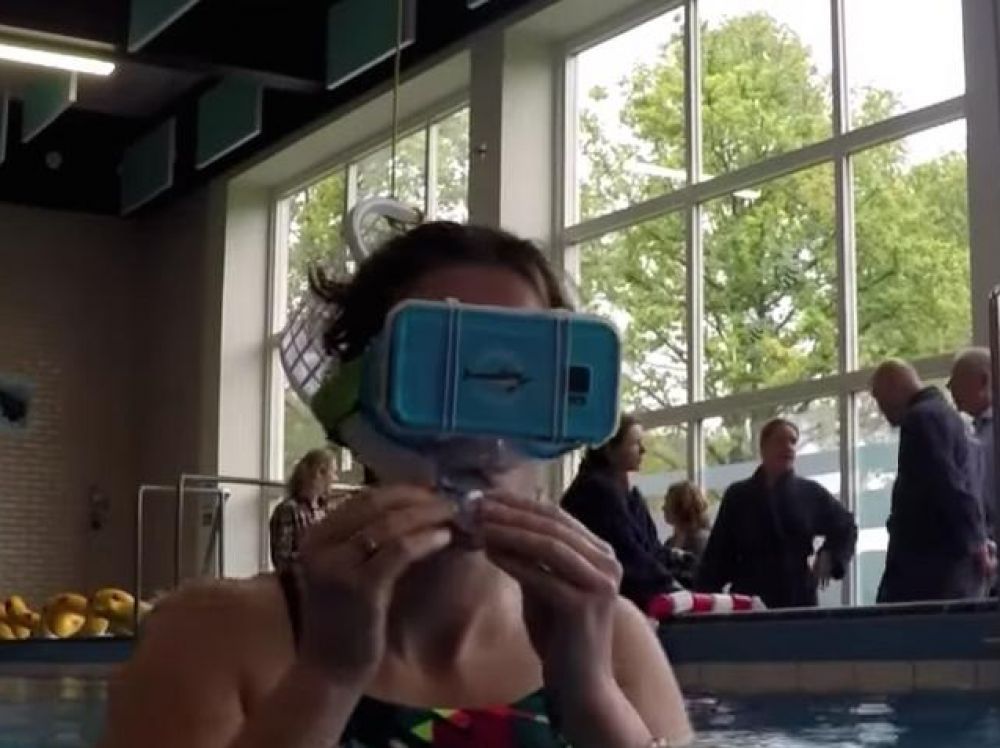 VIDEO. Dive alongside virtual dolphins to cure real-life disorders
The patient is bathing in an unremarkable pool when he suddenly sees a dolphin pass before his eyes, slow, graceful… and virtual. An animal that, even unreal, has therapeutic virtues, especially for people with disabilities or suffering from chronic ailments.
A very real dive alongside virtual animals
"There is something magical about dolphins : we think of joy, drive, happiness, innocence…", notes Dutch Marijke Sjollema. "And it even has healing properties !". It was from her first encounter with the marine mammal in 1993 that the Dolphin Swim Club was born, founded with her business consultant husband, Benno Brada. Since then, the couple has devoted their free time, energy and personal resources to their new passion, with a mission: to allow people to know, too, the magic of an encounter with dolphins. For this they obtained a grant of 50.000 euros from the Dutch government.
Their first dolphin film project to watch with virtual reality glasses was in late 2015. Then, in October 2017, they took another step by creating a system to view the film in the water, thanks to diving goggles to which a smartphone is attached in a waterproof case, printed in 3D with recycled plastic. So swimmers can watch, wherever they look, bottlenose dolphins and long-billed dolphins whirl around them, while floating in the tropical water of a pool as warm as the Caribbean Sea. Lulled by aquatic music, they are both immersed in a real sensory world and projected into a totally virtual dolphin universe. The films observed by the swimmers were shot during 10 days in the Red Sea in 2015 by the team of specialists Viemr. Freedivers able to hold their breath for more than five minutes dived silently alongside the dolphins, capturing rare moments.
"It takes them out of the world they are in"
This therapy is still in the testing phase. "Our dream was to find an alternative to therapeutic diving using dolphins living in captivity," Benno Brada tells therapists, sitting on the pool ledge of a residential community neighborhood suitable for people with disabilities. This center is currently testing the waterproof system after seeing its prowess on land. As many as 82% of clients feel really relaxed when they watch these films, according to the findings of the director of policy of the care facility, Johan Elbers. "It takes them out of the world they are in," he notes. "They enter another state of mind, think differently, feel differently, see differently and completely relax."
"Stress plays a very important role in the appearance of all kinds of psychiatric problems," analyzes psychiatrist Wim Veling, from the University of Groningen (south), on the Dolphin Swim Club website. "We try in therapy to make people more relaxed." The" strength " of virtual reality is to allow immersion in another world, notes the one who studies the use of this technology to help people suffering from mental health disorders. The very first version of the glasses is already used by more than 150 universities, hospitals and community centers around the world. Therapists decide on a case-by-case basis how many times patients perform this kind of virtual reality"immersion".
© Youtube / AFP