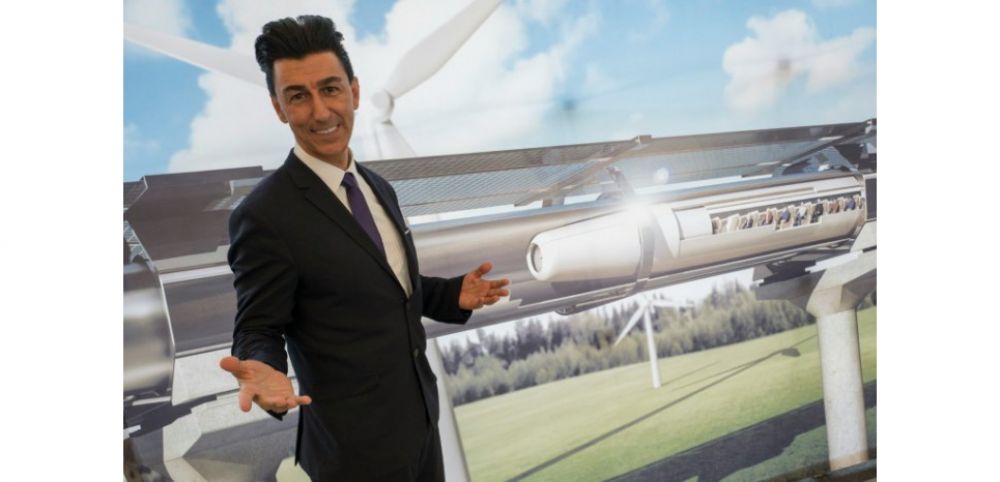 Traveling in a tube sitting in a capsule, a futuristic transport promised for 2020
Berlin (AFP) – Sitting in a capsule and being thrown into a tube at the speed of an airplane, a futuristic mode of transport that could become reality by 2020, promise the various companies who came to present their concept of "Hyperloop" in Berlin.
"We are not building a train, it is a new mode of transport," insists Rob Lloyd, boss of the Californian company Hyperloop One.
"It's not a train, it's not a car, it's not an airplane," says Bibop Gresta, its Hyperloop Transportation Technologies (HTT) competitor.
However, it is at the Innotrans railway technology fair, which takes place this week in Berlin, that the Hyperloop, still often referred to as the train of the future, displays its first sketches.
If the idea of travel in capsules freed from any friction has long crossed the minds of various researchers, the American billionaire Elon Musk put it back on the front of the scene in 2013.
The founder of electric cars Tesla and the space exploration company SpaceX then detailed in writing his own idea of a "fifth mode of transport", to allow to go from Los Angeles to San Francisco in low pressure tubes in thirty minutes. It currently takes five or six hours by car or one hour by plane to connect the two California metropolises.
Believing that he did not have time to take care of it, Elon Musk left his project open to companies wishing to develop it and did not invest money in any.
It is a journey in what looks like a regional train carriage with virtual windows with sensations close to those of a trip by plane that the various companies project on the ranks to be the first to bring the Hyperloop to life.
For now, we still have to just imagine. In Innotrans, on the stands of HTT or Transpod, the Canadian start-up that arrived in the race in 2015, only a virtual reality headset allows to take place in the booth illuminated by artificial light imitating that of the sun and videos give an idea of this network of tubes mounted on pylons.
– Stockholm-Helsinki in 28 minutes –
Hyperloop One, created in 2014, proceeded to a first test of the propulsion system in May in the American desert of Nevada, before a commercialization in "2020-2021", promises Josh Giegel, head of engineering at Hyperloop One.
"Our goal is that the product is ready to be marketed in 2020", aims Sébastien Gendron, the Frenchman at the head of Transpod, wanting to first prove himself on freight transport with journeys of 400 to 800 kilometers.
For HTT, the target is 2019.
No need to stay in a small apartment in Paris, you can now imagine living far away and going to work in the capital by tube, shimmers Sébastien Gendron.
Or connect Roissy-Charles-de-Gaulle airport to the center of Paris" in a few minutes", proposes Rob Lloyd.
A very affordable price, with a ticket at 25 euros to connect Stockholm to Helsinki in 28 minutes, according to projections of Hyperloop One, the absence of CO2 emissions and great safety, with automated capsules protected from any weather damage, are also the potential advantages of the Hyperloop highlighted.
While it remains considered by some as pure science fiction, the interest of French companies in particular swells: SNCF has just invested in Hyperloop One, which has already raised $ 130 million, and the graphic equipment manufacturer Mersen has entered into a technical partnership with Transpod, which puts at $ 150 million in total its needs to develop its Hyperloop prototype.
HTT has an agreement with the Slovak state, to work on a link between Bratislava and Vienna, and promises soon two partnerships with non-European countries.
For the boss of Alstom Transport, Henri Poupart-Lafarge, also visiting Berlin," it is still too early to say " whether Hyperloop, potential competitor of its high-speed trains, will join the shelves of inventions never come true or turn out to be a revolutionary technology.
For Bibop Gresta, there is no doubt about this. "Hyperloop will be built."