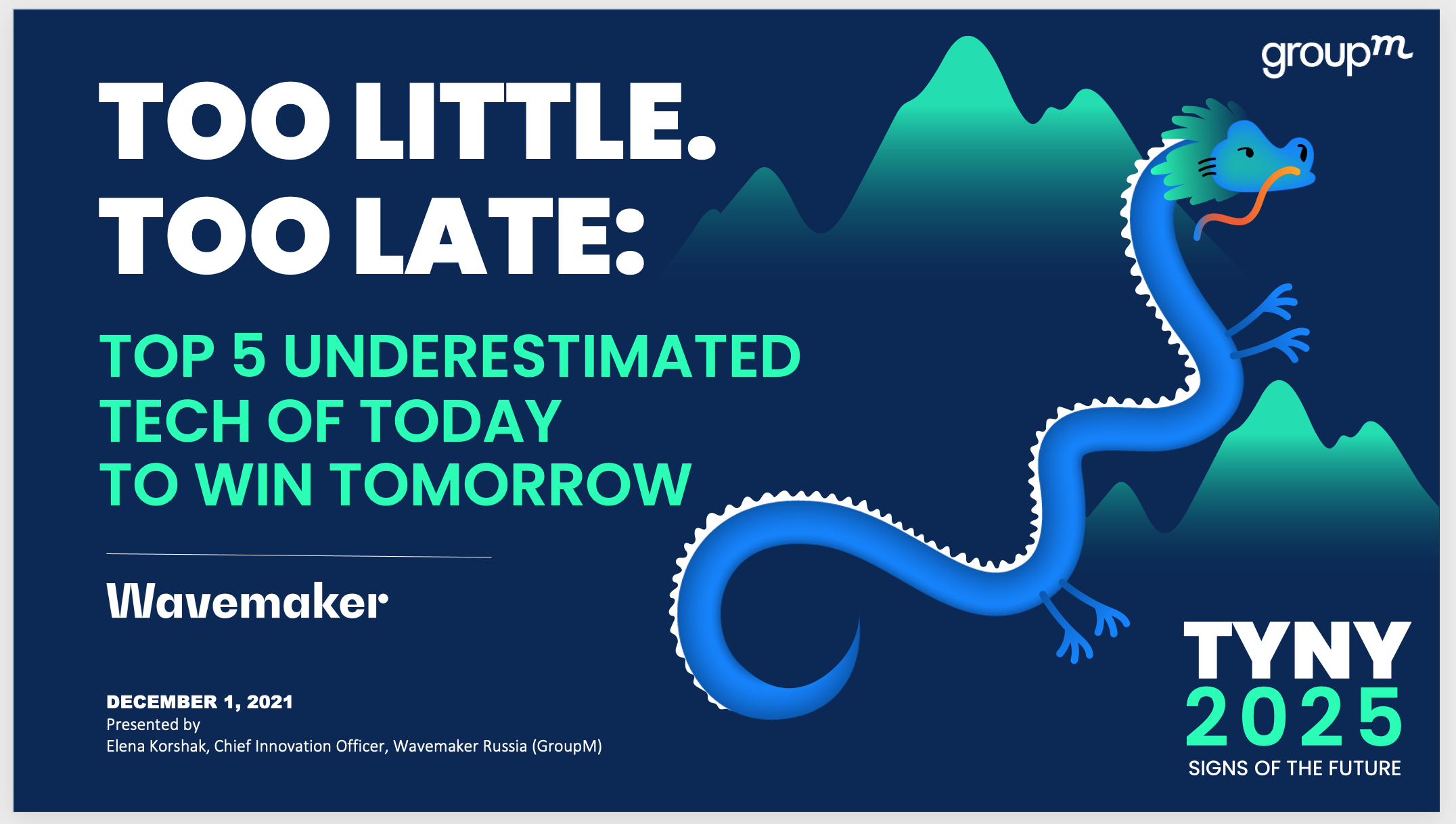 TOO LITTLE. TOO LATE: top 5 technologies "today" that will ensure victory in the fight for the consumer "tomorrow"
Elena Korshak
Chief Innovation Officer Wavemaker
We carefully monitor how media behavior and user experience change in order to correctly and quickly activate new sources for business growth. But if we look more closely, we will see a certain gap between where our audience is already and where we are still not investing.
For example, according to Ipsos, 16 million Russians regularly use voice assistants. But in a study by GroupM and Effie Tech, 55% of companies noted "that their business does not need this technology." Which correlates with the results of WARC, where about 50%, in principle, do not plan to use technologies such as augmented reality or artificial intelligence. Although they have penetrated into many areas of our customers' lives.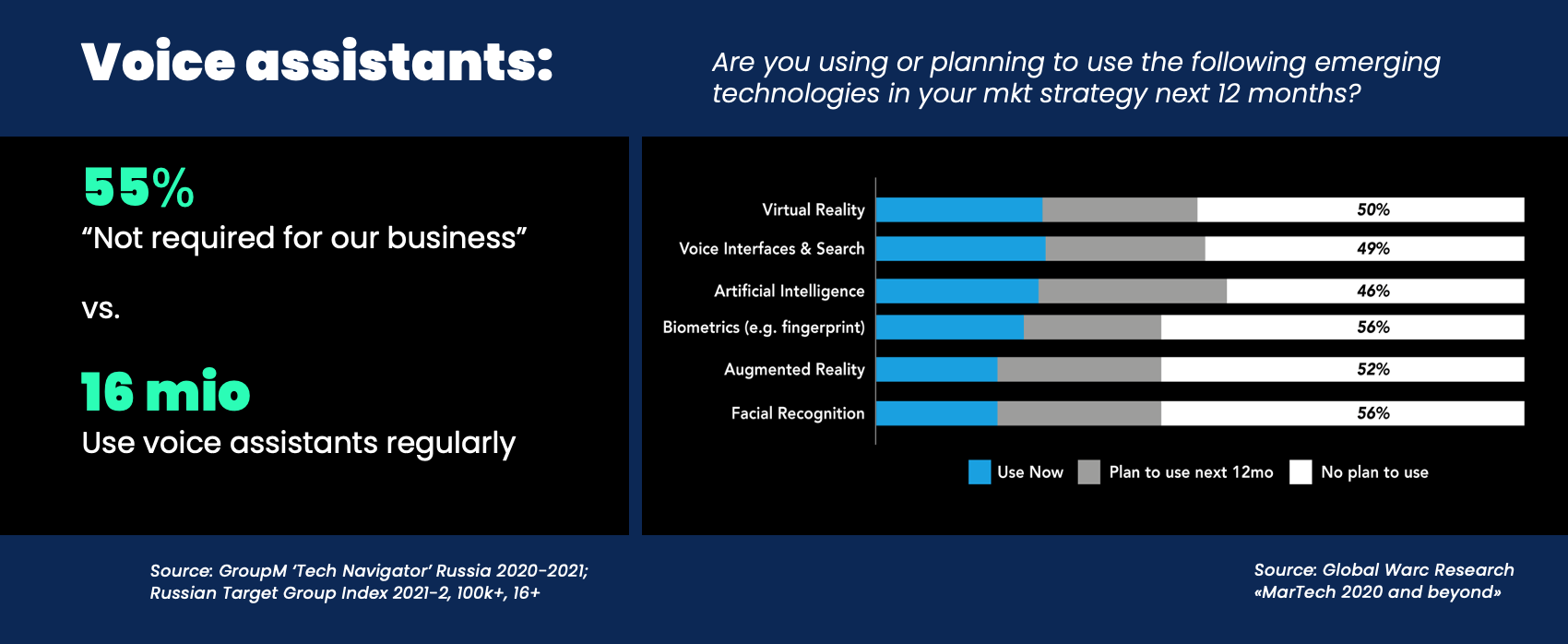 Perhaps the reason is that we have lived for many years in the paradigm: "technology is changing fast, but people are not." While the technology will pass through innovators, trendsetters and early adopters, we will be able to observe and decide whether it is worth it.
But the rate of penetration of new technologies into the market has significantly decreased in recent years. For example, ~25% of people in the US who have never bought online have mastered this skill in a few months. And the use of telemedicine according to McKinsey has increased 38 times in 1 year!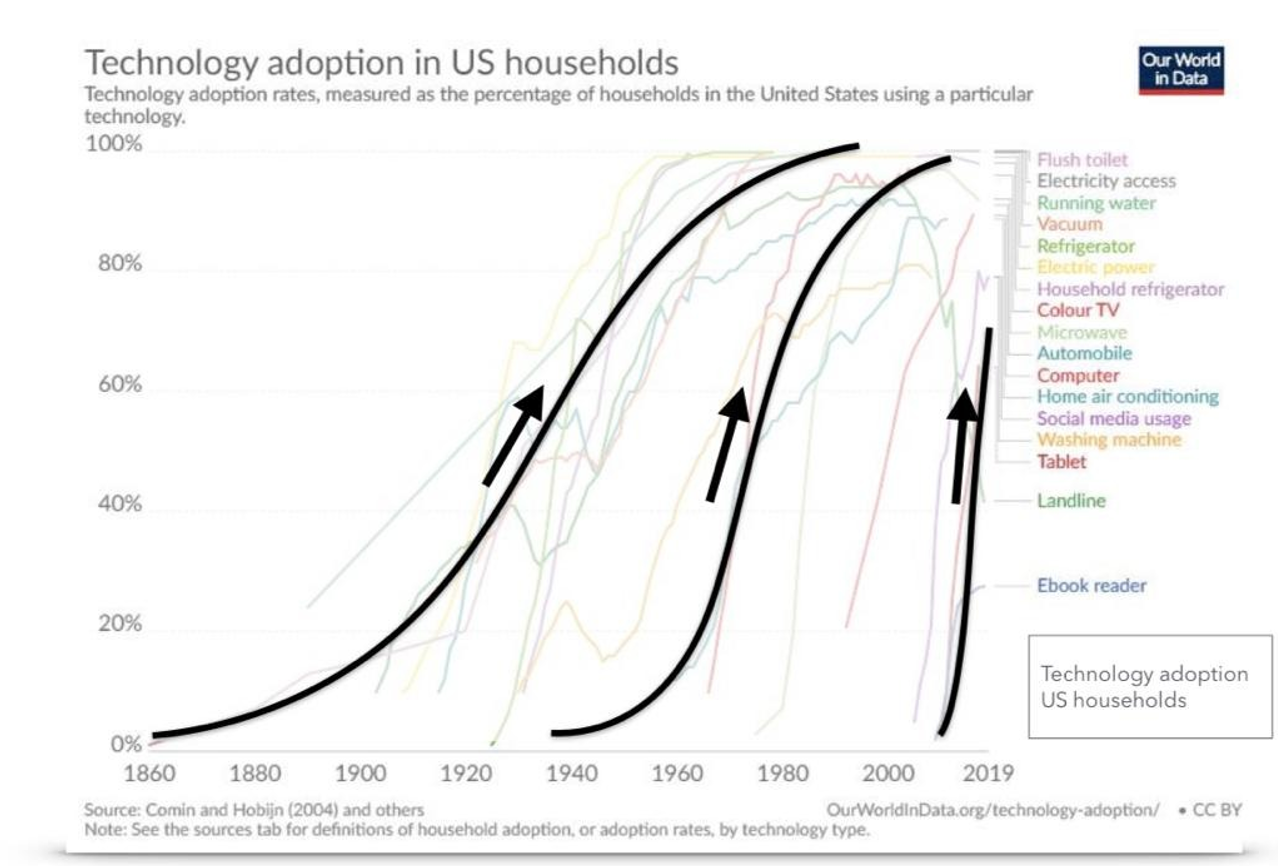 But this applies not only to new technologies, the old ones, from which we do not expect any breakthroughs, can surprise us very quickly and greatly. At the beginning of the noughties, we experienced a boom in QR codes. They were everywhere – on billboards, on covers, in all BTL activations.
But their development was hampered by the lack of 3G networks and low smartphone penetration. And to read it, it was necessary to install special applications. In 2012, 44% did not know how to scan a QR code. Then smartphone manufacturers made it possible to do this natively through the phone's camera, and the pandemic made them our personal IDs altogether.
It's hard to believe that Instagram and Telegram appeared only 10 years ago. It feels like they've always been with us. Over the years, we have also managed to survive the decline of a large number of promising platforms:
Periscope with the concept of live streaming ahead of its time
Vine with short 6-second videos, which is also not taking off
Therefore, three years ago, many people were skeptical about another social network with a focus on short video content. TikTok has become not only the fastest growing platform – up to 1 billion active users in just 3 years, but also a forge of content makers and one of the most influential media for Generation Z.
The future is FINALLY here and will be evenly distributed faster than we think. And it seems that this is the best time to experiment with new technologies and search for new opportunities to interact with the audience. But we see that brands still have a lot of barriers and doubts.
Two states can be conditionally distinguished:
Too little – when technology has not become mainstream and questions arise – why spend money and resources, it's too niche. And then a few years pass, and we have already moved into a state of – Too late – it's too late: of course, you can create an account in TikTok or make your own AR mask, but the cost of an error increases multiple times, as well as the input cost threshold to make a noticeable and break through the clutter. And what is more important is the lost time to gain experience and knowledge.
In order not to "miss the opportunities of the future", we have identified the top 5 technologies that will have a significant impact on media and consumers. Let's focus on what already exists and is available today. And if not tomorrow, then in 2024 it will definitely make the user experience (CX) seamless and transparent.
№5 The POWER of VOICE
Voice assistants and speakers. How ready are we for this promising technology?
Most often, voice is used to search for information, and 70% of voice queries are made in a natural language other than the way we type. For example, Marusya, tell me how to find the nearest Intersection? That is, questions, details, verbs are added and in general the query is lengthened. And this means that you need to adapt your search strategy and at least learn to work with a longer "tail".
The second important area where we are still far behind foreign markets is voice commerce. For example, in the United States, more than 40 million people have the experience of buying by voice, and 17% of them ask the assistant to "repeat the previous order" – literally buying "on autopilot".
Accordingly, in order not to fall out of the buyer's field of view, it is necessary to test the possibilities of voice purchase right now, especially since there are many interesting ways of integration on the market.
№4 Say YES to Synthetic
Synthetic media or Deepfakes, avatars, NFT. An army of skeptics claims that this is a digital pyramid that will soon collapse. Who will pay real money for clothes that cannot be touched?
The gaming industry clearly demonstrates that this is already happening. And they buy not even for themselves, but for their characters. Every fifth user of the Roblox platform updates their avatars daily, and Fortnite earned $ 50 million last year by releasing skin collaborations with the US National Football League (NFL).
What can I advise here – try it first, and then go from WOW-effect to efficiency. As WPP did and in partnership with the company Synthesia created a virtual avatar for a series of training materials on AI. We saved on the production of videos and got easily adaptive content for quickly outdated information.
№ 3 The art of augmented Layering
It seems we've had enough of Instagram masks. And it's time to remember that augmented reality is a full-fledged layer in which an immersive object can be attached to any point in space. Therefore, augmented reality is usually associated with a revolution in navigation, learning and shopping. But technology will fundamentally change on-the-go content consumption.
For example, in the fall of this year, the presentation of Dream Glass took place – the first glasses with a full 4K resolution and a projection screen with a diagonal of 200 inches. Just imagine your home plasma, which is always with you, anytime, anywhere.
Remember that AR is the user's personal space. Don't break into it, enrich it. Be helpful!
№2 Meet me at Metaverse
Metaverses. We have been waiting for the revolution in Viara for years and it seems that the turning point has come. The technology had two key barriers – the price and the lack of cool content, and Meta Corporation is actively working with both.
Oculus Quest 2 costs only $300 as new AirPods, and Mark Zuckerberg has invited thousands of talented programmers and digital artists to develop new worlds.
The new metaverses will be built on the foundations of Minecraft and Fortnite. And how the most forward-thinking brands will register their trade marks in the metaverse.
№1 Block-chain
We suggest leaving aside the hype around crypto-currencies and focusing on smart contracts that make the chain of production and distribution of products absolutely transparent and show the impact of brands on the environment, which is very important for generation Z. And we are sure that advertising and promotion of goods should also become part of this ecosystem.
GroupM together with CO2Balance have developed a "Media Carbon Calculator" that allows you to analyze the carbon footprint of our media plans and suggest ways to reduce it.
For example, to reduce the weight of digital content or to abandon autorun video to reduce power consumption. The tool is available in 15 markets, including Russia.
Accordingly, to prepare for the future right now, you can create your first carbon-neutral plan and launch the first truly green campaign!