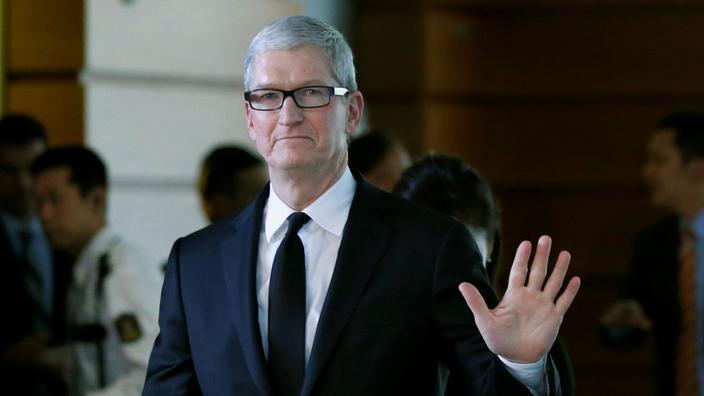 Tim Cook is not convinced by virtual reality
The Apple CEO has hinted that he prefers to focus on augmented reality applications to enrich human interactions.
Tim Cook will not follow in the footsteps of his competitors. While Facebook( with the Oculus), HTC (with the Vive) or Sony (with the PlayStation VR) are betting on virtual reality, this technology of immersion in 100% artificial environments, the Apple CEO stands out. "Virtual reality surely has some interesting applications, but I don't think its use can be as widespread as that of augmented reality," he said last week in an interview with BuzzFeed Japan.
It is not the first time that the Apple CEO lets guess his penchant for augmented reality, which allows to embed virtual images in a real universe, thanks to a smartphone or glasses. Unlike virtual reality, he believes that this technology "could make conversations even more effective" and integrate into them "without hindering them". For Tim Cook, "there is no substitute for human contact".
Apple gradually lifts the veil on its strategy
For several years, Apple has been making"significant investments" behind the scenes in virtual reality, gradually tightening its focus on augmented reality. In 2013, the company acquired Prime Sense, a start-up specializing in sensors. For example, these devices allow users of Microsoft's Kinect to play without controllers or have their virtual avatars track their movements. Other start-ups specializing in digital capture (Faceshift and Metaio) have meanwhile joined Apple, which has also gone to hunt virtual reality experts at its competitors Magic Leap or Oculus.
Tim Cook does not reveal how Apple could integrate virtual reality into its products. Several patent filings feed rumors since 2013, including the latest unveiling plans for a headset integrating a smartphone.
The patent for this system was filed on August 20 by Apple.
The latest iPhone presented in September could lend itself to this kind of virtual reality device, just like its new headphones with spatialized sound. Sources also confirmed to BuzzFeed US that Apple has approached immersive virtual content company Jaunt.
Tim Cook, however, seems more conquered by a light formula, like Pokemon Go or Snapchat, passing through a screen. The messaging app with 150 million active users is the first to popularize augmented reality principles among the general public. The "filters" feature, which adds canine ears on 3D selfies or more or less flattering deformations to the human faces it recognizes, is one of the features that distinguishes Snapchat from its many competitors in the messaging field.
50 shades of virtual reality
Beyond the simple funny gadget, augmented reality is a major development axis for tech giants. Google is one of the first to pay attention to this, integrating features of overprinting information on its connected glasses, the Google Glass. This first relatively mainstream model (sold for 1500 dollars) was not successful. With its augmented reality headsets called Hololens, Microsoft tries to avoid this pitfall by specifying the use cases of such objects. Applications in the fields of telemedicine or industrial assembly are envisaged, to facilitate professional interactions. The more mainstream use is centered on domestic life or video games.
If this technology remains complicated to implement, it remains more accessible to all-comers than virtual reality. Facebook itself is beginning to think about an approach that is more "augmented" than virtual. At Facebook's annual Oculus Connect conference, where Oculus and Facebook present their latest innovations, Mark Zuckerberg introduced an "augmented reality" version of Facebook, where users ' virtual avatars are embedded in the real world.