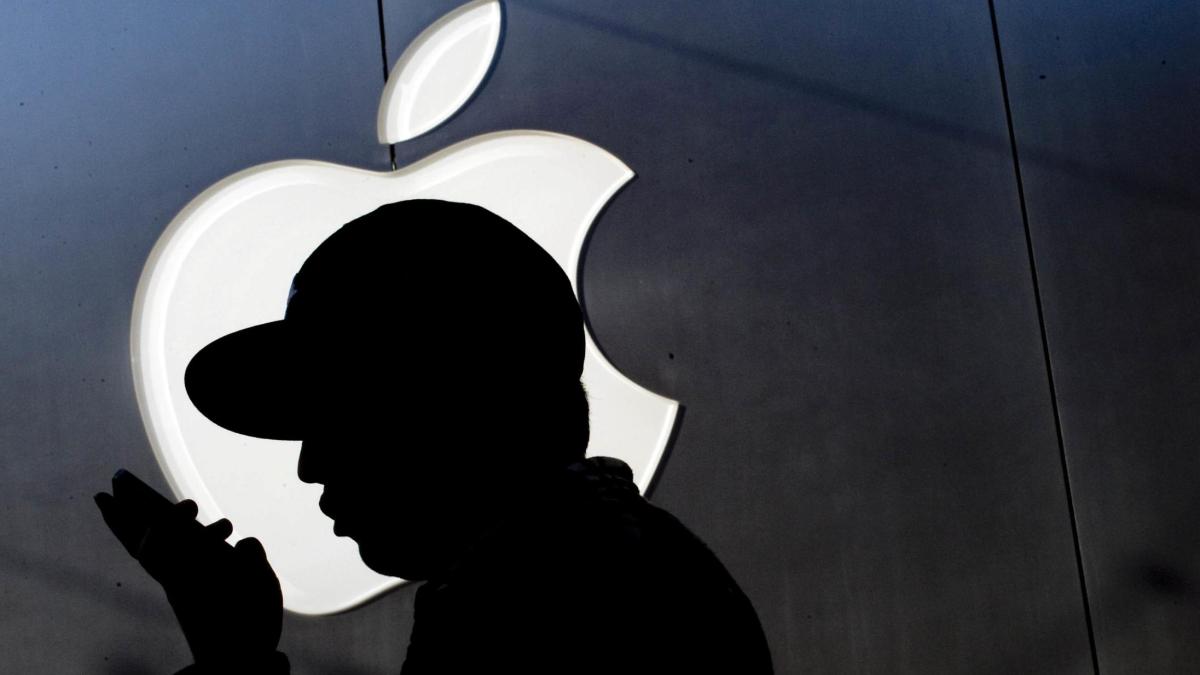 This duel Apple has lost to the competition
Bigger, faster, better. When the Consumer Electronics Show (CES) opens its doors in Las Vegas on Tuesday, it will also be a superlative rendezvous. The Korean electronics group LG will kick off the event. With a screen diagonal of more than 2.2 meters, the company shows the world's largest OLED TV with an 8K resolution. Thus, LG brings four times more pixels to the TV than previous 4K devices, which in turn have four times the HD resolution. It can hardly be sharper.
Manufacturers already have to come up with a lot to stand out from the crowd of 20,000 innovations that are shown every January in the desert city in the US state of Nevada. Often they try curious gadgets such as sleeping pillows, which inflate when the user snores too much. Or with devices that are larger than all the others. If you still want to stand out with a drone there today, you already have to transport a human being. And even this is shown.
However, CES also defines the technology trends that industry then follows. In recent years, manufacturers have already shown that they will network everything that can be networked. They continue to follow this trend. In the meantime, they are also installing a digital voice assistant wherever it makes sense and even less sense.
Also in this year, there will be a variety of cooperation announcements. A competition has broken out between Amazon and Google as to who can win the most partners for Alexa and the Google Assistant. Apple is currently trailing in this race. The announced Siri speaker HomePod did not make it to the Christmas market. Apple is not represented in Las Vegas, and further novelties from Cupertino are not currently apparent.
Read also
The digital voice assistants are now also finding their way into more and more televisions. In fact, the voice control of TV sets so far left much to be desired and could only be described as rudimentary. LG, Sony and Hisense will now show devices in Las Vegas that are easier to control by voice via Alexa or the Google Assistant.
Previously, external devices such as an Amazon Fire TV or an Apple TV were required. A new TV screen technology is not expected at CES. The industry is still arguing for the better HDR system, with which 4K TVs reproduce larger differences in brightness. Samsung and Panasonic rely on an open Standard called HRD10+, others prefer to Dolby Vision. For the consumer, this is confusing.
Smartphone innovations are also finding their way to Las Vegas time and again. But usually these are not the flagships of the manufacturers, whose presentation they keep either for their own presentations or just for the mobile phone fair in Barcelona at the end of February. At times, observers speculated whether Samsung might not be able to introduce the Galaxy S9 to position itself against Apple's iPhone X. But there are no signs of that. LG shows its latest smartphone V30 in pink, which should hardly make headlines.
A category cannot meet expectations
Wearables remain a by-product at CES. However, the smartwatches, fitness bracelets and other devices have not been able to meet the great expectations of recent years. Manufacturers are only slowly approaching the tastes and needs of users. New watches show Fossil and Nokia, among others.
Virtual reality also has teething problems. True, manufacturers were able to sell several million of the devices. But VR glasses have not yet arrived in the mass market. This could soon change, because the offer is getting wider and wider.
Read also
Microsoft made the Windows operating system fit for mixed reality in October, with which Microsoft describes Virtual Reality. Partners such as Lenovo, HP, Samsung, Dell and Acer have already introduced VR glasses. The group is expected to announce further collaborations in Las Vegas. With the Oculus Go, a new concept is now on the market in which the glasses do not have to be connected to a computer or a smartphone inserted.
The device for a price from 200 dollars should be sold already at the beginning of the year. It is quite possible that there will also be VR glasses according to the Oculus Go concept, which will work with Google's VR platform Daydream. Documents filed with the US Communications Authority FCC have sparked new speculation that there may be such a device from Lenovo.
Revived PC gaming market
Apple and Google are driving the augmented reality (AR) market, where virtual objects are placed on a display in a real environment. This is usually done on a smartphone display, which shows a real image via the camera and displays virtual objects in it. Apple has introduced its AR platform, ARKit with the latest operating system iOS 11 for iPhones and iPads. According to Apple, almost 2000 apps are already available in the AppStore. Google's platform is called ARCore, there could also be news at CES.
Even though the game industry usually cancels the big announcements for the E3 games fair in June, many developers and manufacturers do not want to wait that long. Especially PC gaming is strongly represented in Las Vegas. In the past year, various super hit game titles such as "Player Unknown Battlegrounds" have revived the PC game market, also because the console manufacturers currently can not deliver a new generation of devices.
At CES, a lot will revolve around all-In-One gaming PCs-high-end gaming machines in the smallest possible cases that are about the same size as a console and fit into the living room. A variety of new gaming mice, keyboards and headsets will show one thing above all: they must necessarily have bright LED lighting with intelligent control to be perceived as player devices. Manufacturers have already announced several new screens for PC gamers, which with 8K resolution could bring even the latest video cards to their knees.
Big fanfare by car manufacturers
More than ever, CES is also an auto show. This year, Ford's new boss Jim Hackett will kick off the auto circuit with a keynote on the future of mobility. But the focus of this year's trade fair is not on the large manufacturers as in previous years, but on the suppliers who enable the digitization of driving.
Uber competitor Lyft, together with supplier Aptiv (until recently Delphi), will show a self-driving taxi in real-world use on Las Vegas roads, chip supplier Nvidia will probably show the latest version of its hardware platform for the self-driving car, and suppliers such as Bosch and NXP will present the latest generations of sensors that make the self-driving car affordable.
Read also
Again and again, ambitious prototypes of vehicles appear at CES. Last year, Faraday Future wanted to turn the industry upside down with an extremely fast electric car. However, this has not turned out to be too much. This year, the Chinese manufacturer Byton is trying with an electric SUV. By the way, concrete stands for "bytes on wheels", which in turn fits well with CES.
In the cockpit, the car is operated via a 1.2-meter display. Of course, control via speech and gestures should also be possible. Such performances always cause great fanfare in Las Vegas – and steal the show from the big car show in Detroit, which begins in mid-January.