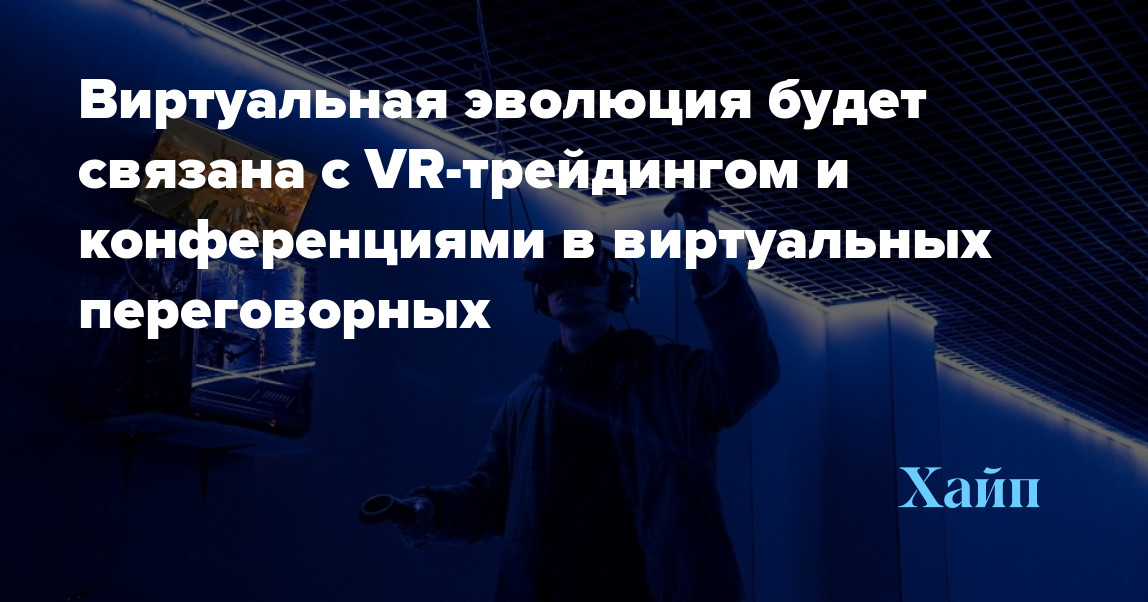 The virtual evolution will be associated with VR trading and conferences in virtual meeting rooms
The global virtual reality market will grow by 33% annually. Until recently, VR was considered an extremely niche product, but the appearance of high-quality VR glasses from large manufacturers for the mass user has radically changed the situation.
Viarium, a virtual reality platform and social network, is creating a VR service for traders. Trading participants on the Coineal crypto exchange will be able to connect to the trading terminal while in virtual reality created by the Viarium developers.
"Users will have the opportunity to completely copy their desktop into VR and trade from anywhere in the world without losing the comfort and convenience of their desktop trading desk," explains Alexey Mashkeev, CEO of Viarium.
In addition to the VR terminal for traders, Viarium expects an increase in demand for services for virtual conferences, meetups and meetings, especially from multinational organizations with offices and management in different countries of the world. How large-scale events can be transferred from real spaces to virtual ones was demonstrated at the Creative Economy conference, which took place this summer as part of the St. Petersburg International Economic Forum (SPIEF). One of the discussions was held in a virtual room, and more than 100 conference participants from different countries attended the speakers' speeches using a VR headset, the software for which was also developed by Viarium.
The development of the virtual reality market for a long time did not go at the pace that science fiction writers dreamed of and fans of computer games predicted. But at the end of 2018, an event occurred that could radically change the situation in this area. Oculus, owned by Facebook since 2014, released the Oculus Go VR glasses. Their difference from the headsets created by other manufacturers was that they did not require pairing with a PC or smartphone, but were autonomous, and were also available for the mass consumer. The retail price of Oculus Go VR glasses started at $ 199. With a powerful Qualcomm processor and improved display, the user experience has been dramatically improved. In March 2019, Oculus released a new version of the Oculus Quest glasses.
At the same time, Facebook entered into agreements for the release of exclusive versions of VR games from the Assassin's Creed and Tom's Clancy's Splinter Cell franchises. The creation of more powerful equipment and the advent of gaming software created specifically for this equipment will help to popularize this technology.
According to analysts, the virtual reality market will grow from $ 7.8 billion in 2018 to $ 44.7 billion, increasing by 33.47% annually. Drivers will be the gaming and entertainment sector and the growing trend towards digitizing business processes.
Viarium, a VR solutions developer, has already partially created a virtual space that includes VR worlds and VR architecture of shopping centers, individual buildings, showrooms and other VR models. With the help of virtual reality glasses, sales of which, according to IDC, will grow by 17% in the world in 2019, users will be able not only to communicate with each other and hold presentations, streams or conferences, but also buy new sneakers, hold a business meeting, and communicate with friends, make several trade transactions and many other business and household transactions.
In the summer of 2019, Viarium will hold a token sale on the Coineal Launchpad platform, which is operated by the crypto exchange Coineal, which is creating a virtual reality trading terminal with Viarium. The sale of VRX (Viarium) tokens will take place in three rounds: July 15-16, August 01-02 and August 15-16, 2019, after which the VRX token will be listed on Coineal and available on the secondary market.
When purchasing tokens worth more than 2,000 USDT, users who were the first to buy VRX tokens will receive an Oculus Go / Xiaomi VR headset as a gift, and when purchasing tokens over 4,000 USDT, they will receive a HTC Focus Plus VR headset. They will be able to become the first participants in virtual trading on Coineal. In the future, virtual terminals may also open on other exchanges, since the solution allows any site to integrate Viarium software into its software interface.