The spread of the coronavirus. Cases in Belarus and the neighbors: online maps and graphs
This material is collected and regularly updated confirmed cases of coronavirus in all countries (map), illness, recovery, and mortality in Belarus, distribution dynamics COVID-19 at the world and comparing countries: what where the situation with the pandemic virus.
16.12.2020 updated at 14:52
For comparison, we chose Belarus and neighboring countries, Italy (showed the most intensive growth) and Sweden: there, as in Belarus, there is no quarantine as in other European States.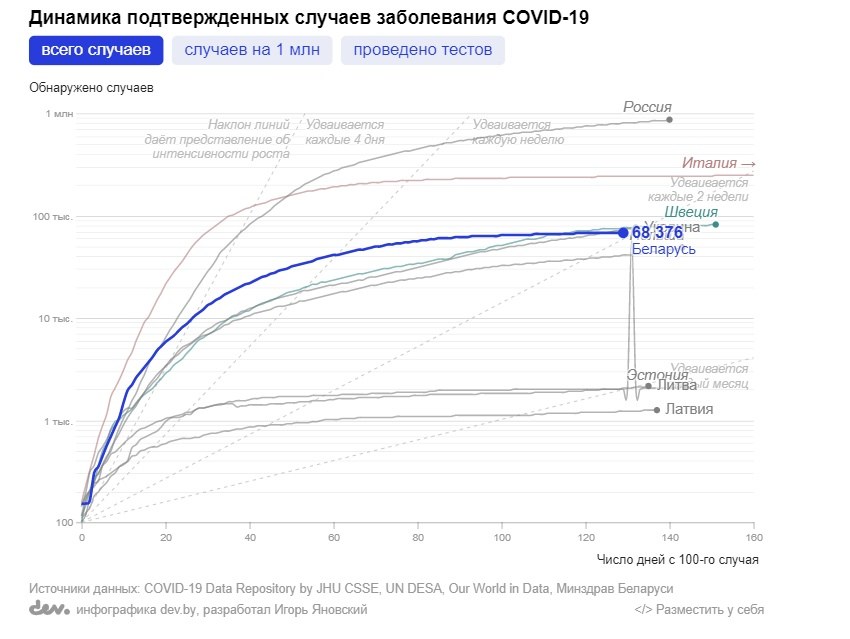 The index of isolation
What to read about the coronavirus:
As volunteers of the hackerspace. help doctors.
How you can help.
News about the daily struggle with the coronavirus.
And yet:
Andersen translated Minsk clinical infectious diseases hospital almost 10 thousand dollars and fed the Minsk doctors pizza.
SoftTeco is also not left behind and donated 10,000 rubles for the fight against coronavirus.
Along the Belarusian it company was transferred to combat coronavirus $400+ thousand.
Mark Formelle made 100 thousand of medical masks, which EPAM has developed to combat the virus.
Because of the virus developer is stuck on Goa, and a start to travel, "lost everything."
200 it companies switched to udalenku due to a virus and tell you how trecut working time, but not all in a hurry to follow their example.
Godel is trying to fire, Exadel reduces the wages of those who gets $1000+, EPAM asked to take a paid vacation, iTechArt withdraws the offer and sends it to the bench, A1QA cuts salaries 20%, and dismissed Oxagile helps to look for work, along with that 150+ it companies continue to hire and American startup opens an office in Minsk.
The Belarusians made a new Zoom online map samosoglasovannye and test system for the detection of coronavirus in about 1.5 hours.
There were 4 of schedule as the virus spreads, and online services for monitoring of coronavirus.
And we launched the monthly survey to analyze how the Belarusian it companies cope with the crisis.
The blood coronarios now you can understand if he was, even if it is not diagnosed.
Here analyzed: how the coronavirus is kept on the surface.
Scientists doubt the effectiveness of serological tests for antibodies to COVID-19.
Belarusians have developed an application "Coronavirus" c map diseases and forecasts in Vitebsk invented for protection against coronavirus.
Employee of EPAM in Minsk turned out to be a contact of the 1st level, but the coronavirus he has not revealed, and soon EPAM share, Google, Facebook fell. The reason is the same: the coronavirus and a little oil.
Bill gates answered the 31 question about the coronavirus and suggested that pandemic like coronavirus may be repeated every 20 years.
Infographics: Igor Yanovsky