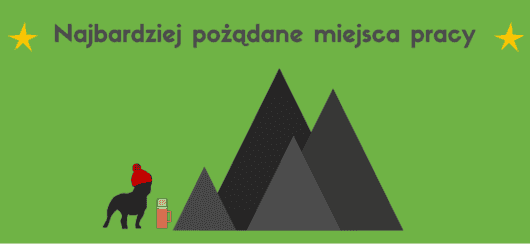 The most desirable jobs in IT-Part 2
We return to aspirational jobs and to the most desirable employers of programmers. What makes people want to work for them? Here are other companies where IT specialists would like to find employment.
In the previous section, we looked at what aspects developers pay attention to when choosing employers and what could motivate IT specialists to work for a particular company. We also learned the specifics of working at Google and Microsoft. Today we present more aspirational jobs and sometimes their dark sides, because there is no shortage of them either.
IBM-forget Facebook!
He is a true legend in the IT industry, one of the oldest IT companies. IBM has branches all over the world, including in Poland (Warsaw, Wroclaw, Krakow) and serves customers from all over the world. IBM focuses mainly on young people, prepares internships and programs for students, and then selects the best, offering them employment. Of course, most vacancies are always waiting for IT specialists, especially those with a lot of knowledge and experience. Of course, working at IBM is an opportunity to participate in the implementation of innovative projects and constant contact with the latest technologies. In addition, you can successfully develop here-each of the employees participates in selected courses and trainings. In addition, working hours and breaks are mobile, you can customize them to your own needs. IBM also did not forget about benefits, such as massage, fitness, language kindergarten for children of employees. All this makes IBM by far one of the most desirable jobs in it. 🙂
Unofficially, however, some employees complain about very scrupulous supervision at IBM. Business computers are constantly monitored by specialized software and you need to explain yourself even from the plug for a while your own pendrive, and catching browsing Facebook can be paid for by the lack of a raise for a long time.
Intel – not only high-quality technology
This American concern has long had excellent reviews and is rated very highly by both employees and specialists of the labor market. It is worth adding that Intel has been awarded the title of the best employer in Poland for 5 years in a row (Aon Hewitt survey). No wonder, the concern cares very much about his subordinates. It offers them not only high salaries, but also allows numerous training and courses (from prestigious and specialized, to hobby, e.g. photography). However, many programmers dream of working at Intel for a completely different reason-technologies are being developed here that have an impact not only on the present, but also on the future of the IT industry. It is worth mentioning that the Polish branch in Gdańsk was working on, among others, USB 3.0, HD audio, Widi, integrated circuit drivers and Intel ready mode technology was being developed. Engineers and programmers are working on solutions that are often revolutionary, because Intel emphasizes that it thinks about technology comprehensively. By the way, it should be recalled that it is in the Gdańsk branch of intel that work is being carried out on high-speed Ethernet 100 Gbps.
In fact, for each employee, another place of work can be aspirational. It all depends on the expectations and goals that IT specialists set for themselves. It is human nature to seek. In many cases, this also applies to finding the best employer. Polish programmers do not differ in this respect from their colleagues from abroad. In many cases, they rely on self-realization and development. CBOs research confirms that job satisfaction is more often due to non – material factors than to the level of earnings-value added is important, this magical "something".