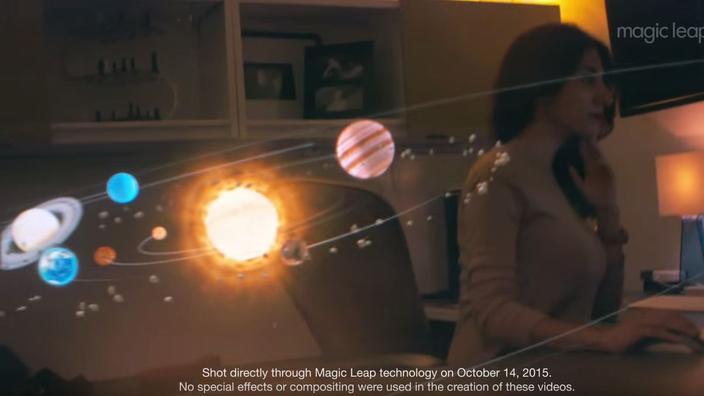 The incredible video of Magic Leap, augmented reality start-up funded by Google
VIDEO-Magic Leap, a start-up funded by Google, has been developing augmented reality technology since 2010. The first product could soon be marketed.
Promised, this article will not talk about Back to the Future. But a video unveiled by the start-up Magic Leap, makes fantasize about a future filled with images that float in the air as if by magic. This very discreet company, which is only known to produce augmented reality glasses, is starting to come out of the shadows. It unveiled for the first time what its technology was capable of: showing animated, detailed, and environmentally friendly images.
The one-minute video first shows a kind of small robot that nestles under a table. This is no coincidence: it shows the prowess of Magic Leap's glasses, capable of analyzing objects in space to add a layer of virtual world. Another sequence displays a three-dimensional representation of the solar system in a dimly lit room. The light effects produced are also impressive.
Also Readgoogle invests in a secret virtual reality tool
"We're going to make millions of things," Magic Leap CEO Rony Abovitz told a Wall Street Journal conference. However, it has not announced a launch date for this product, the final form of which is not yet known. The company, which has several hundred employees, is working with handpicked developers to see what games and applications can be produced for these glasses. Rony Abovitz delivered an example of what has already been designed: a cooking recipe app whose steps are materialized by augmented reality. But the company mostly wants to offer entertainment content.
Running against Microsoft
The company is a UFO in the world of start-ups. Based in Florida in premises abandoned by Motorola, it developed its technology discreetly for four years before unveiling a small part of it. Today, Magic Leap has a lot of pressure on these shoulders: it has received a colossal fundraising of more than half a billion dollars from Google, now called Alphabet, and other investment funds in sight. Sundar Pichai, CEO of Google (the subsidiary of Alphabet), sits on the board himself.
Magic Leap can also expect tough competition from Microsoft. With his HoloLens headset, a version of which will be available for developers in early 2016, Satya Nadella showed that his company still knows how to innovate. In early October, Mark Zuckerberg said that Facebook is also working on augmented reality.
Also Readmicrosoft HoloLens and the endless history of the "glasses of the future"
Other companies, including Facebook, are investing more in virtual reality. It is a technology a little simpler than augmented reality, and in which companies are more advanced. The social network giant bought Oculus, producer of the Rift, for two billion dollars.