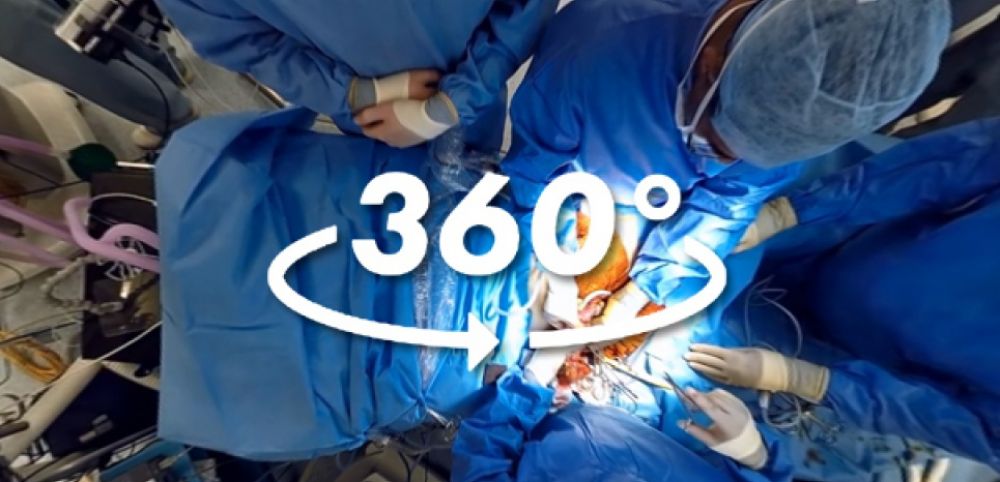 The first surgical operation filmed in 360°
VR in GOLD. Virtual reality in the operating room is what the experience is called today at the Royal London Hospital. Dr. Shafi Ahmed, a specialist in colorectal surgery, performs an operation under the eye of a camera positioned above the operating table and filming at 360°. The procedure was broadcast live on the internet and accessible in open access, with a delay of 1 minute however, in case of unforeseen (although the site, victim of its success, encountered some connection problems on the "D"day). Visible conventionally on a computer, the retransmission is primarily intended to be followed using the virtual reality device of its choice, especially thanks to a dedicated application (Android version / iPhone version). It is thus possible to use a simple Google Cardboard or a more elaborate mask like the Samsung Gear VR. The spectator can thus experience this operation as close as possible, in total immersion in the operating theatre.
The transmission of knowledge through virtual reality
Dr Ahmed and his team are not at their first test : in 2014 they carried out the first surgical operation broadcast live thanks to Google Glass. The video feed recorded by Google's augmented reality glasses had allowed 13,000 medical students around the world to follow the operation and ask questions live to the practitioner, who can detail and explain his gestures in real time. Teaching is precisely the mantra of Medical Realities, the organization founded by the surgeon with 2 experts in virtual reality and new technologies. Convinced that the transmission of knowledge can be accomplished by these new technologies, the Medical Realities teams multiply immersive experiences to bring the spectator as close as possible to the surgical procedure without ever interfering with it or cluttering the operating room. The financial aspect is also to be taken into account, such devices would eventually make it possible to demonstrate at a lower cost all over the world and for a greater number of people.
Feeling of touch
The doctor is already looking to the future, telling the Guardian that the next step in immersion will be the addition of interactivity or even the possibility of feeling touch. Because technology exists. In addition to a virtual reality headset, the viewer will then have to equip himself with gloves that will simulate the pressure on the fingers. While waiting for April 14, you can watch the removal of the right side of the colon cancer lesions in this video filmed at 360° by the team of Dr. Ahmed. This video is compatible "VR", that is to say that on computer you can manipulate the video to choose the angle of view, while have a virtual reality mask you will only have to orient your head in order to choose what you want to watch.