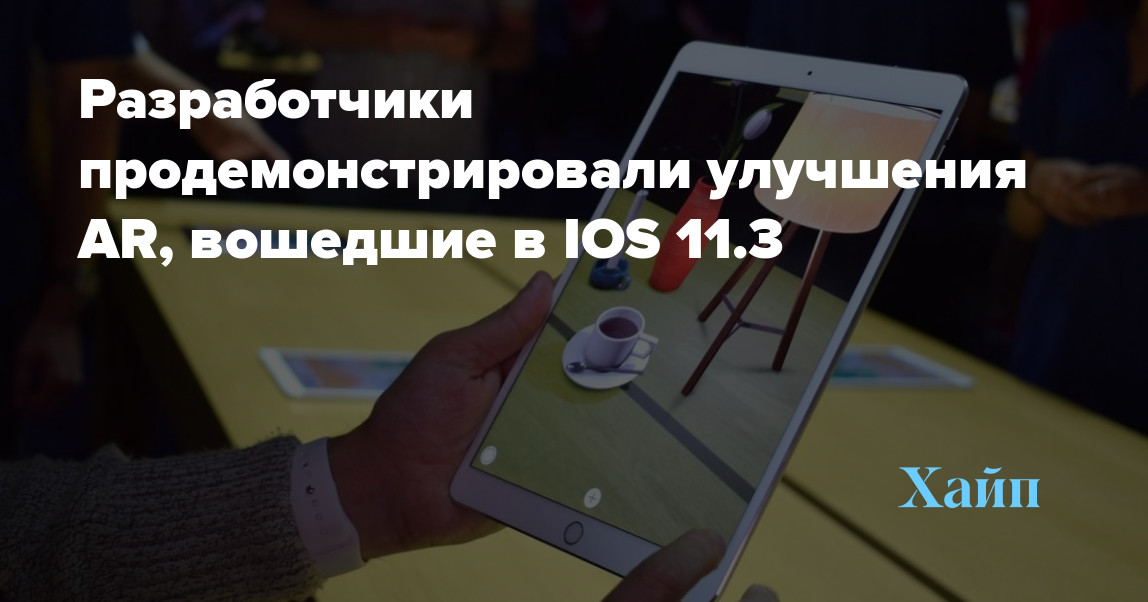 The developers demonstrated the AR improvements included in iOS 11.3
Photo: Rutage
Last week, the iOS 11.3 update was released for developers and beta testers. It includes ARKit 1.5, a version of a set of tools for developers, with which they can create augmented reality applications for iPhone and iPad.
As it turned out, using ARKit 1.5, you can do many useful things: detect irregularly shaped surfaces to better determine what is happening around you, as well as recognize and display vertical surfaces, such as walls and doors, and objects on them.
Over the past week, developers have been testing ARKit 1.5 and sharing short demo videos on Twitter, showing what can be achieved with the help of augmented reality applications when the official version of iOS 11 is released.3.
For example, when a vertical surface is detected, a realistic-looking tunnel is projected on the wall. This demonstrates how ARKit sees walls in iOS 11.3.
Another example demonstrates how the definition of a vertical plane can be used in games with augmented reality: creatures created in space move taking into account surfaces.
You can place a virtual picture on an empty wall — this idea can be used in the future in art galleries or museums.
One of the videos shows how the vertical definition of the plane is used to create a very realistic-looking virtual parrot that unexpectedly passes right through the window and lands on the window sill.
In addition to displaying irregular spaces and recognizing vertical surfaces, ARKit 1.5 also introduced image detection functions — they work with all "pictures", including posters and barcodes. In the future, it will be possible to scan the barcode using ARKit to get a virtual pop-up window with information about nutrition, calories, etc.
Image detection can be useful for art galleries and museums, so that visitors can scan paintings and exhibits for more information about them — it will be even more convenient than an audio guide.
The demo videos do not show that ARKit 1.5 offers a higher camera resolution, so the video has a 1080p format, not 720p. In addition, the autofocus function is supported, which makes the augmented reality experience on iOS devices even more enjoyable.
Research shows that developers are not actively using ARKit right now and there has been a stagnation since the introduction of this tool in iOS 11, but improvements like ARKit 1.5 can change the future. Augmented reality on iOS devices is still in its infancy — developers and users will need time to see practical examples of using the technology.
Applications using ARKit 1.5 will be available from spring, when iOS 11.3 will be available to all users.