The creators of the Boneworks working on a sequel to the VR game
The creators of the Boneworks working on a sequel to the VR game
In September of last year VR-developer Stress Level Zero (Boneworks, Hover Junkers, Duck Season) has announced that it is working on a brand new VR game for the Oculus Quest. But the name "Project 4" is still almost nothing is known about this mysterious new title, apart from the fact that it will be used the same mechanical and basic system as in Boneworks 2019.
In a new blog post Oculus met with the Director Boneworks Brandon Latham and creative Director Alex Nolla get to talk about the process of developing an experimental VR environment. During the interview, the team confirmed that works hard on their next game and further information will be provided later this year.
"VR is so new, that start with a masterpiece from the very beginning would be much more dangerous than doing a bunch of smaller, more iterative projects to create more complex productions," explained Letts. "We are working to implement the mechanics and core system Boneworks in Oculus Quest in an entirely new project to show it in the next year."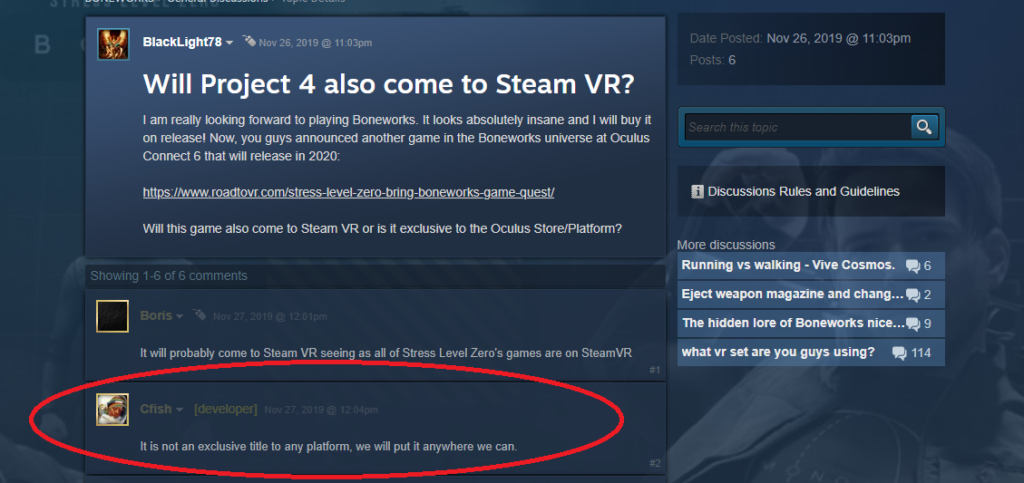 During the initial promulgation of the Stress Level Zero confirmed that the Project 4 will be available for Oculus headset Quest. However, according to the blog post Steam, it looks like the game will do on the main virtual headset for the PC. A member of the team Stress Level under the name Cfish (most likely Alex knoll) answers to post — question of whether a mysterious VR game to go to SteamVR — saying: "This is not an exclusive title to any platform, we'll post it wherever I can."
At the moment, Oculus users can buy Boneworks directly in the Oculus store. In celebration of the launch, Stress Level Zero has released a new sandbox environment for game based on demonstration of the Oculus VR Tuscany (video above).
Most recently, the Studio has released an update to improve its system of checkpoints — one of the biggest problems after its first launch on 10 December 2019. The update also includes some improvements to the quality of the game, such as climbing and sandpit.
Source