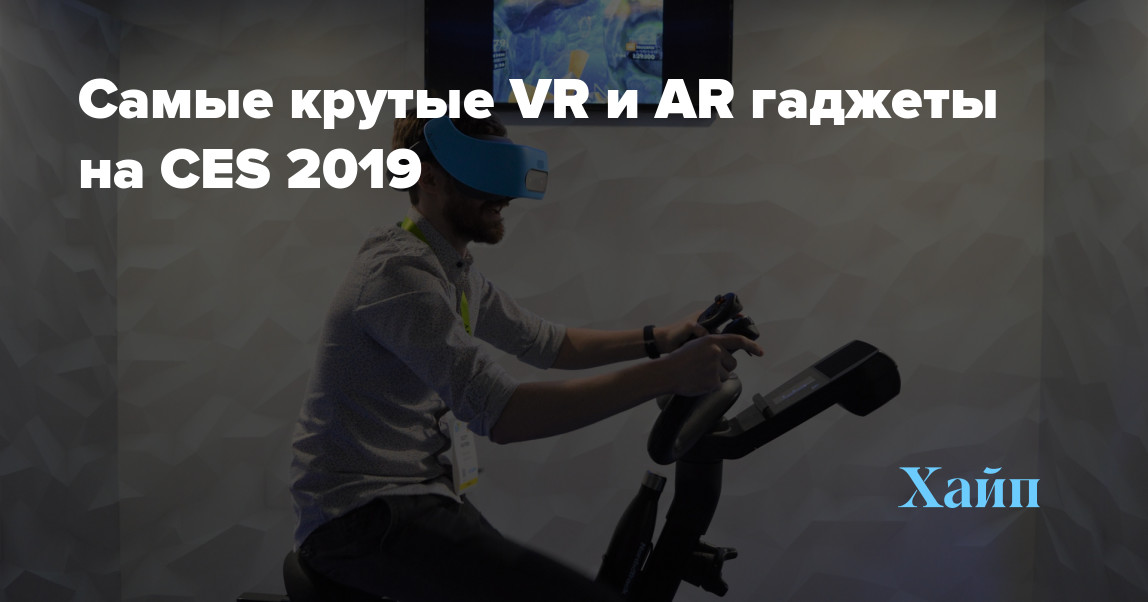 The coolest VR and AR gadgets at CES 2019
© Road to VR
CES 2019 is a place where developers and manufacturers can demonstrate the latest technologies. This year, they did not disappoint fans of virtual and augmented reality: from new models of VR headsets to devices that completely change the way of interaction. Here are the best examples of VR and AR technologies from CES 2019 according to Digital Trends.
3dRudder for PlayStation VR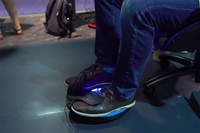 © Digital Trends
With the help of PlayStation VR, players can immerse themselves in a virtual environment with a 360-degree view, and PlayStation Move makes the game even more realistic. However, there is one drawback: in real life, we are used to actively using our legs, but virtual reality was deprived of this. Now with the new 3dRudder device for PlayStation VR, this is a thing of the past: you can bend, turn and move using your lower limbs. Just like in real life.
So, the new 3dRudder for PlayStation VR can be used to walk and perform other actions that were previously assigned to the DualShock 4 or PlayStation Move controllers. Now they are released so that you can implement even more tasks at the same time, fully immersing yourself in the gameplay. The functionality of the new device varies depending on which game you are currently playing.
Vive Pro Eye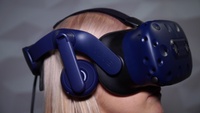 © CNet
A new technology for tracking eye movements – Tobii-has been integrated into this premium headset. This approach allowed us to create an even more exciting experience of immersion and management. The gadget allows you to manage menu items and perform a number of other functions by simply moving your gaze. The device is much more sensitive than all its predecessors.
The tool is already used in some applications, including Home Run Derby VR. This made it even easier for players to hit the ball.
Thanks to Vive Pro Eye, Vive Studio products and the Ovation program, the sharing of applications is also simplified. For example, using eye position tracking, players can make sure that they are viewing the same information. It turns out a kind of Google Drive for gamers.
Oculus Quest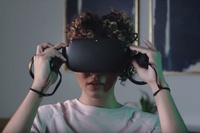 © Digital Trends
Previously, a personal computer was needed to immerse yourself in virtual reality. But now, with Oculus Quest, you don't need to carry a PC with you to enjoy VR.
So, the Oculus Quest is a universal wireless gaming headset that does not limit the place where you can enjoy the game process. Do this at home, on the road, or during a break at work. The only thing you need to do in order to start diving into an incredible virtual world is to configure the device in the application of the same name. After that, the gadget starts tracking your movements without using external cameras, using only the cameras on its front panel.
Oculus Quest works in any position of the body, which is very convenient. Despite the fact that the device lacks a little the power of headsets connected to a PC, due to its mobility, it will certainly gain popularity among users.
NordicTrack VR Bike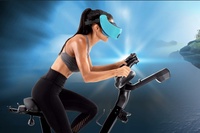 © Digital Trends
Many simulators in recent years have offered users displays and other components so that they can feel as if they are riding a real bike surrounded by beautiful landscapes. But it was by no means a complete immersion. But with the NordicTrack VR Bike, this becomes possible.
This interesting device will be released this summer at a price of about $2 thousand. The simulator will be supplied complete with the HTC Vive Focus VR headset and a one-year membership in iFit. The next time you want to do sports, you will be able to play Aeronauts, Bike Messenger and The Last Rider, which were specially developed for VR Bike, at the same time as cycling.
You will be able to drive not only on flat city roads, but also on terrain with a slope. It is assumed that there are 24 different resistance levels and 16 different pedal positions. All this will be synchronized with what you see in front of you in your virtual reality glasses.
Cybershoes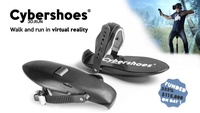 © Digital Trends
The concept of this device is somewhat similar to 3dRudder for PlayStation VR. However, there is even more emphasis on movement here. Such cyber shoes will be synchronized with the main headset.
You will walk in virtual reality as well as in ordinary life, and all your movements will be reflected in the actions in the game. Thanks to this concept, people with disabilities in real life will be able to move more freely in games.
Cybershoes are compatible with popular headsets such as HTC Vive, Oculus Rift and Microsoft Mixed Reality via Steam. Currently, Cyberboom supports games such as Fallout VR, Doom VFR, Arizona Sunshine and VRChat. You can buy the gadget either separately or together with a chair and a special carpet. However, the final release date and cost are still unknown.
Pico G2 4K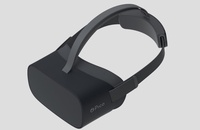 © Digital Trends
This is probably one of the few virtual reality devices that is designed not for ordinary users, but for business. The gadget has a 4K resolution, and with the "Look and choose" option, the user does not have to use a traditional controller to work.
Special attention should be paid to the lightness of the design and the special location of the battery. Thanks to this, the user does not need to worry that the device will interfere and overload the neck. The Pico G2 4K has 4 GB of RAM and 32 GB of storage space, and is compatible with the Pico store and Viveport M. It is not known when the device will go on sale, but it will happen in the first half of 2019.
That's the end of our brief review of some new products from CES 2019. It seems to me that a cyberbug and an exercise bike are a particularly interesting solution. And which of these devices did you like?