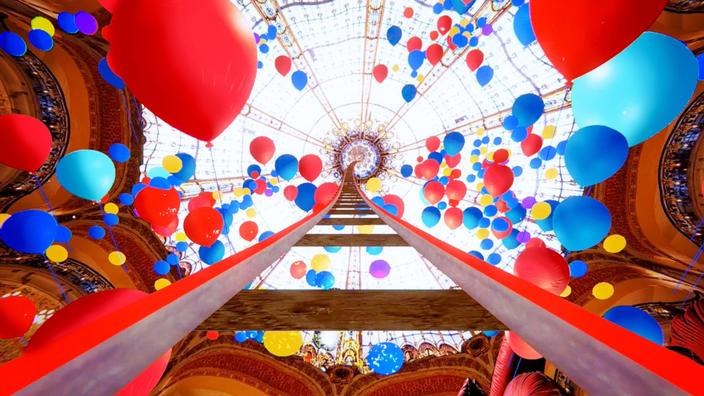 The boulevard Haussmann roller coaster
NOVELTY – Thrill-seekers will be able to feast. Incredible but true, a roller coaster has been installed until January 2nd inclusive at Galeries Lafayette. And the Figaroscope tested it for you.
Fly over fantastic worlds as if you were there. New House
The appointment is made on the second floor of the famous department store on Boulevard Haussmann (IX). Installed in the front row of the attraction, a virtual reality headset on the head, "hang on to the handles," the hostess says. The pressure is mounting. We find ourselves very quickly immersed in the universe of an enchanted world that humorously twists the codes of the funfair. One immediately feels a feeling of dizziness. Once we get to the top of the first climb, as on a real attraction, a question crosses our mind: what are we doing there? No time to think.
Let's go for two and a half minutes of 360-degree immersion. The decor is appreciated by turning your head. After crossing the famous dome of the sign, we fly over Paris, stuck in his seat for fear of falling. We have to hang on. The six armchairs simulate movements, speed and wind, impossible not to believe it! On arrival, you only have to look at the smiles on the faces of the spectators – mostly Asian customers – to understand that we were completely in it. Skeptical at first, at the idea of getting messed up by a simulator, finally we just want to do it again!
This roller coaster owes its realism to Oculus technology, embedded in a virtual reality headset that we wear. It covers the eyesight and is attached to the face by a closed strap on the back of the skull. A digital flat screen is placed a few centimeters in front of the eyes. It was the advertising creative agency Maison Nouvelle that developed this big toy for more than two months. To discover on the occasion of the Christmas races, boulevard Haussmann (IX). But as in an amusement park, you will have to arm yourself with patience to hope for a ride.
Galeries Lafayette. 40 bd Hausmann (XIe). Until January 2, 2018 inclusive. Free.