The more data investors have, the more likely it is to predict the market movement. In addition to fundamental analysis, other beacons can be used, for example, the public's attitude to cryptocurrencies. One bot on Twitter shows every hour which coins are liked and which ones are negatively treated.
Social analysis shows the mood of the market
Crypto analyst Watson has developed a bot that highlights the most frequently mentioned cryptocurrencies every hour. In addition, the bot determines in which subtext the cryptocurrency is mentioned: positive or negative.
The results for the latest publications are as follows. Quite predictably, bitcoin is in the first place with more than 3,000 mentions. It is followed by: Waves, Ethereum and Ripple, each of them has more than 1,000 mentions. The top ten most mentioned cryptocurrencies also included: Litecoin, Neo, Verge, Tron, Stellar and Bitcoin cash.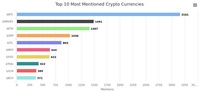 Although bitcoin is constantly in the top ten, other currencies fall in and out of it, depending on their location in the latest news. However, the fact that someone is talking about cryptocurrency does not mean that he is going to invest in it.
This trend is covered in more detail in the research paper "Market Sentiment Helps Explain the Price of Bitcoin" (market sentiment helps explain the price of bitcoin). In his work, the author used Metcalf's law and market sentiment in social networks to explain the value of bitcoin. The price of a coin depends on the ratio of supply and demand. This is influenced by the market mood, which also depends on the price. As a result, circular and bidirectional reflexivity is formed.
It's better to be unloved than ignored
According to Watson's bot, bitcoin has the highest number of negative mentions (11.5%). This is to be expected, since bitcoin dominates, and haters speak negatively about it.
If you look at the most often mentioned coins in a positive context, then Sia (20.6%), Zclassic (19.5%) and Digibyte (18.7%) are leading here. The TOP 5 are closed by Ubiq and Stellar.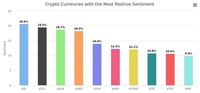 In addition to bitcoin, Ethereum (6.1%), Litecoin (5.3%), Bitcoin cash (4.9%) and Tenx (4.6%) are viewed in a negative light. However, do not forget that the data changes every hour, which means that the situation is already different now.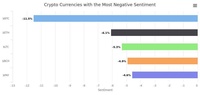 Bots as assistants to traders
Twitter and other open resources with a huge amount of data changing every minute are an excellent platform for using bots. Developers create bots that analyze investors ' profits, coin sales volumes and signal the appearance of a new cryptocurrency on the exchange. As artificial intelligence develops, more and more traders will rely on computer prompts. However, at the moment, there is still a lot of intuition and instincts in the actions of the best traders that the bot is not able to detect.