That's why McDonald's new burger is wrapped
Oliver Happel is one of Germany's leading grass experts. He is greenkeeper at Bundesliga club 1. FC Nürnberg and responsible for the playing surface in the Max Morlock Stadium – the man lives turf. About grass he knows more than many others, about his job he says: "You almost put yourself in the grass."
Grass paper, however, was new to him and also that McDonald's can wrap its new Deutschlandburger in the environmentally friendly material with 20 percent grass content. "I didn't think that paper could be made from grass," says grass expert Happel.
Yes, you can. And Oliver Happel is pleasantly surprised by the result. "You can see that this is a natural product and that the grass still shines through," says the lawn specialist.
This paper has inner values
McDonald's brings grass and burgers together across the republic: The Deutschlandburger, current burger creation from McDonald's, is wrapped in grass paper. With the innovative material produced in Germany, the company is taking the next step on its "packaging journey": The grass paper is part of a broad-based program with which McDonald's Germany wants to reduce the amount of its packaging.
A lot speaks for grass paper. It is environmentally friendly and saves tons of waste compared to traditional packaging. And not only that. Because paper is usually made from pulp, pulp is usually made from wood. For grass paper, on the other hand, hay is processed, which saves energy and reduces emissions compared to pulp production with wood. This is due to the fact that wood contains the substance lignin, a kind of biological glue. It makes wood solid and must first be removed from it so that the rest can become paper – using chemicals, water and energy.
The good stuff of meadows and pastures
That's why McDonald's decided to use grass paper packaging. This has a warm beige tone, a colorful print and is "Made in Germany". The Bavarian specialist manufacturer Pfleiderer produces burger paper for McDonald's with a grass content of 20 percent. The paper is licensed by the Forest Stewardship Council (FSC): The international non-profit organization is committed to sustainable forestry. And the virgin fiber paper, which is otherwise used at McDonald's, is also certified. It is 100 percent made with material from sustainable forestry (and has been used at McDonald's since 2015).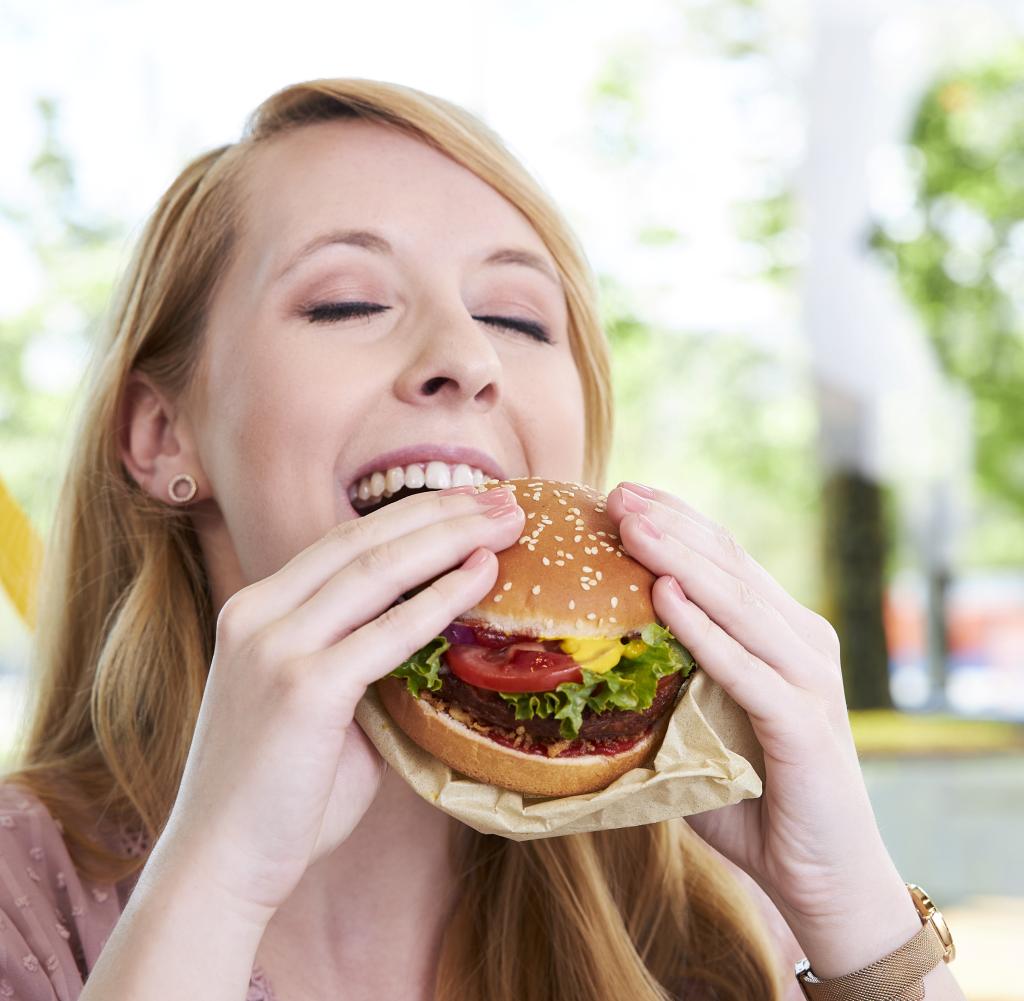 In the case of grass paper, the FSC seal stands for the fact that normal hay is used here for the new McDonald's packaging, which came from existing grass areas and was not withdrawn from another use so that paper can be made from it. And it's green in Germany: in this country we have about five million hectares of meadows and pastures. Converted into football fields, the German grassland is as large as the seven million grass pitches (the fairs according to the recommendation of Fifa and Uefa 105 meters by 68 meters, so have 7140 m2).
More than 60 tons less waste
With the Deutschlandburger, McDonald's is trying something new in terms of the material and form of packaging: paper instead of box. "As the market leader in system catering, we want to actively shape the path towards reducing plastic and packaging waste," says Holger Beeck, CEO of McDonald's Deutschland LLC.
Here you will find third-party content
To interact with or display third-party Content, we need your consent.
Enable external content
And it will not remain with the grass paper. McDonald's plans to use less packaging material in the future and to spend more and more burgers in alternative packaging. The fact that the new Deutschlandburger is wrapped( as well as the McWraps) and does not come in the typical burger box saves a lot of material: more than 60 tons of packaging waste that does not arise. As a result, the total weight of the packaging for the German burger alone is 70 percent lower. This also means that transport is less expensive, requires less energy and generates less CO2 emissions.
A laboratory for innovative packaging
For McDonald's, the grass paper is another step towards increasing the reduction of plastic and packaging waste. McDonald's Germany went on a "packaging journey" in 2019 and tried out new forms of packaging in a kind of expedition. There was also a real-time laboratory for this: the "Better M Store" in the Mall of Berlin, the enormous shopping center in the middle of the capital, right next to Potsdamer Platz.
It was here that McDonald's conducted tests and tried how to do it differently with the packaging and what the guests think about it. What was put on the table and in the bag in the "model restaurant for less waste and plastic" was later adapted for other McDonald's locations-precisely because the guests wanted it.
Bag instead of box = 200 tons less cardboard
The four-pack of chicken McNuggets, which are now served in the bag instead of a box made of cardboard, was started directly. Savings: more than 200 tons of cartonage per year and all that could be saved in production and transport (water, energy, CO2).
The McFlurry and McSundae desserts received new packs in 2020, as did the milkshakes. Here was switched from plastic to paper. Even the straws at McDonald's are made of paper today and are only issued on request. The ice cream spoons are now made of wood.
This is what McDonald's wants to achieve by 2025
2021 is the year in which McDonald's focuses on packaging and now wraps some of its products in paper, including the Deutschlandburger with the grass paper.
By 2025, 100 percent of all McDonald's sales packaging worldwide is expected to come from renewable, recycled or certified sources. At the same time, packaging waste is to be significantly reduced. This is about the environment, but also about money. McDonald's pays twice for packaging. Firstly, purchasing costs, secondly, disposal-the royalties due for the mandatory dual system would fall if less material were to be disposed of.
A light aroma of freshly mown meadow
For example, McDonald's has developed its own recycling system for the beverage cups that go to waste in restaurants. Since 2019, the cups have been collected, recycled and, among other things, processed into hygiene paper.
The grass paper is not only food-safe and hygienic ,but also has a light aroma of freshly mown meadow (but is completely harmless for allergy sufferers). With Oliver Happel, the greenkeeper of 1. FC Nürnberg, the football feeling triggers: "You just think you're in the stadium."