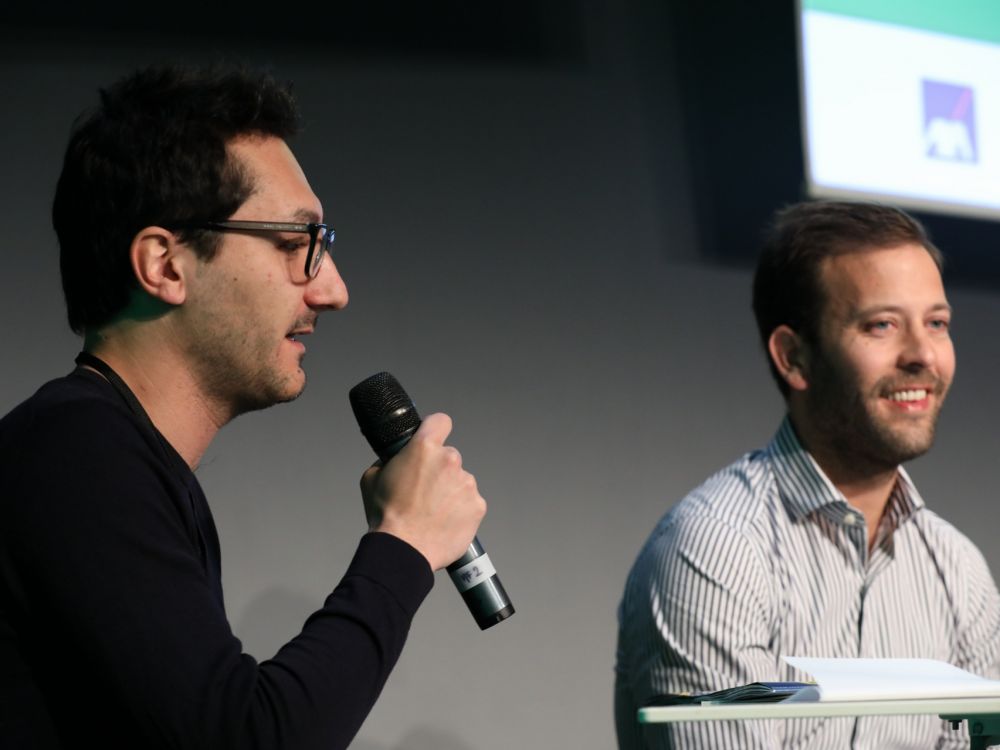 # SommetStartUp : "Virtual reality will interfere in all layers of society"
"Do androids dream of electric sheep ?"We still do not have the answer to this question posed by the American writer Philip K. Dick1. But Antoine Cayrol brings it up to date. Creator of the production company Okio-studio, the young entrepreneur explained to the audience of the 2nd Summit of Start-Ups2 that his next film," Alteration", integrates the effect of" Deep dreaming", an artificial intelligence program developed with the teams of Facebook, the social media giant being owner of the Oculus Rift virtual reality (VR) mask.
This deep dream makes it possible "to teach machines to dream", says Antoine Cayrol. The result in pictures ? It will soon be revealed by Okio-studio in the trailer for "Alteration". "Deep dreaming" is in any case a new storytelling tool at the service of directors adept at VR, like Raphaël Beaugrand, also present on the stage of the Palais Brongniart : "VR does not touch the same areas of the brain as other forms of entertainment, it conveys emotions in a completely new way," he explains. Recall that virtual reality allows to tell stories via a mask totally obscuring the real world. The viewer is then immersed in 360° in the story broadcast by the device3. (Below, the video interview shot with Antoine Cayrol by Sciences et Avenir, and which returns to this principle of "Deep dreaming").
A VR documentary about migrants
"This is the Room scale effect," says Raphaël Beaugrand, the VR user having the impression of being in a room with defined limits." Whatever area of space he is looking at, the story continues. A new mode of storytelling to which the two representatives of Okio-studio promise a bright future. "VR will interfere in all layers of society," says Antoine Cayrol. If producers from TV and cinema inevitably took an interest in it, other professionals took it. Architects, for example, who can see in a virtual way their next achievements in 3 dimensions. "EDF uses it to allow technicians who will intervene in the reactors of power plants to visualize the places of their repairs in order to better prepare them," explains Raphaël Beaugrand.
While digital images are often used to tell stories in virtual reality, real-world shooting is also used. Thus, Raphaël Beaugrand evokes in a few words his next project : a documentary on migrants and" the last frontier " that represents the Mediterranean. "I think VR can really make the viewer experience the difficulties of migrants "and it is perhaps a way" to enter more into empathy with them", says Raphaël Beaugrand. VR, a technology with emotional added value ?
1. This is the title of the book from which Ridley Scott took "Blade Runner" in 1982.
2. Organized this Thursday, April 13, 2017 at the Palais Brongniart (Paris) by Sciences et Avenir et Challenges.
3. There are 5 major virtual reality mask manufacturers in the world, like Facebook's Oculus Rift.