Snapdragon AR2: Qualcomm's platform for augmented reality glasses
The second day of the Snapdragon Summit 2022 it has brought us the announcement of the first Qualcomm platform created specifically for augmented reality glasses: the Snapdragon AR2 Gen 1. This new platform has been created from scratch to revolutionize the design of this type of devices, the objective being a thin and light finish.
"We built Snapdragon AR2 to address the unique challenges of AR viewers and provide industry-leading processing, AI and connectivity that can fit inside a sleek design. With the technical and physical requirements of VR/MR and AR diverging, Snapdragon AR2 represents another metaverse-defining platform in our XR portfolio to help manufacturers revolutionize AR glasses," said Hugo Swart, VP of XR product management at Qualcomm.
The distributed processing architecture is composed of three units: the main processor (on the left temple), the coprocessor in charge of the sensors (on the bridge of the glasses) and the unit in charge of wireless connectivity (on the right temple).
The main processor occupies 40% less than the reference design for AR based on XR2, and offers 2.5 times higher performance in AI, all while consuming 50% less energy to obtain a consumption of less than 1W. And supports up to 9 simultaneous cameras (two more than the XR2 platform). Its improvements in perception of the environment include a dedicated hardware acceleration engine that improves the tracking and localization of user movement, an AI accelerator to reduce the latency of sensitive interactions, such as hand tracking or 6dof positioning, and a reprojection engine for a smoother experience.
"AR2 works dynamically to distribute the processing of latency-sensitive perception data directly to the glasses and offloads the most complex data processing requirements to a Snapdragon-enabled smartphone, a PC or other compatible devices," they explain.
The coprocessor is responsible for obtaining the data from the cameras and sensors and allows iris authentication and foveado rendering eye tracking, a feature designed to optimize workload and reduce energy consumption. Finally, the unit dedicated to communications uses a Qualcomm FastConnect 7800 capable of offering WiFi 7 for a latency of less than 2 ms between the glasses and the mobile or device that we use to render more complex content. This unit also integrates the FastConnectXR Suite 2.0, designed to improve latency and reduce interference.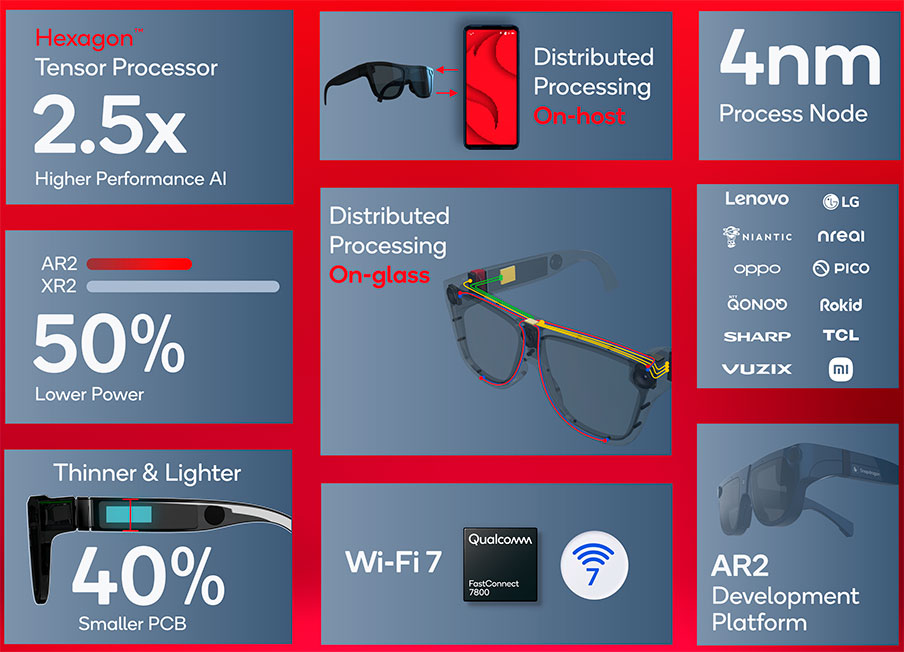 Snapdragon AR2 supports the Snapdragon Spaces development tools, and according to Microsoft, they have collaborated closely with Qualcomm to help define the requirements of the AR2 platform, which was born with the nomenclature of the number two because in the future they may create another platform with lower features, as happens with the XR1 versus the XR2.
They expect the first commercial devices with AR2 to arrive in the second half of 2023.