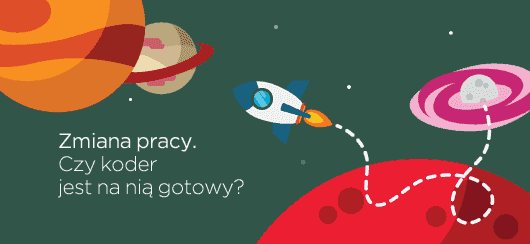 Shift work. Is the coder ready for it?
Apart from sales professionals and engineers, IT is IT experts, including software developers, who are the most likely to change jobs. Such voluntary departures are a very big problem for 55% of employers. What most often motivates programmers to leave their current place of employment? It turns out that in the first place is more financially attractive offer than the existing work. In the future, coders decide to change employers because of the desire to develop and because of the monotony of their previous work. It's worth taking a closer look.
For the sixth time, Antal has checked the readiness of managers and specialists (including programmers) to change jobs. Once again, it has been confirmed that employers, especially in the IT industry, have to face the challenge of 3xz: get, pay, keep. So let's look at the details.
Activity of programmers in the labor market
The IT industry has long been a candidate market for which there is a real fight here. Sometimes employers try to outbid themselves with a salary, other times with the opportunity to participate in prestigious projects, sometimes they are tempted by attractive or original benefits or flexible working hours. And what does it look like from the developers? It turns out that the openness to new job offers is not small. Only about 15% of coders are actively looking for a new employer. However, the majority, because more than 75% of respondents, does nothing to change the work (many of them have never written their own CV). Nevertheless, this group does not ignore professional offers and appears at recruitments. You can write that, in fact, the work finds them by itself through applications from headhunters, friends ' commands, as well as through such portals as LinkedIn.
This situation is mainly due to the fact that most coders, however, want to know what is happening in the labor market. Well, programmers have long been convinced that it is best to keep your hand on the Pulse Not only of technological innovations, but also in the field of IT recruitment (for example, using the "follow the employer" button on the portal Bulldogjob.pl, which makes notifications about the activity of a particular company are sent on an ongoing basis). The reasons for this, of course, are very different. For example, contact with headhunters is an opportunity to get information about the current rates on the market. Such knowledge, in turn, can be an effective argument in the subsequent conversation with the employer about the increase.
Change of job
Work changes both those programmers who are actively looking for it, and people who do not take it into account on a daily basis. But something motivates them. We already wrote a little about this at the very beginning of the article. Thus, the most effective argument that encourages a change of employer is the offer of a higher salary (programmers expect at least 24% higher salary in a new company), better career development opportunities and boredom. However, it is not only for these reasons that programmers change their work. Coders are also often annoyed by bad management in the company, bad atmosphere at work, unclear path of promotion, conflict with the supervisor. The change of employer is also influenced by stress, lack of work-life balance, family reasons, and even the better location of another company. As you can see, in fact, almost everything can affect the decision to leave the current place of employment. As a result, it turns out that in their entire lives, most programmers changed jobs on average 4 times, and a quarter of them even 6 or more times. Is this attitude good or bad? It depends, of course, on the point of view. Everyone can have their own reason to change jobs. However, if we are already considering this, it is definitely better to choose a new place of employment because of the employer, and not because of a specific offer. We have already written in our portal many times that a good salary should also be combined with a friendly workplace. Therefore, dear programmers, do not be afraid to check future employers and ask about them before deciding to change jobs. W Bulldogjob.pl we suggest what are the characteristics of the best it employer.
It is worth noting that the above reasons for moving to a new company are both external and internal. Especially in the latter aspect, employers can do much to stem the outflow of experienced workers and reduce turnover. However, the key here is to regularly check the satisfaction of the programmers employed and quickly respond to problems and implement appropriate solutions.
Departure for work
It is also worth paying attention to the mobility of developers. The candidate market has its rights. Companies need to offer more flexible working hours, accountability for results, rather than being in the office or being able to perform their duties remotely. But what about the relocation of developers? Most are not willing to give up their existing life and move to another city "for bread". This is probably influenced by the specifics of the industry, in which there is no greater problem with finding a job. Most of the respondents never had to change their place of residence because of their professional career. For comparison, in the marketing and advertising industry, more than three quarters of employees move several times. It turns out that if the developer has already decided to relocate, the reason again may be a higher salary, a financial relocation package, help in finding an apartment or good social facilities. Interestingly, the programmer often decides to move when his girlfriend or wife can not find employment in the existing place of residence.
What is your willingness to change jobs? What could motivate you to change your current employer? We are waiting for comments.