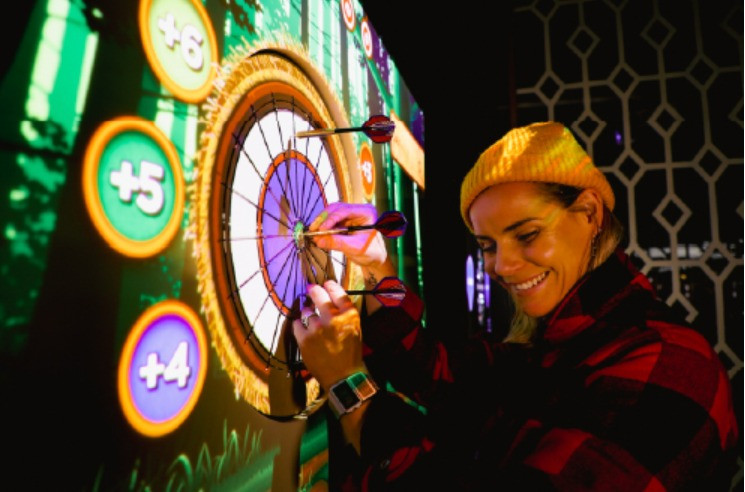 Sega will incorporate AR Smart Darts darts to its arcade rooms
The company specializing in pub games 501 Entertainment and SEGA Amusements International have reached an agreement for the distribution of Smart Darts AR in arcade video game stores in the United States and other countries. Las Vegas will be the first North American city where you can play darts with elements in augmented reality.
Smart Darts AR is the classic darts experience played in pubs, although improved thanks to technology and with augmented reality elements. A real steel-tipped dartboard and darts are used, but scores, special effects, animations or advertising are projected onto the target. These AR elements also react in real time when a dart hits them.
This system is already present in the United Kingdom and Australia, in the premises of companies such as Funlab or Gravity Active Entertainment, whose managers claim that installing this system is profitable, takes up little space, and attracts the public for the novelty of having modernized an entertainment that is part of the leisure culture of those countries.
The SMARTS 501 augmented reality darts perfectly complement the bowling alley and the other activities we carry out at our Wandsworth (UK) location. Considering its small size, it is really powerful in terms of utilization revenue and food and beverage sales," explains Michael Harrison, COO of Gravity Active Entertainment
Smarts Darts AR offers two types of gaming experience, both focused on sharing "unique and memorable" experiences with friends. For our VR headsets we also have many dart games: ForeVR Darts, VR Darts, Darts Battle, On Target VR Darts, Triple Twenty, Pub Darts, Darts VR, etc.