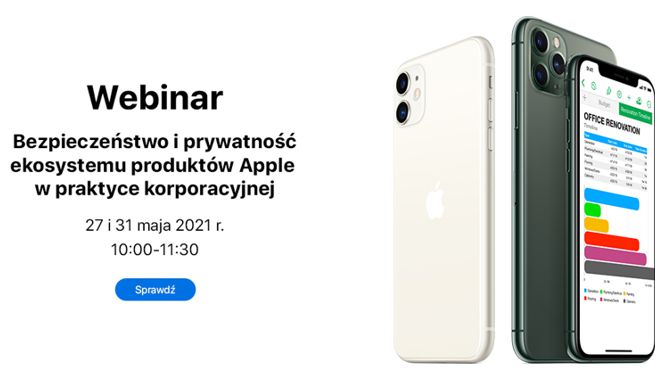 Security with Apple personal and corporate
Security and privacy of the Apple product ecosystem in corporate practice
27 and 31 May 2021 (10:00-11: 30)
Apple has been successful in its industry because of its strong focus on end users.
Instead, we strive with our personalized approach to help our customers accelerate their digital journey into the future!
Secure software requires appropriate hardware-integrated fundamentals. That's why Apple devices — iOS, ipados, macOS, tvOS and watchOS — have security built in at the design stage. You can purchase these products in our authorized store www.jupiter.com.pl and your Apple hardware will be repaired by our Jupiter Apple Authorized Service Provider.
Webinar topics:
Privacy with Apple: apps, Safari, Maps, Photos, Messages
Privacy in solutions: Siri, Apple News, Apple Pay, Health app, App Store, FaceTime
In-app purchases. Transaction history on devices
Apple Music, Apple tTV, iCloud, Car Play
Random identifiers, data encryption, two-factor authentication, approximate location, background tracking notifications, no-trace logging, data minimization
Children's education and Privacy, parental controls
Security: from the ground up, hardware (biometrics), system, services, network
Encryption and data protection, application security, partner ecosystem
Safe device management, safety certificates.
All Apple devices are designed with user safety in mind. This approach to data protection is characteristic of the Cupertino giant and distinguishes it from other hardware manufacturers.
Privacy
For the individual user, the issue of privacy is a fundamental criterion for the choice of equipment", which, combined with effective data protection, is a guarantee of security for the user..
We live in an environment where privacy is a commodity that they want to take away from us, sell us and use us not necessarily in the way we would like. For example, websites that contain ads place code in browsers that allows you to track your actions, including your purchasing decisions. This is done in order to "adjust the offer" – not necessarily in a way desired by the consumer.
Browser Safari, present on macOS, iOS and windows, can delete tracking code – that is, active "trackers" and manage the rules for handling cookies.
Digital photos can contain a lot of information, not necessarily just what is visible to the naked eye. Metadata not only provides information about the camera (e.g. what kind of mobile phone it is), the lens and the iris. You can also find the name of the user, the exact date and time of the photo and, worse, a very precise location.
For example, the Apple App Photocia it allows you to publish photos without this data, which is a great example of the direct link between security and Privacy.
Secure architecture
The issue for any company that uses computer technology in the conduct of business is to ensure protection against theft of information, its unauthorized alteration or loss.
MacOS operating System
It was made in Unix technology, with a Mach microkernel encased in a BSD shell, which performs fundamental functions, including file system support and network services, user and group identification scheme.
Microkernel Mach is responsible for memory management, thread control, hardware abstraction and interprocess communication. Mach ports reflect tasks, resources, and access to them may be restricted. BSD security policies and Mach permissions are the foundation of macOS security and are critical to single-machine security.
Code signing protects the kernel and its extensions, including those from other vendors, from substitution. The same applies to executable files (applications) and system libraries.
Hardware password and T2 layout
macOS allows you to secure your computer's firmware settings by requiring a password to change them.
The hardware password prevents:
boot from an unauthorized system volume;
modify the system boot process, e.g. single-user boot;
unauthorized access to macOS Recovery Mode;
direct memory access via interfaces such as Thunderbolt.
Secure enclave is a secure coprocessor containing a hardware key manager that is isolated from the main processor to provide an additional layer of security. It preserves the integrity of cryptographic operations even in case of hacking into the kernel of the system on the device. Communication between the Secure Enclave coprocessor and the processor running user programs is tightly controlled by isolation using interrupts and shared memory buffers.
Secure enclave is a hardware solution that comes with some models of iPhone, iPad, Mac, Apple TV, Apple Watch and homepoda. It also contains a random number generator, necessary for cryptographic purposes.
APFS
It is Apple's new (compared to HFS) file system, common to macOS, iOS, tvOS and watchOS operating systems. It is optimized for flash / SSD storage. It offers features of strong encryption, metadata needed for the implementation of copying at the time of writing, space sharing, cloning files and subdirectories, snapshots (snapshots), fast determination of the size of directories, secure writing in transactions on entire files.
The copy-on-write mechanism, thanks to the aggregation of I/O operations, ensures maximum performance without sacrificing the reliability of data writing.
FileVault
Each Mac has a built-in FileVault encryption mechanism that secures data stored in the computer's storage by XTS-AES-128 encryption. Entire volumes on internal and removable storage devices may be subject to such protection. If you enter your Apple ID and password in the settings assistant, the assistant suggests that you enable FileVault and save the recovery key to iCloud.
ISO 27001 and 27018 certificates
Apple has obtained certificates certifying that its information security management system (isms), which includes infrastructure, development, and operation of the following products, complies with ISO 27001 and 27018: Apple School manager, iCloud, iMessage, FaceTime, managed Apple ID accounts, and iTunes U. Apple's compliance with ISO requirements was certified by the British Standards Institution (BSI).
You can't mit should be noted about the security of computer devices, without limiting unauthorized access to the equipment.
Our authorized Apple device repair point guarantees the privacy and data security of both individual and corporate customers.. Our technicians have both manufacturer (Apple) certifications and experience that allows them to notice potential changes in equipment that lead to undesirable situations.
Our Apple authorized service provider certification means that we strictly follow all of the manufacturer's service procedures.
Address: Al. Rzeczpospolitej 22/U3, Warsaw, Tel. 519-486-023, e-mail: serwis@jupiter.com.pl
opening hours: Monday-Friday 9.00-18.00 and Saturday 10.00-14.00
Our sales department uses Apple's device activation procedures to ensure that the purchased hardware has not been previously started or installed with anything unauthorized. In addition, for corporate environments, the DEP (Device Enrollment program) functionality is useful, which allows an authorized Apple reseller to assign a device (computer, phone, tablet) to the final recipient, even before it is launched.
Our webshop can help you at: https://jupiter.com.pl
We invite you to a seminar on security titled:
Security and privacy of the Apple product ecosystem in corporate practice
27 and 31 May 2021 (10:00-13: 00)
Registration:
Interested parties are kindly requested to submit their applications via the form on the website:
http://jupiter-integration.pl/privacy.php
Security and privacy of the Apple product ecosystem in corporate practice
27 and 31 May 2021 (10:00-13: 00)
Please sign up by the deadline of:
1) until 26 May 2021
2) by 30 May 2021