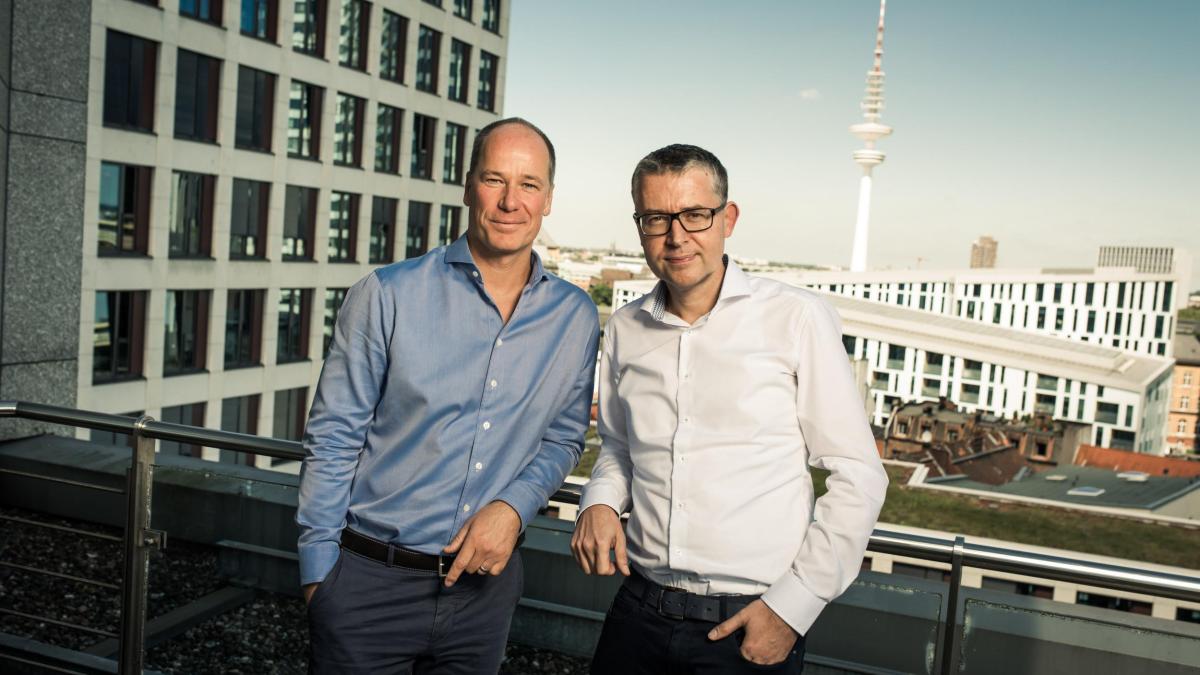 "Screens are just a bridge technology"
The first year was about the phenomenon StudiVZ, about the Web 2.0, about the first experiences, to design content yourself. Ten years later, the focus is on the digital ego, artificial intelligence. The two organizers of the conference, which starts next Thursday, know how the relationship between man and machine will develop: Matthias Schrader, Managing Director of the agency SinnerSchrader and Volker Martens from the board of the agency Faktor 3.
World on Sunday: Mr Schrader, Mr Martens, the tenth Next Conference is coming up. What were the answers ten years ago when you asked the question: What's Next?
Matthias Schrader: in 2006, it was about the reinvention of the web, the Web 2.0 or hands-on network, as we called it at the time. Suddenly, users could interact on the platforms, it was the birth of StudiVZ and XING, which at that time was still called Open BC. LinkedIn and Facebook were still in the starting blocks. Two years later, the topic was the sharing economy. Today we see what has come out of it: Uber, MyTaxi, Car2Go, Airbnb. The last big topic was the importance of data and this year a lot revolves around Artificial Intelligence.
World on Sunday: Meanwhile, there are also hundreds of other tech conferences.
Mr Volker Martens: Agree. The core of Next is looking at people and their future behaviour in digital environments. How do purchasing decisions change? How will attitudes towards ownership change and how will people and machines interact? We do not show what is technically feasible, but the consequences that arise from it. And in order to experience this change in real life, we have entered into a close cooperation with the Reeperbahn Festival. Digital and pop cultural trends can hardly be separated and complement each other – the digital lifestyle has become ubiquitous.
"The American players are already much further along"
World on Sunday: What do you value when selecting experts?
Schrader: We do the event because we are not only massively interested in digital topics, but because we have been trying to drive digitization forward with our agencies for more than 20 years. Based on this content competence, we equip the program with speakers and content. We ask ourselves how relevant virtual reality or artificial intelligence, for example, is becoming for us and for our customers.
Martens: In addition, we have a program team that researches books, trends and speakers. This creates a kind of matrix from internationally known speakers to undiscovered pearls.
World on Sunday: The motto is: "It's me, your digital ego". It's about artificial intelligence. Where are we at the moment?
Schrader: Screens and visual interfaces as we know them today are just a bridge technology. In the future, we will interact more and more with systems via language and gestures – this only works with artificial intelligence in the opposite. Because the smaller the screens, the smarter the systems behind them must be. The result is a symbiotic relationship between user and system. The system, the digital ego, gets to know you and relieves you in many things. So we are just sliding into a completely new relationship between man and machine – this happens quite enigmatically and almost naturally. In the next few years, however, there will be a great philosophical debate about how much digital me we want to allow. And for German companies it has a very high relevance, because the American players are already much further.
World on Sunday: Do you think that German companies can catch up with this gap?
Schrader: We can't simulate Silicon Valley. We need smart strategies, then there are always opportunities to develop.
Martens: I consider the discussion about winning or losing to be nonsensical and idle. There will be individual strategies that are promising and some will fail mercilessly. At the conference, we will show how much power and influence could be bundled at individual American companies. And we consider it very important to think about the consequences of certain phenomena and not just to shout 'Jippiehjayey', but to think three steps further and ask: What does this mean for me and for my company?
Why German companies are struggling
World on Sunday: Both of you now probably find it relatively easy to imagine scenarios of what it might look like in three or five years. However, companies in particular often still struggle with this.
Martens: It has become much more difficult to assess the effects of individual basic currents, although we deal with them on a daily basis. We are in an age of exponential supplementation from a wide range of fields – an example is the combination of robotics, artificial intelligence and neuroscience. The effects of AI alone are estimated by scientists to be more drastic than those of the entire industrial revolution. The combination with other sciences further enhances these effects. As a result, new applications and things are created in the shortest possible sequence, from which it is hardly possible to predict what consequences they will have. It is largely a departure into the unknown and companies have to take more risks, experiment more and live with mistakes.
World on Sunday: Which is terrible for companies.
Martens: Totally. They are often not prepared for these requirements.
Schrader: But there is also a strong cultural problem in Germany. Most successful digital concepts carry the service idea in them. Google is a search service, Amazon is an errand service, Microsoft provides enterprise services. The idea: Put the user at the center and build a service. The Germans, who are influenced by the art of physical engineering, are initially not service providers in their basic mental equipment. You want to inspire your customers with physical products.
World on Sunday: What role does Hamburg play as a digital location?
Schrader: In Hamburg we find talent, Hamburg has magnetic power, people like to live here. In this respect, it is a very good location for us. And with the integration of the conference into the Reeperbahn Festival, Hamburg shows itself from the best side, it is and at the same time authentic and trendy.
Martens: In addition, the Hanseatic lifestyle is simply legendary. Our international guests loved the unique atmosphere in this city.
World on Sunday: What happens in the next ten years. Will the Next take place virtually? With robots on stage?
Schrader: No, not at all. Our participants appreciate very much that we are not 20,000 people and that everyone has the chance to get in touch with others, to interact. This will continue to be the case in ten years ' time. That's just human.