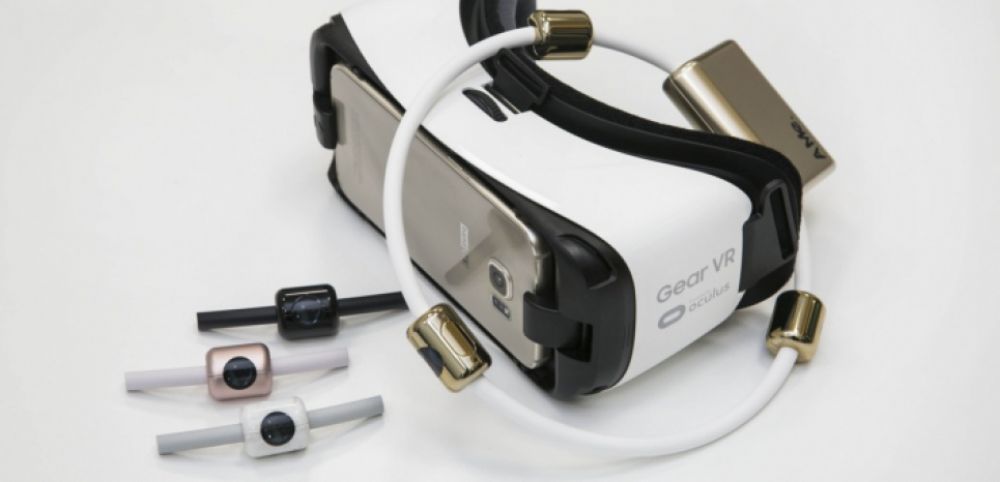 Samsung is working on virtual reality and immersive video
Around me. After the Samsung Gear VR, entry-level virtual reality headset that is connected to a compatible smartphone, the Korean manufacturer has just presented 2 objects directly related to virtual reality and immersive video. The first that looks like a jewel is a necklace composed of 3 cameras located at 120° from each other that allow to capture the environment of its wearer in all directions. Named AMe, contraction of Around Me (Editor's note : autour de moi), the collar allows filming at 360° in ultra high resolution while keeping your hands free. The application that accompanies the gadget takes care of the recomposition of the image and its exploitation for compatible devices (virtual reality headsets, cardboard from google or immersive video from Youtube). After Facebook, it is Samsung's turn to offer its own capture hardware. Indeed, the entertainment and high-tech industry seems to have understood that without content to watch, their virtual reality headsets (Oculus Rift for Facebook and Samsung Gear VR for Samsung) could quickly end up at the bottom of a drawer. Certainly less impressive and probably less expensive than Facebook's camera, the AMe necklace could seduce budding directors or vloggers (Editor's note : Video Bloggers) eager to share their lives in 360°.
Looking like a necklace, the AMe allows 360° filming-Credit: Samsung
More immersive than ever
The Samsung VR is an excellent gateway to the world of virtual reality, however it remains a high-tech sheath in which you slide your mobile phone. In order to further enhance this experience, Samsung engineers have developed a headset with dual functionality. The first: reduce nausea for people sensitive to motion sickness (the evil of virtual reality) and the second make you feel the movements that you see in the headset by electrically stimulating a nerve in the ear. This stimulation, harmless according to the Korean laboratory, makes it possible to send micro electrical messages synchronized with what the user is watching. These signals, similar to those used to help people prone to loss of balance, are sent via electrodes located in the headphones.
https://www.youtube.com/watch?v=yZ_G_zbObWU
Just out of the labs, these two gadgets will not be on the shelves of our stores tomorrow, but they still hint in which direction the research of the major manufacturers in terms of virtual reality and immersive video are moving.