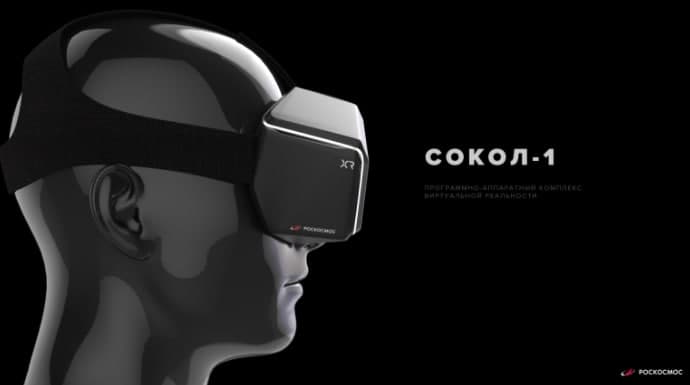 Roscosmos will create two virtual reality helmets
Subsidiary company  Roscosmos "Digital" showed renderings of two virtual reality helmets "Roscosmos XR-1 " and"Sokol-1″
Roscosmos XR-1 helmet
The Roscosmos XR-1 helmet is designed for internal tasks of the corporation, namely for training astronauts in zero gravity.  Its characteristics are displays with a resolution of 2880×1440 with a frequency of 90 hertz and a visibility of about 105 degrees, hybrid Fresnel optics, a built-in gaze tracking system, support for Windows and SteamVR and its own store with applications.
Parameters Roscosmos XR-1
Displays — two diagonal of 2.89 inches each
The resolution is 2880×1440 (1440×1440 by eye)
Display refresh rate — 90/120 Hz (selectable)
Type of displays-liquid crystal
Viewing angle-105 degrees diagonally
Optics-Hybrid Fresnel Lenses
The connection to the computer is wired
Sensors — gyroscope, accelerometer, magnetometer
Connectors-miniDP, miniUSB
Power supply — 5 volts
Weight-less than 500 grams
OS Support — Windows 10
Positional tracking — laser based on external beacons
VR helmet " Sokol-1″
The company's task is to make a helmet with equal indicators of world leaders , and in some parameters to be ahead of competitors. Sokol-1 will be a serial prototype consisting of display tools, a control system, a positioning system and a content management solution. Next, the corporation intends to compete with foreign devices first in the corporate and then in the consumer markets.
Parameters of " Sokol-1″
The viewing angle is 157 degrees diagonally
The resolution is 5760×2880
Frequency — 90/120 Hertz
Eye tracking-there is
Positional tracking — laser with an unlimited object tracking area and the ability to track up to 256 objects, the error of motion tracking is no more than 5 millimeters, two base stations cover an area of 200 square meters
Support for operating systems and environments — The SDK and API of the project will work with Astra Linux (SE), Windows 10 both with SteamVR and without it, on its own platform
Origin — the entire software and hardware complex will be developed in Russia